Warren Buffet and I agree on one thing: Why would I ever own an airline? For those of you placing bets to see if and when AMR Inc (AMR) will file bankruptcy you might have noticed the 33% nose dive yesterday and the 21% dead cat bounce today. Fasten your seat belt and do not attempt to use the lavatory.
All kidding aside the numbers, the markets and most of all the press have not been kind to AMR lately. Rumors are that every pilot eligible for retirement is planning on turning in their papers hoping to retire and save their vested pensions prior to the company filing bankruptcy. Let's look at the numbers. The 5 year weekly trading activity on the graph provided by Barchart shows the stock is 94.69% off its 5 year high: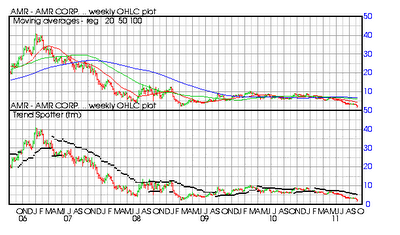 AMR Corporation's operations fall almost entirely in the airline industry. AMR's principal subsidiary is American Airlines, Inc. American is one of the largest scheduled passenger airlines in the world and provides scheduled jet service to more than 169 destinations throughout North America, the Caribbean, Latin America, Europe and the Pacific. American is also one of the largest scheduled air freight carriers in the world, providing a full range of freight and mail services to shippers throughout its system.
Factors to consider:
Barchart technical indicators:
In some of my recent articles you've heard me say short term negative technical indicators might signal a buying opportunity in a company that has great long term fundamentals -- Well I don't think this is one of those situations.
Barchart 100% overall technical sell signal
Trend Spotter technical sell signal
Below its 20, 50 and 100 day moving averages
Down 32.16% in the last month
Down 71.48% from its one year high
Down 94.67$ from its 5 year high
Relative Strength Index 30.75% and falling
Barchart computes a technical support level at 2.06
Recently traded at 2.38 which is below its 50 day moving average of 3.49
Fundamental factors:
Wall Street brokerage analysts project revenue to increase by 8.10% this year and 5.40% next year
Earnings are estimated to be down 194.90% this year, make a comeback with an increase of 43.50% next year but only average out as an annual 5 year increase of 3.00%.
The earnings predictability of this stock in the past has been all the way down to the lowest 5th percentile.
This poor predictability and instability of its earnings stream has resulted in brokerage analyst releasing no strong buy, 3 buy, 9 hold and 3 negative recommendations
The company carries the lowest possible financial safety rating
The company has agreed that they must cut $100 million to stay afloat. Most airlines are already running as lean as they can, where can they cut anymore?
In the past 18 years 10 years have been in the loss column
General investor interest:
I've followed the readers of Motley Fool for some time to gauge what the individual investor is thinking and usually have found them to be overly optimistic. Unless I see a positive score of at least 75% from the readers I usually pass on that stock as an investment.
There are 961 readers expressing an opinion on this issue
Only 63% of the general readership feels the stock will beat the market
Only 49% of the more experienced and savvy All Stars vote for the same result
Competitors and sector leaders:
As you can see from this chart the past year has not been kind to the airlines with AMR (AMR) down 61%, United Continental (NYSE:
UAL
) down 29%, Delta (NYSE:
DAL
) down 41% and SouthWest (NYSE:
LUV
) down 44%: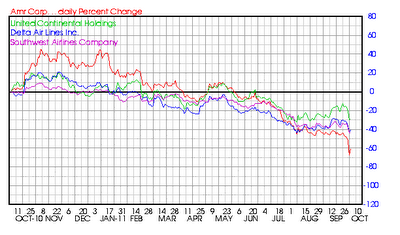 AMR is a member of the SIC 4512 Scheduled Air Transport sector and there were some bright spots in the past year with Allegiant Travel (NASDAQ:ALGT) up 11%, Copa (NYSE:CPA) up 8%, Alaska Air (NYSE:ALK) up 8% and Ryan Air (NASDAQ:RYAAY) down only 19%: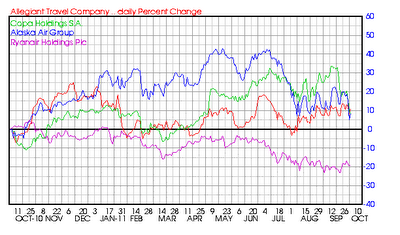 Summary: With its shaky past record of very unpredictable streams of sales and earnings AMR Inc cannot be taken as a serious investment for investors who look at stocks rationally. There will be money made by day traders placing bets based on the wide volatility of its price swing. Conservative investors should pass on this one.
Disclosure:
I have no positions in any stocks mentioned, and no plans to initiate any positions within the next 72 hours.