As the entire market still suffers after closing the third quarter with a thud last week, some investors will find themselves looking for the exits while others will take the opportunity to look for a few good deals.
Those who took advantage of the market drop by picking up some shares of overly beaten-down companies back in late 2008 and early 2009 were able to turn potential losses into significant gains, and it's likely that there are quite a few 'steals' out there right now that will end up looking like bargains when the dust settles and stability returns to the markets.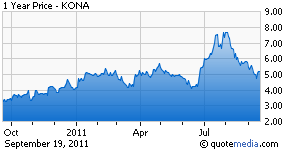 One of those steals might end up being Keryx Biopharmaceuticals (NASDAQ:KERX).
Shares of KERX plunged through the three dollar mark on Monday afternoon, after having traded as high as nearly six bucks within the past 52 weeks, and for well over four dollars just a couple of months ago.
The volatile move in this stock's share price have generally revolved around the clinical updates of its two flagship products, the oral anti-cancer agent Perifisone - which is partnered with AEterna Zentaris (NASDAQ:AEZS) - and Zerenex, and oral compound intended to treat hyperphosphatemia (elevated phosphate levels) in patients with end-stage renal disease.
Perifisone is currently being tested in Phase 3 trials for refractory advanced colorectal cancer and multiple myeloma, and is also being looked at in Phase 1 and 2 trials to treat other tumor types.
Results from the Phase III should start rolling in next year.
Keryx recently informed investors that it had achieved full enrollment in the long term portion of its ongoing Phase III trial for Zerenex, with those results also expected to be released next year.
Given the relatively short term waiting period for the potentially market-moving results news, a couple of analysts have placed tags of "Buy" and "Outperform" on KERX shares, predicting a price increase leading into the announcement of results.
General market sentiment has been positive about the expectations of positive results, although as investors in the healthcare/biotech sector well know - ya just never know.
It's also worth noting that since the short term future of this company and its share price relies solely on the outcome of the Perifisone and Zerenex trials, KERX should not be considered a slam-dunk rebound play. If the trials do not turn out positive, then shares will plummet.
That said, any positive results will most likely make the current prices look like a steal, and as the analysts have predicted, it's possible that KERX will experience a run-up before results. Any such run-up will also provide investors the opportunity to sell some of these cheap shares before the news hits, to cover any potential losses in case the news is not positive.
In addition to the potential catalysts provided with results news, Keryx also looks like a pretty good takeover candidate. It's more likely, in my opinion, that any deal would be fostered on the back end of announcing the trial outcomes, but with shares being beaten down during the global economic uncertainty, KERX might look overly attractive to a larger pharmaceutical player looking to boost its pipeline.
Large pharma has many big-named and big-revenue products coming off label in the coming years, which makes companies such as Keryx, Amarin (NASDAQ:AMRN), Avanir (NASDAQ:AVNR) and even Dendreon (NASDAQ:DNDN) look like potential acquisition plays - especially when their respective shares are being killed as a result of the global economic situation.
For KERX, the drop below three has thrown it right into the barrel of potential "market downturn steals," and it's a pretty good bet that if results start coming in positive, investors who bought at these levels are going to be very happy.
Again, there's never a sure thing in this business, but don't forget about Keryx Biopharmaceuticals.