The consumer electronics retailer Best Buy (NYSE:BBY) has seen its stock price decline precipitously due to investor concerns about poor competitive position, macro challenges, and decreased consumer expenditures. Shareholder value is down by more than one third since the start of the year and the stock is trading around its 52- week low, less than half of the 52-week high. With multiples of 7.5 and 6.2 for past and forward earnings, respectively, the company is just slightly undervalued by most analyst estimates. Given the beta of 1.28 and investor concerns, the retailer is open to strong risk-adjusted returns. If Best Buy can correct some of the below problems, it will be on its way to returning lost shareholder value.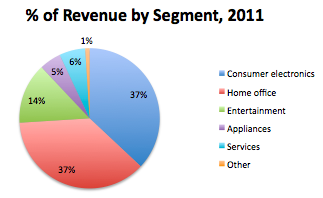 Best Buy is known for its diverse selection of products: consumer electronics, home office, entertainment, appliances, and top-notch services. At the same time, some products like washers, dryers, and refrigerators just do not feel very "cool" across from the electronics section. Entering a Best Buy can bring back nostalgia for Circuit City, which had a futuristic layout that actively promoted sales. Best Buy's layout is something similar to Wal-Mart (NYSE:WMT) lite minus the quantity. Furthermore, physical discount retailers are eating away at profit from both ends of the socioeconomic ladder. Wal-Mart, for example, is adding new electronics products from Sony (NYSE:SNE) to Dell Inc. (NASDAQ:DELL) that will increase competitive pressure at a time when Best Buy is most vulnerable. Although Best Buy gained some market share from Circuit City's bankruptcy, revenue per square foot has nonetheless significantly declined since the recession. This is a major dilemma for a company that has overemphasized its brick-and-mortar retail business over its online business.
When it comes to online sales, Best Buy remains far behind the competition. Consumer electronics will increasingly be purchased through the Internet and a lack of a strong virtual presence is troubling. The website is nearly as bland as the retail store and clearly does not provide "best buy" products compared with Amazon.com (NASDAQ:AMZN). While the website design can be quickly enhanced to ameliorate analyst concerns, the fundamental problem ultimately is pricing. Consumer electronic sales largely begin with comparison shopping on the internet and often end on the internet. Best Buy could struggle to maintain its name given this growing reality.
With margins contracting more than expected in 2Q11, Best Buy is more vulnerable than ever to a weak economy. I anticipate gross margins remaining flat at roughly 25.2% over the next three years and for SG&A costs to slightly rise due to mounting operational concerns. The top line will grow largely through LED TV sales and, hopefully, 3D TV sales in the future.
On the positive side, the retailer has generated, and is expected to generate, strong free cash flow. Management has further been committed to returning excess cash to shareholders with its $1.5B annual share repurchase program. Geek Squad, which provides support and repair services for technology products, remains an attractive opportunity for the company to grow market share and to retain a strong retail division. Finally, Best Buy is well diversified in emerging markets, although some international stores are failing to perform.
Consensus estimates for EPS are that it will decline by 0.6% to $3.41 in 2012, and then increase by 5.6% and 7.2% in the following two years. Over the same time period, analysts are expecting revenue to increase by around 3.5% annually. Given this, I find that the stock is fairly valued and remains a risky investment.
To read about my analysis on Walmart, which I believe will face competitive pressures of its own, click here.

Disclosure: I have no positions in any stocks mentioned, and no plans to initiate any positions within the next 72 hours.