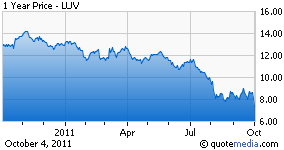 Southwest Airlines (NYSE:LUV) is trading at a tremendous discount to intrinsic value considering the recent precipitous stock decline. Since Southwest completed its acquisition of AirTran in May 2, 2011, the stock has been down by more than a third. By the close of October 3, 2011, it was trading at its 52-week low of $7.35. What exactly is going on?
The market is understandably concerned about fuel volatility and the negative effect that would have on airline profit. Fuel and oil cut into revenue 30% in 2010. However, the acquisition goes a long way to unlocking cost synergies (about $10M so far) much in excess of any adverse variation in commodity prices. Analysts are anticipating that total synergies from the acquisition will be around $400M by 2013, which is interesting in light of the fact that shareholder value has declined by a few billion since the deal announcement. I anticipate EBIT margins growing from around 9.6% in 2010 to around 10.6% in 2013, mainly "taking off" in 2012.
The merger, to be clear, was tremendously successful in that it transformed the airline from having a leading domestic network (which was great) to also having unparalleled market supremacy (which is better). Take a look below at the charts to get a sense of how the deal opened the newly-formed company into critical markets, particularly with Atlanta.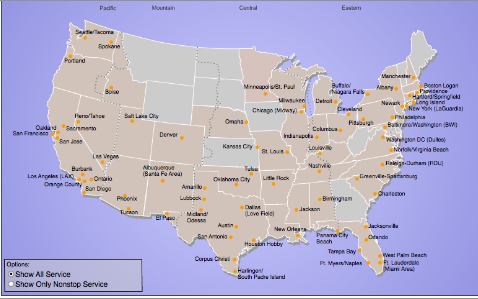 Southwest route networks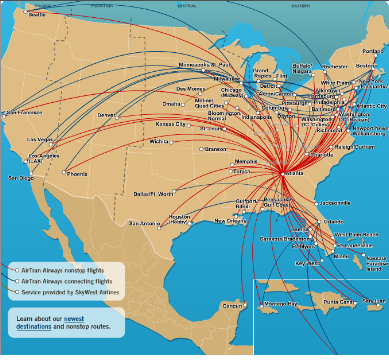 AirTran route networks focused on Atlanta
Notice how the combined connections are more spread out across the states. This will be highly beneficial to sales in the sense that customers will be more willing to make travel deals given the convenience.
Management has also been conservative with guidance. Macro concerns and sluggish demand, however, have been exaggerated. The travel industry, as I wrote previously here, is more recession-proof than what the market historically has suggested. Demand for hotels and airfare will thus, in my view, beat expectations.
Nevertheless, management is limiting much of its growth plans to after 2013 and will focus largely on improving capacity. The airline is experience slowing growth in corporate travel and has hiked fares a few times recently, a strategy it will try to avoid going forward. Although the company is targeting a ROIC of 15%, they have only been able to achieve approximately half of that in the last several months. FCF is expected to decline consistently through the next three years.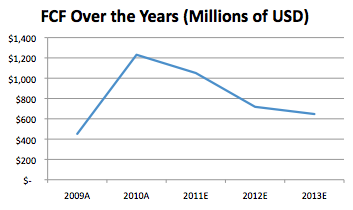 With the stock trading at its 52 week low, in my view, the market has already factored in these risks. The airline is now priced at 11.1x and 9.6x past and forward earnings, slightly above industry appears, but still overly pessimistic given forward projections. Southwest is led by incredible management that is doing what it can to sustainably increase scale and cut costs at the same time without largely raising prices on customers. I believe this practice will prove to be a winner in the long-term.
Analysts currently rate the stock around a "buy" and are anticipating that EPS decline by 52.7% to $0.35 in 2011 and then increase by 117.1% and 53.9% in the following two years. I forecast revenue declining by 29.7% to $15.7B in 2011 and then increasing by 9.2% and 8.4% in the following two years. Although the stock is not incredibly safe with a dividend yield of 0.24% and a beta above 1 (1.1), its fundamentals and potential is far greater than what the market has suggested.
For more news on Southwest Airlines, click here and scroll to the bottom.
Disclosure: I have no positions in any stocks mentioned, and no plans to initiate any positions within the next 72 hours.