Amidst concerns over yen appreciation and macroeconomic stagnation in North America and Europe, many investors are understandably hesitant about Honda Motor (NYSE:HMC). The automobile manufacturer has seen its stock price decline by more than one quarter for the year and is now trading near its 52 week low. I find myself in agreement with other analysts that the market has been too bearish on the stock and exaggerating its risks.
First, Honda has done remarkably well over the years and I see little reason to question further market share gains. From 2006 to 2010, Honda has taken away sales from General Motors (NYSE:GM), although Ford (NYSE:F) has been relatively resistant, as I depict here. Second, the company has performed well despite yen appreciation. I anticipate that a decline in international sales resulting from a strong domestic currency will be offset by soaring demand for the CR-V, Civic, and Accord. Emerging economies will also protect the company from stagnating demand in Europe and the United States. In particular, I project a spike in volume above market expectations that will aid automobile sales, as well as continued success in the company's financial services business.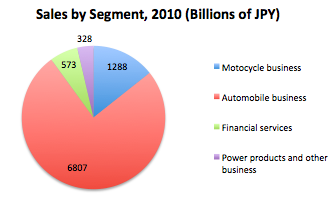 I anticipate North American auto sales to increase from 1.5M in 2011 to around 1.8M in 2014. During the same time period, auto sales will increase tremendously in Asia from 1M to 1.5M. In my view, Europe will present the most troubling situation, as opposed to the United States, which I feel will recover much quicker than what is expected. Honda motorcycles, the manufacturer's flagship segment, will continue to experience accelerating growth in Asia, increasing sales from 9.2M in 2011 to around 13.1M in 2014. The company's motorcycles remain less popular in Europe, North America, and other countries; consequentially, international motorcycle sales are expected to be more stagnant. Honda also spends 5.5% of its revenue on research and development--a figure above competitors -- and stands to benefit from this innovation whether it be due to regulatory adaptations or providing more fuel-efficient cars.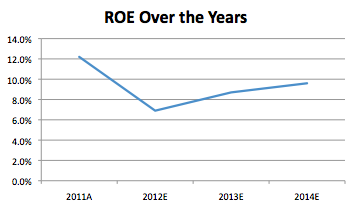 Given market volatility, I am concerned about Honda's ability to raise ROE to around 14%. Over the next five years, I anticipate ROE reaching an asymptote of around 10.5%. This is particularly concerning considering that costs are likely to rise in North America and somewhat limit market share gains far from what has been seen over the last five years. However, the ruinous effects that a decline in financial service's earnings would have on the world's largest motorcycle-maker has been slightly exaggerated, as this segment represents only a small fraction of sales. The company financing and insurance services, in my view, are also not likely to experience significant losses in any event.
That said, with the stock trading at 13.6x and 7.8x past and forward earnings, respectively, the stock is overvalued compared to peers on a multiples basis. Forward earnings for Ford, Toyota (NYSE:TM), and General Motors are 5.3, 14.4, and 4.3, respectively. Consensus estimates for EPS are that it will decline by 38.8% to $2.11 in 2012 and then nearly double the next year. I forecast revenue declining by 3.9% and then increasing by 9.1% and 5.2% over the time period. Honda also has a beta of 0.82 and is safer than what risk-adjusted returns will suggest. Evaluating the company's enterprise value at 7.1x EBITDA makes it an "outperform," largely resulting from strong Asian sales. Accordingly, analysts rate the stock slightly better than a "buy."
Disclosure: I have no positions in any stocks mentioned, and no plans to initiate any positions within the next 72 hours.