Danish pharmaceutical giant Novo Nordisk A/S (NYSE:NVO) has released the results of a late-stage trial of its new diabetes drug Degludec. The results from this trial were largely positive, and the company has filed applications to market the drug in both the United States and the European Union.
As I discussed in a previous article, Degludec is an ultra-long-lasting, next-generation insulin with a duration of action of more than 24 hours. According to Novo Nordisk's website, Degludec is intended for basal insulin treatment of both Type 1 and Type 2 diabetes. The company also says that the drug has the potential to be used less frequently than once per day.
Novo Nordisk also filed applications to regulators in the U.S. and European Union to market a related basal insulin analogue called DegludecPlus, a fixed-ratio combination of Degludec and NovoRapid. (NovoRapid is another insulin analogue marketed and manufactured by Novo Nordisk.)
These two new drugs have the potential to deliver strong long-term growth prospects to Novo Nordisk. Novo Nordisk focuses its business primarily on products meant to treat Type 1 and Type 2 diabetes. This is a market that promises to grow going forward as diabetes becomes more prevalent.
Novo Nordisk's stock has fallen precipitously over the past few weeks in the face of the debt crisis in Europe and continuing economic weakness in the United States. The stock remains 10.4% above its 52-week low, but is 25.3% below its 52-week high.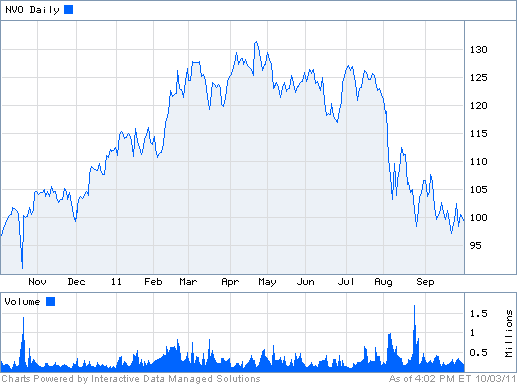 Source: Fidelity Investments.
The fundamentals for this company remain strong, even in worsening economic conditions. Pharmaceuticals and the healthcare industry in general tend to be quite resistant to recessions and other economic calamities. This is partly due to the nature of the healthcare business itself. A sick person does not have the luxury to put off receiving treatment for his condition until a "better economy" arrives. A diabetic patient who has been prescribed one of Novo Nordisk's insulin products is in the same situation. The company's products are absolute necessities for the diabetic patients that depend on them to maintain their health. A product that is a necessity is certain to be bought regardless of economic conditions. Additionally, many patients in both the United States and the European Union have some form of prescription drug coverage, so this makes it even more unlikely that Novo Nordisk will see its revenues affected by economic problems.
Novo Nordisk has a long history of dividend increases. The company is currently the favorite healthcare stock of Thomas Cameron, the chairman of Dividend Growth Advisors, LLC. He stresses the company's history of dividend increases and the strength of their patents and pipeline for drugs used to treat diabetes. As diabetes becomes more and more common throughout the world, as it is almost certain to do, Novo Nordisk will realize the value of this patent portfolio and their strong R&D pipeline.
Despite Novo Nordisk's substantial tailwinds, the market continues to punish the stock. This does not bother me, however. This only serves to make the company cheaper to buy on an earnings basis. An investor who buys into Novo Nordisk today is paying less for a dollar of revenue than an investor who bought the stock a month ago. The fundamentals for the company have not gotten worse over this time period; in fact, there has been nothing that explains the stock's decline other than the fear that currently pervades the market. It appears that this fear is creating a buying opportunity.

Disclosure: I am long NVO, and I intend to increase my long position in NVO within the next 72 hours.