Sterling Construction (NASDAQ:
STRL
): $10.05 on Nasdaq on October 3, 2011
52 week price range: $17.00 – 10.01
Diluted shares: 16.6 million
Market cap: $167 million
Net debt: $(42 million) – Cash exceeds debt.
Enterprise value: $125 million
Sterling Construction is significantly undervalued for a company that can grow EPS at a compound annual rate of 14.4% for the next five years. Based on this growth in earnings, my estimate of fair value using a discounted cash flow model is $21.00, which is 109% higher than the current stock price.
Sterling Construction is a heavy civil construction company that specializes in the building and reconstruction of transportation and water infrastructure primarily in Texas, Utah and Nevada, and to a lesser extent in Arizona and California. Transportation infrastructure projects include highways, toll roads, city streets, bridges and light rail. Water infrastructure projects include large diameter water systems, sanitary sewers and flood control systems.
Sterling Construction is a pure-play on transportation and water infrastructure construction unlike other engineering and construction companies including Bechtel (privately owned), Fluor (NYSE:
FLR
), Kiewit (privately owned), URS (NYSE:
URS
), Shaw Group (NYSE:
SHAW
), Granite Construction (NYSE:
GVA
) and Primoris Services (NASDAQ:
PRIM
), where heavy civil construction is just a portion of their total business mix. Therefore, for investors seeking focused exposure to heavy civil construction, Sterling Construction is the best investment vehicle.
Sterling Construction has remained profitable in recent years despite some significant business headwinds. In addition to the economic slowdown, the absence of a long-term federal funding bill for transportation construction has created considerable uncertainty surrounding federal, state and local funding for highway construction and repair and constrained infrastructure spending. Nevertheless, the company has performed reasonably well, and this profitability is a testament to the ongoing earnings power of the business. The company's profitability also reflects the fact that its financial condition is solid with cash well in excess of debt.
Both transportation and water infrastructure markets have strong long-term growth trends, and Sterling Construction is well positioned to benefit from this. Even with continued uncertainty regarding funding for infrastructure projects, the company should continue to generate steady to higher profitability. However, when a new federal long-term funding bill for transportation infrastructure is passed, or when some other funding mechanism such as an infrastructure bank is established, this could be a catalyst for even stronger profit growth and stock price gains for Sterling Construction.
In my long-term income model I have revenues growing from $498 million in 2011 to $698 million in 2016, and EPS growing from $.75 in 2011 to $1.47 in 2016. This represents projected compound annual growth rates of 7.0% for revenues and 14.4% for EPS. This income model is probably conservative depending on specifics related to a new long-term funding bill or an infrastructure bank for transportation.
The stock is currently trading at 13.4 times estimated EPS for 2011. Also, enterprise value is 3.8 times estimated EBITDA for 2011. My fair value estimate of $21.00 per share based on a discounted cash flow model would price the stock at 28.0 times estimated 2011 EPS, and enterprise value would be 9.2 times estimated 2011 EBITDA. These valuation multiples may seem high but not for a company that can grow earnings and cash flow the way Sterling Construction can.

Click to enlarge charts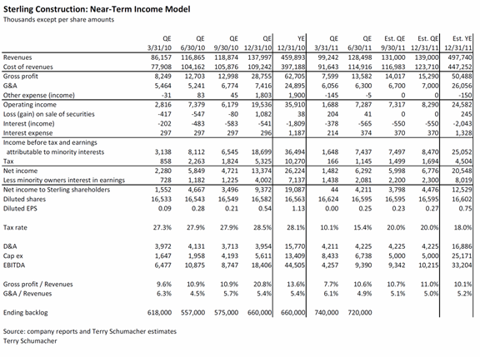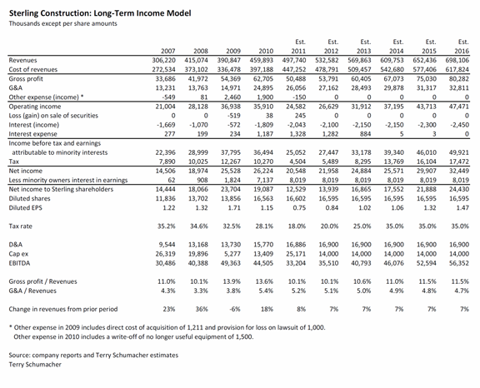 Disclosure: I am long STRL.