I know that there will be readers out there that will condemn us for recommending a solar stock at this time, for it is undeniable that the industry is going through a period of uncertainty. However, before you scoff at our recommendation, we humbly ask that you first read our thesis on First Solar (NASDAQ:FSLR) and form your opinion on the basis of the text below.
First Solar is a leading US manufacturer of solar panels installed around the world. It's thin film modules cost far less than traditional solar panels. Although they are less efficient than traditional panels, First Solar is working hard to improve efficiency and make its systems competitive in the peak-electricity market. On its most recent conference call, First Solar CEO Rob Gillette noted that "we've made significant progress in lowering our total systems costs by 30% in 3 years. If we can reduce that by another 19%, we believe that we can provide turnkey utility-scale systems that generate power at an LCOE of $0.10 to $0.12 per kilowatt hour in high-radiant zones... this is what will drive our participation in the peak electricity generation market.
But why are we recommending shares of First Solar at this time? Anyone who would look at its stock chart over the past year would get nauseous. As holders of First Solar stock, we must admit that it has not been easy to see the stock fall seemingly straight down. Indeed, over the past year the stock has fallen by 56%, compared to the S&P's 3% drop.

Click to enlarge
However, we had braced ourselves for such an event. For us, First Solar was never a short-term play for this year or the next. It was a long-term investment, designed to pay off many years down the road. That is what people in the solar sector seem to forget at this time. People expecting First Solar, Suntech (NYSE:STP) or SunPower (SPWRA) to be the Apple of energy stocks for them will be sorely disappointed. Investors cannot think of solar stocks as short-term plays. The dynamics of this industry are such that it will take years to see a payoff. But we believe that the potential payoff is well worth the wait. Indeed, since its IPO, First Solar stock has risen by over 150%, compared to the S&P's drop of over 20%.

Click to enlarge
Critics of the solar industry often forget one of the central tenets of old-fashioned investing, one that we think has sadly been left by the wayside in the age of CNBC and an always-connected world. The truth is that sometimes, investors will simply have to wait for a payoff. We believe that First Solar will pay off for investors who are willing to wait.
First Solar has done a great job of diversifying away from Europe, and the region now accounts for less than 60% of sales. (In 2008, Europe represented nearly all of First Solar's sales.) This diversifying trend is accelerating.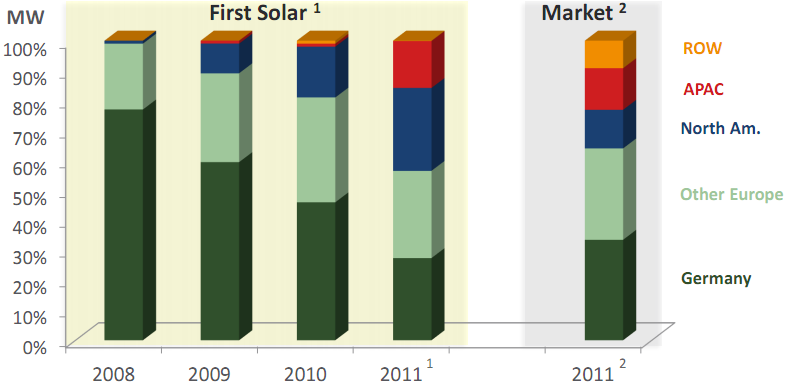 Click to enlarge
What we are trying to remind investors of is that First Solar is a multi-year bet on the world's need for clean, affordable, and renewable energy, something First Solar is ready and willing to provide on a global scale. Investors sell First Solar stock over fears about sales to Europe, which may not be as robust as we would like, but are still in existence.
But we do not think now is the time to be selling First Solar -- not at these prices. That is because the real future for First Solar does not lie in Europe. It lies in the Southwestern US, in India, in Africa, and in China. On the most recent conference call, Robert Gillette noted that "we see this [China's feed-in tariff] as a very positive first step... what we need to be able to determine now with the officials there is how to get through the process... but we see it as a positive.
First Solar is working hard to achieve parity with fossil fuels, something that should be achieved by 2013 to 2014. Critics of renewable energy often point to its cost as the reason it should not be adopted. While we think that from a societal perspective that is not a valid reason, it is a valid business reason. But if solar energy is the same price as coal, why shouldn't it be used?
Further downside in shares of First Solar should be limited, as the firm's share price is approaching its book value of $42.66 per share. First Solar is trading at a price to book ratio of 1.44, a discount to its historical average and its broader sector. First Solar has a good balance sheet with little long-term debt, and it has more than enough financial strength to withstand whatever the markets throw at it.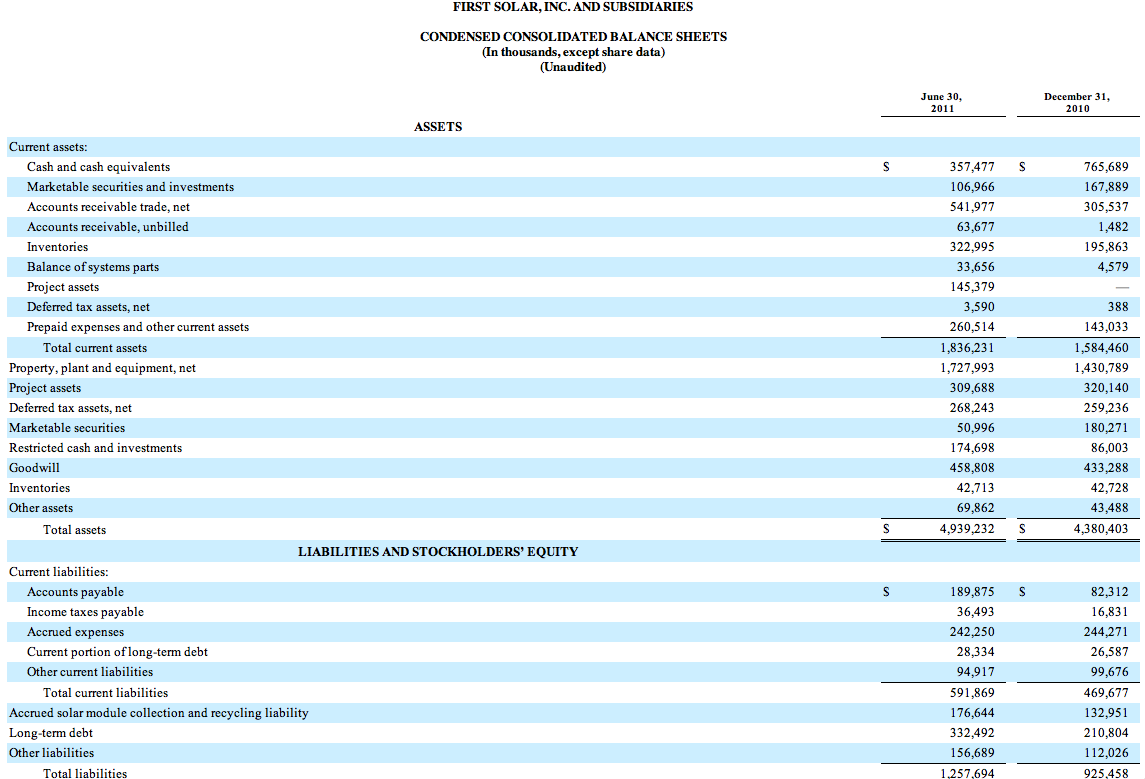 Click to enlarge
In conclusion, we think the sell-off in shares of First Solar is overdone. This is not some insert-name-here Chinese solar company or a tiny US solar startup. This is First Solar, the world's largest solar panel manufacturer. Worries over loan guarantees and the European economy have caused investors to forget the very nature of renewable energy: that it will take years for the market to reach its inflection point. But once it does, it will be wildly successful.
First Solar is beginning projects in India, South Africa, sub-Saharan Africa, and the Middle East, all places with copious amounts of sunlight. The facts prove that there is only one solar company able to both withstand the current market conditions in this industry and invest in the future. Once grid parity is achieved, subsidies will no longer be needed, for the market will be able to sustain itself.
The Reuters average price target is $129.86, nearly double from current levels. In assigning First Solar a $124 price target, S&P noted that First Solar has much clearer earnings visibility compared to its peers, given its large US backlog. Argus, in assigning its $110 price target, noted that First Solar is perhaps the only solar company with the financial strength and infrastructure to manage this market.<
Critics of First Solar and the broader solar industry are right in their views that solar stock have been dismal performers this year. But we do not see First Solar as an investment meant to pay off this year, or the next, or maybe even the year after that. However, we are confident that once grid parity is achieved, and once the cost of solar panels falls to the same as fossil fuels, which will happen, given the scientific advances in the space, there will be a new energy revolution. The discovery of oil helped enrich a generation of investors. The uptake of renewable energy will, in time, enrich a new generation of investors, for the benefit of all.
Disclosure: I am long FSLR.