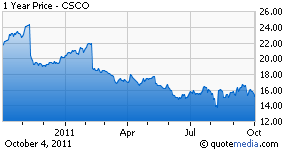 Cyclical stocks are getting killed, energy stocks are plummeting and commodity-based equities are getting crushed in the sell-off of the past three months. Other than high dividend, defensive stocks there is little place to hide as the market pullback looks like it is accelerating as it is becoming more likely we are in or entering another recession.
One area I'm comfortable in recommending is large-cap tech, with great balance sheets and low valuations, as it is holding up much better than the market overall. Two of my favorites are
Intel
(NASDAQ:
INTC
) and
Microsoft
(NASDAQ:
MSFT
) which I have written about many times. One other stock worth considering here as it is holding up very well and has a rock bottom valuation is Cisco (NASDAQ:
CSCO
).
Cisco Systems –
"Cisco Systems Inc. designs, manufactures and sells Internet protocol (IP)-based networking and other products related to the communications and information technology industry worldwide. It offers routers that interconnect public and private IP networks for mobile, data, voice and video applications; switching products, which offer connectivity to end users, workstations, IP phones, access points, and servers; application networking services; and home networking products, such as adapters, gateways, modems, and home network management software products. The company also provides security products comprising span firewall, intrusion prevention, remote access, virtual private network, unified client, Web, and email security products; storage area networking products that deliver connectivity between servers and storage systems; unified communication products to integrate voice, video, data, and mobile applications on fixed and mobile networks; video systems, including digital set-top boxes and digital media products; and wireless
systems
." (Business Description from Yahoo Finance)
Eight reasons why Cisco is a bargain at $15 a share:
1.
CSCO has easily outperformed the overall market during the previous three months and looks to have found a bottom (see chart).
Click to enlarge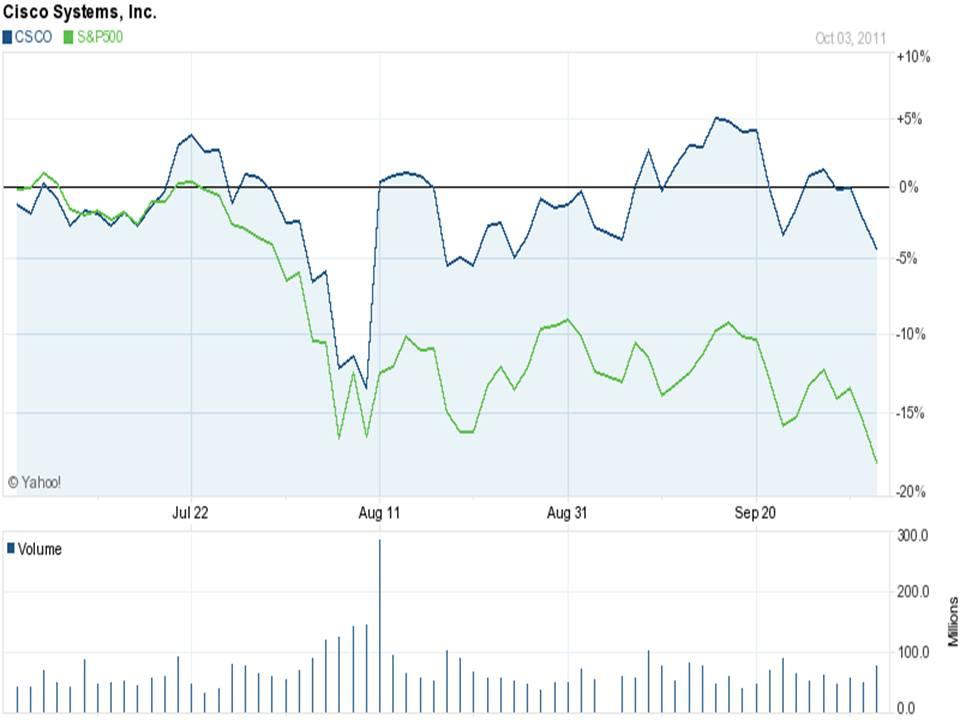 2.
Analysts consistently underestimate Cisco's earnings power. It has beat consensus estimates for 12 straight quarters.
3.
The company has over $27B in net cash on its books, which is over $5 per share.
4.
Stripping out that cash, Cisco is selling at less than 6 times operating cash flow as well as this year's projected EPS.
5.
Its forward P/E ratio is at an over 40% discount to its five year average.
6.
CSCO just started to pay a dividend. Although it is only yielding 1.5% currently, given its massive cash flow and fortress balance sheet, Cisco has plenty of room to up its dividend payments in the future.
7.
Cisco is selling at the very bottom of its five-year valuation range based on P/E, P/S, P/B and P/CF.
8.
CSCO is significantly under analysts' price targets. Credit Suisse has a price target on Cisco of $25 a share and the mean analysts' price target on CSCO is over $19.
Disclosure: I am long CSCO, INTC, MSFT.