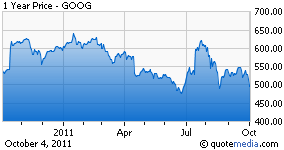 Google (NASDAQ:GOOG) has been stuck in a trading range this year, about 560 on the high side and about 500 on the low. Its latest break-out to the down side, as part of the ongoing bear market, makes it a screaming buy.
I'm a Google bull. I can point to things like Google Plus' success against Facebook, the Chrome browser passing Firefox in popularity and the construction of new data centers in Asia as evidence that the stock is undervalued.
Google has over $39 billion in cash and equivalents, quarterly revenue was up by nearly one-third year-over-year and despite well-publicized increased spending the percentage of sales falling down to operating earnings is almost the same as it was a year ago - 32% against 34%.
The bearish case against new CEO Larry Page's reign is strategic, and focused on the Android platform.
Amazon's Fire tablet bypasses Google services in every way possible yet it could easily become the most popular Android implementation within months. The Motorola acquisition is not yet a done deal and the government could still scuttle it. Meanwhile it's estimated Microsoft (NASDAQ:MSFT) will make $444 million next year, and every year, licensing patents it claims are violated by Android – a claim that has not been tested in court. Google's complaints just "back up the wahmbulance." Also, the new Motorola "Nexus" phone looks a lot like an old iPhone.
Page says that the Google brand should stand for trust. But that's something critics are chipping away at, saying the service is increasingly used for government surveillance and it's seeking a "tax holiday" before it repatriates billions of dollars in profits from overseas. The company wants to be seen as different, but in fact it is no different from rivals, the critics complain.
The bearish cash is also based on where its revenue comes from. Despite all its attempts to break out into other areas, Google's results remain tied to advertising, just as Microsoft remains tied to Windows and Office. This needle gets increasingly hard to move the bigger Google's revenues get, and as Google grows it runs into more-and-more attacks on its power. Google suspicion has become a cottage industry, and all of Google's business adversaries – Microsoft, Apple (NASDAQ:AAPL), Facebook, the Bells, Amazon.com (NASDAQ:AMZN) – are happy to build that industry.
For a company that just turned 13 these are significant growing pains. The question is can they be overcome, or has the company reached the limits of its growth already?
Personally, I doubt it. Google Wallet could revolutionize how small business works, allowing quick discounts and quicker checkouts. Google is lining up a "trusted stores" program that aims to draw both stores and consumers into its financial orbit. Google apps written by Google will be available to all Android devices, even those controlled by rivals.
Google has a complete ecosystem including cloud applications, commerce and devices, it has the lowest-cost Internet infrastructure in the industry, and it now has a CEO focused on turning those advantages into sales and earnings. At its current price it's a bargain.
Disclosure: I am long GOOG.
Additional disclosure: I've got more numbers, more facts, and a definite opinion now. Hope you like this better.