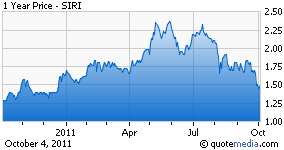 Each Friday, I write a column that reviews selections from the various fantastic options articles Seeking Alpha publishes. Frederic Ruffy sits among the best of that pack. I've learned an incredible amount just reading his daily recap.

On Tuesday, Ruffy highlighted activity in Sirius XM (NASDAQ:SIRI):
...a 15,000-contract block of Dec 1.5 puts is sold-to-close on the stock at 26 cents per contract on ISE. Dec 1.5 puts on SIRI are 4.7% in-the-money with 38,860 in open interest and 73 days of life remaining. 15,530 now traded, as some investors might be exiting positions on the view the recent decline in shares has run its course. Jan 1 and Oct 1.5 puts on SIRI are seeing interest as well.
Because the December $1.50 puts were sold to close, an investor closed what was most likely a profitable long put position in SIRI options. When you initiate a long position in puts - which means you're betting the underlying stock will go down - you buy to open. Activity in the January $1.00 and October $1.50 puts most likely were long plays, but the $1.50s could represent bullish put selling.

Depending on your sentiment, consider the following options strategies on SIRI.

Bullish Ideas

If you (A) consider $1.50 a bargain for SIRI and (B) do not expect the stock to hold any lower lows (it closed Tuesday's session at $1.47), you could sell the SIRI October $1.50 put for roughly $0.12. Under this scenario, if the contract closes in-the-money - meaning SIRI ends trading on October 21st at less than $1.50 - you'll likely have to buy 100 shares of SIRI for $1.50 for every contract you wrote, regardless of the stock's market price at the of assignment. If the stock holds $1.50 or higher come option expiration, nothing happens. In either case, you keep the $0.12 premium, making your effective purchase price of SIRI $1.38 in the event you get assigned shares. It's a good way to get long if you're bullish, but would not be surprised - or spooked - by further weakness.

If you have cash in your account to cover the trade, you'll be writing a cash-secured put with no need to worry yourself over margin. That's probably the best way to go about the trade.

While out-of-the-money calls always hold an allure because of their relatively puny premiums and massive upside potential, assuming the stock skyrockets, buying in-the-money calls probably makes more sense here.

If you're of bullish sentiment and believe SIRI knocks out the $2.00 level before, during or after its end-of-October-ish earnings report, the SIRI November $1.00 calls have your name all over them. They last traded for $0.49. If SIRI hits $2.00 they're pretty much a guaranteed double, assuming you sell to close the position and do not bother exercising your right to buy SIRI for a buck a share.

Bearish Ideas

If you're a bear and expect SIRI to continue to fall, you have a veritable cheese and finger sandwich platter full of puts to pick from. To play a near-term implosion toward $1.00, you can use $1.50 and $2.00 puts from pretty much any month. If you expect the next leg down to occur post-earnings, look to $1.00, $1.50 and $2.00 puts from November on out.

Covered Call Writing

If you're long the stock, but bearish, neutral or moderately bullish long-term, you could write covered calls against your position to spice things up as you bide your time.

Let's say you own 10,000 shares of SIRI and you have concerns about getting your shares called away in the event the stock runs and sustains through whatever expiration month you select. Instead of writing $1.50 calls, which have a better chance of getting exercised, opt for $2.00 contracts.

With 10,000 shares, you could write 100 covered calls. As of Tuesday's close, you would receive approximately a penny per October contract, $0.04 per November contract, $0.05 per December contract and $0.09 per January contract. It's better than a dividend, no doubt. Remember to use a multiplier of 100, so selling 100 October calls generates about $100 in income, November brings in roughly $400 and so on.

If the contract ends up in-the-money (underlying stock trades above $2.00), you can expect to have your shares called away. The contract obligates you to sell them for $2.00 a share, regardless of the stock's market price at the time of assignment. If SIRI does not sustain $2.00 on or before option expiration, you will probably not get assigned. You keep your shares. In either case, you keep the premium you collected for writing the calls.

Disclosure: I have no positions in any stocks mentioned, and no plans to initiate any positions within the next 72 hours.