Software for closing the deal, that's what salesforce.com's (NYSE:CRM) business is all about. After all, software is available for Engineers, Architects, Scientists, etc. to perform their jobs, so why not software for Salespersons and Marketers?
Developing customer relationship marketing software in-house is very expensive and resource consuming. Salesforce.com's products enable companies to use their resources more effectively for efforts directly related to their business operations and less toward the tangential, but very import, business areas related to sales and marketing.
Salesforce.com has been on an acquisition spree with recent acquisitions of Jigsaw, Heroku and Radian6. The company has also been on a growth spurt by adding 6300 new net customers last quarter for a total of 104,000 current customers. Salesforce.com grew revenue 38% over last year and just recently added U.S. General Services Administration (GSA) Moderate Level of authority, which means the company can do more business with the U.S. government. As a matter of fact, one of salesforce.com's larger 8-digit deals was with the GSA for 12,000 users.
Salesforce.com is delivering on the cloud by providing software and applications which are easy and fast to implement and support industry open standards.
The company has also been winning a lot of deals when going head-to-head with Microsoft (NASDAQ:MSFT) and Oracle (NASDAQ:ORCL).
In its most recent quarterly earnings conference call, the company indicated it's Chatter product is the largest, most actively used social network in the world. Chatter enables companies to set up their own personal social network for company related efforts. I'm sure Facebook would have something to say about this, but it sounds like Chatter is getting a lot of traction.
In the conference call, the company indicted it has not seen any indications of another recession, as observed prior to the recession in 2008 and 2009. The company also indicated that it is not implementing a hiring freeze, as has been rumored.
With a backward looking P/E of 550 and a forward looking P/E of 60, the company's stock is very expensive right now. As can be seen by the company's stock chart shown below, the next support level is around $100, so if any negative news occurs related to the company, the stock price could drop to $100 very quickly.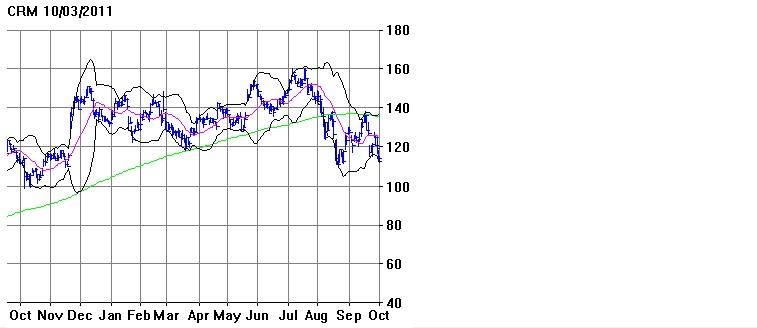 For those of you wanting to invest in salesforce.com, but are a little wary of the stock's rich premium, you might consider entering a collar for the stock. A collar is entered by selling a call option against a purchased or existing stock and using some of the proceeds from selling the call option to purchase a put option for protection or insurance against a large drop in the price of the stock.
For example, using our stock option search engine, a collar position for CRM is available with a potential return of 2.2% with a maximum loss of 7.1% with the time frame for realizing the profit is only 19 days.
The details for the position include a selling a 2011 October 110 call option and purchasing a 2011 October 100 put option. The profit/loss graph for the collar position is shown below: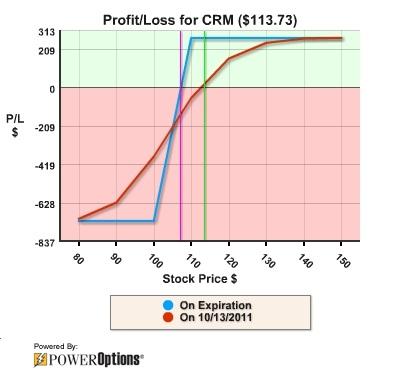 Additionally, the CRM collar will realize the 2.2% return as long as the price of CRM is greater than $110 at expiration in October. This means CRM can drop in price $3.73 from its current price and the collar will return 2.2% at expiration. And, if the price of CRM drops below $107, the position is protected by the put option and the larget possible loss is 7.1%.
Disclosure: I have no positions in any stocks mentioned, and no plans to initiate any positions within the next 72 hours.