The recent weakness in Bank of America (NYSE:BAC) has created an opportunity for income investors to purchase shares of the company's preferred stocks at significant discounts to par value. The issues I am focused on are BAC pr D, E, H, I , J and L. As an example BAC pr E is yielding 8.25%. In addition to the current yield there is significant price appreciation potential. Recently this issue was trading 50% higher.
Click to enlarge: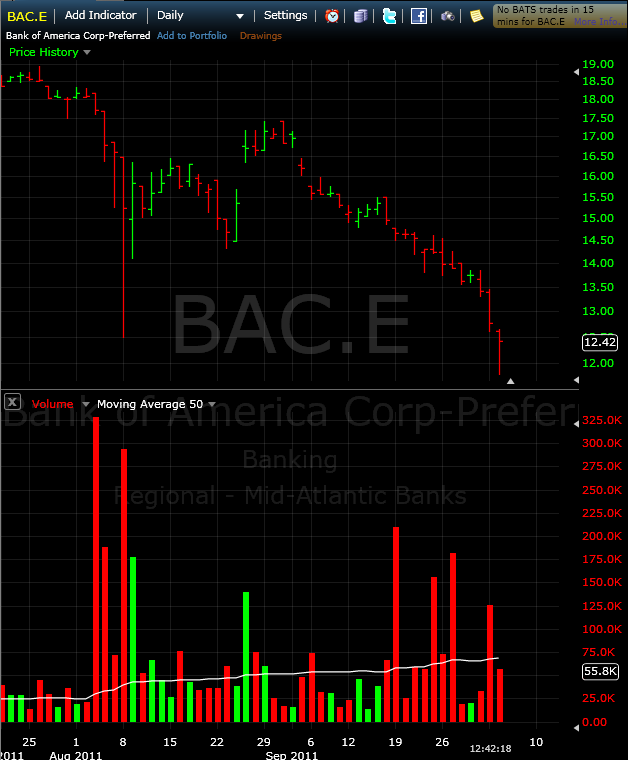 The other series have similar yields and charts.

BofA's perceived credit quality has declined dramatically and the common stock has had a precipitous decline. The preferred stock have also been hit. I have found that sell-offs in the common stock of a company tend to create buying opportunities at the preferred stock level of the capital structure. Preferred stocks tend to have less liquidity so best to put in orders below the bid to see if you can catch a seller.

The common stock represents a cushion of $55 billion lower in the capital structure. At current prices the common is trading at less than 30% of book value. Normal bank valuations tend to be a slight premium to book. Additionally, BofA is still paying a dividend on the common stock. With bank preferreds, the dividends are non-cumulative, meaning the board of directors can choose not to declare the dividend. Suspending the common dividend would free about $400 million annually, either allowing the company to maintain the preferred dividends or build book value adding protection to the preferreds. Continued losses threaten book value and the preferred dividend. Clearly there is risk. However, if you believe as I do that BAC is a going concern then the current weakness is an attractive entry point.

Disclosure: I have no positions in any stocks mentioned, and no plans to initiate any positions within the next 72 hours.