In Sir Arthur Conan Doyle's mystery "Silver Blaze", a prized race horse disappears and its trainer is murdered. Sherlock Holmes has a conversation with a Scotland Yard Detective about the crime. Gregory (Scotland Yard detective): "Is there any other point to which you would wish to draw my attention?" Holmes: "To the curious incident of the dog in the night-time." Gregory: "The dog did nothing in the night-time." Holmes: "That was the curious incident." Holmes is pointing out that the dog at the stable did not bark when the horse was stolen. Holmes concludes that since the dog didn't bark, it must have known the perpetrator.
The price of Tanzanian Royalty Exploration (NYSEMKT:TRX) has plummeted from a closing high of $7.46 on June 1st to $3.51 Monday.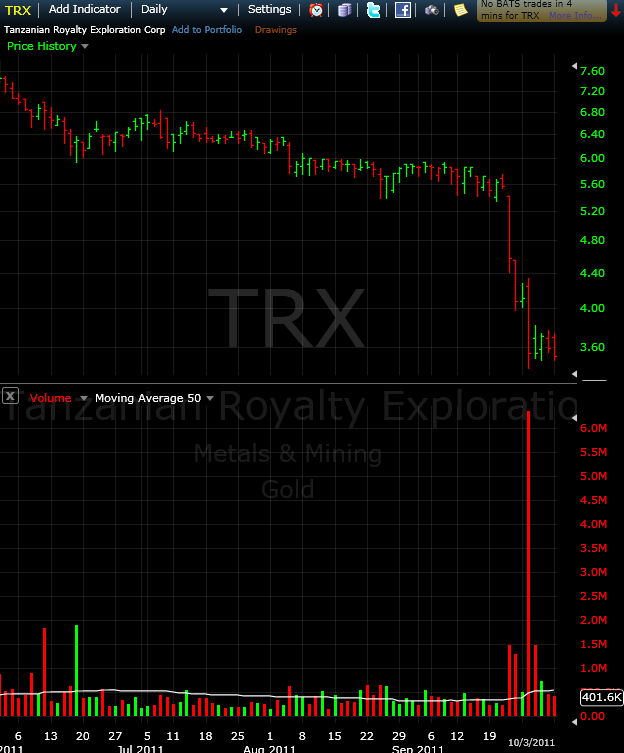 click to enlarge
The question on many investors' minds is, "Is now the time to step in and buy?" Is this an opportunity to exploit an anomaly created by the liquidation of a large position? To answer those questions, I point to the curious incident of management during the trading day.
The most precipitous portion of the decline has occurred since Sept. 21. As of Oct. 4th no officer, director or insider has filed an open market purchase with Canadian regulators. Investors can access the data here.
Compare the actions of TRX's executives to those of another company. In the past few days, the mortgage REIT sector has been hit hard. One stock I was watching is (NYSE:ARR) Armour Residential REIT.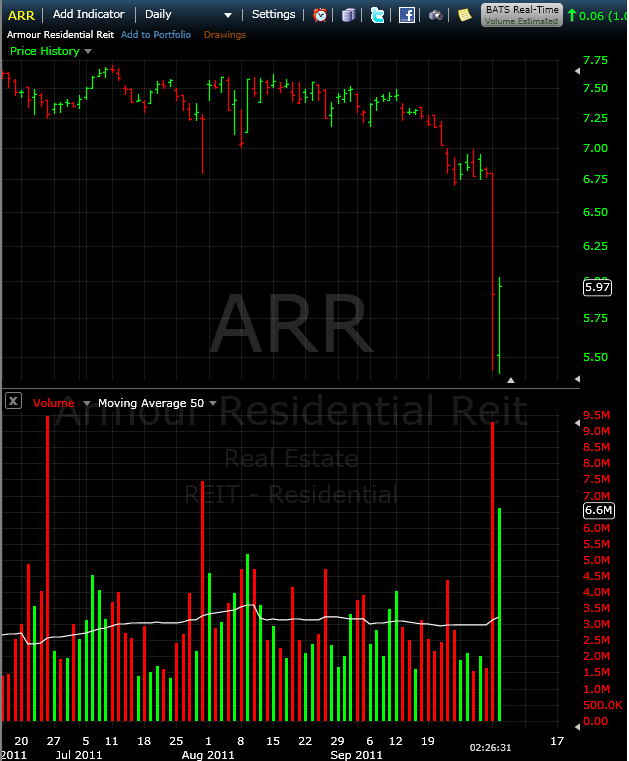 In response to the drop, two ARR executives stepped into the market and bought a total of 200,000 shares. ARR management communicated their view of the stock price by buying aggressively.
At TRX, insiders have communicated their view as well. They've done nothing. That is the curious incident. The people with the most intimate knowledge of the company haven't bought a share. Investors should avoid this stock.
Disclosure: I have no positions in any stocks mentioned, and no plans to initiate any positions within the next 72 hours.