Apple (NASDAQ:AAPL) shares were under pressure Tuesday on disappointment the tech darling didn't unveil iPhone 5, but rather a new version of iPhone 4. However, the stock bounced sharply at its 200-day moving average and helped pull the overall market higher.
Stock exchange traded funds closed in the green Tuesday thanks to a dramatic rally in the final hour of trading with speculation of a coordinated bank-sector recapitalization in Europe boosting sentiment.
PowerShares QQQ (NASDAQ:QQQ), which tracks the Nasdaq-100, led the way among the major index ETFs on Tuesday, thanks to Apple's recovery at the 200-day moving average, a key technical indicator. Apple is the largest stock holding in the Nasdaq-100 ETF.
"Apple introduced the iPhone 4S, instead of the iPhone 5, which was viewed as a modest disappointment," BMO Capital Markets said in a research note.
Apple shares fell to a low of $354.24 Tuesday, down more than 5%, before recovering along with the broader market, ending down 0.56% at the close. Apple CEO Tim Cook introduced the updated product.
"It's been 16 months and all you've got is an A5 processor in the existing iPhone 4," BGC Partners' analyst Colin Gillis commented, reports Reuters. "It's a mild disappointment, but they're still going to be selling millions of units."
Apple also announced that Sprint Nextel Corp. (NYSE:S) will be offering the iPhone device on its network later this year.
Apple's iPhone 4S will be facing stiff competition from Google's (NASDAQ:GOOG) Android, which Samsung Electronics is successfully selling globally. The company is expected to catch up in worldwide market share.
PowerShares QQQ ETF

click to enlarge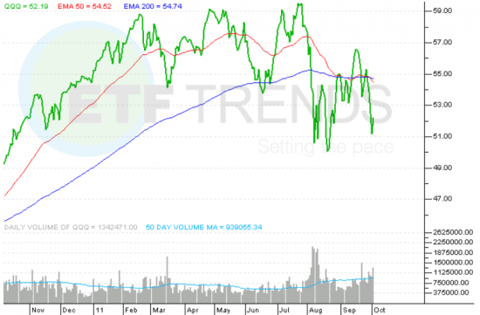 Max Chen contributed to this article.
Disclosure: None