I've owned the MarketVectors Agribusiness ETF (NYSEARCA:MOO), but I've been toying with the idea of gradually shifting into a fund that's more focused on fertilizers.
In general, I'm bullish on the agriculture sector, especially the fertilizer companies. But these companies – stocks like Potash (NYSE:POT), Mosaic (NYSE:MOS), and Agrium (NYSE:AGU) can be highly volatile, so owning them in a diversified portfolio makes a lot of sense.
But MOO's exposure to fertilizer stocks is a bit limited. It is after all, an overall agribusiness ETF. That encompasses everything from food companies such as Tyson (NYSE:TSN) and Wilmar International to farm equipment manufacturers such as Deere (NYSE:DE) and Kubota (KUB). Those four companies alone represent 20% of MOO's holdings as of early October.
I happen to own Deere anyway. And I'm also not wild about two stocks in the ETF, Monsanto (NYSE:MON) and Archer-Daniels Midland (NYSE:ADM), which make up yet another 13% of MOO's holdings. I know that Monsanto just reported what seems to be a decent quarter, but both have generally underperformed both the MOO ETF itself and the S&P 500 ETF (NYSEARCA:SPY) as you can see here: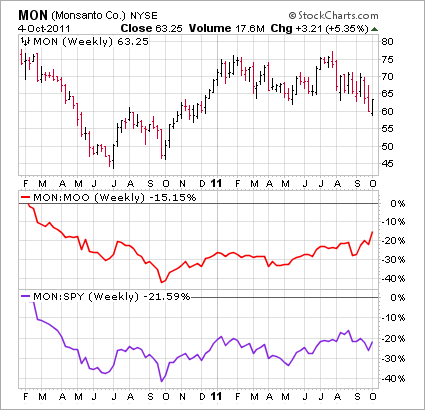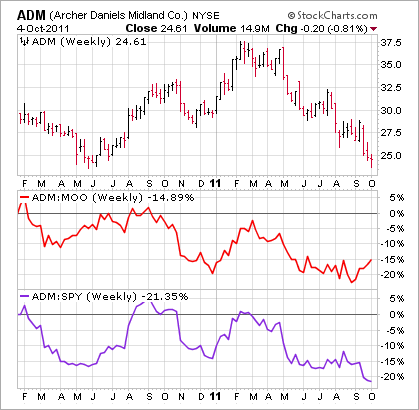 Why fertilizer stocks?
The reason the fertilizer companies can be so volatile is that their fortunes are determined largely by grain prices. When there's a bumper crop ,supplies are plentiful and prices are low. Farmers can't afford to pay for nutrients and there's little pressure to boost yield anyway.
However when there's a shortage, farmers do want the highest possible yield and can certainly afford the nutrients if crop prices are high enough.
Right now, corn, wheat, and soybean prices are falling – with each off more than 20% in the last month alone.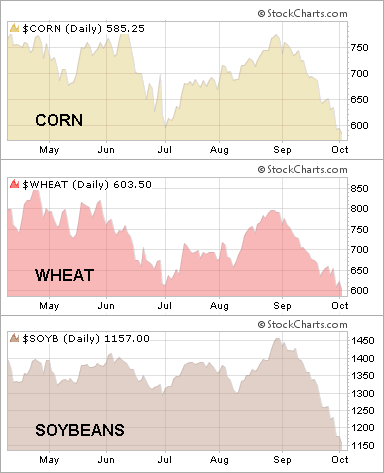 So I don't think there's any rush to get into fertilizer stocks right now, but when I do decide to do so, I'd like to put money to work in a more direct way.
Two ETF alternatives
One other fund that comes to mind is the PowerShares Global Agriculture Fund (NASDAQ:PAGG). It's a tiny ETF right now – only $100 million in assets with an average volume of 31,000 shares per day.
As a comparison, MOO has more than $4.5 billion in assets and trades an average of 3.3 million shares per day. PAGG also has a higher expense ratio than MOO (0.75% vs. 0.56%)
The holdings are somewhat different (see chart below), but I'm not wild about owning shares in a small thinly traded ETF.
But there's another even tinier ETF I've got my eye on, the Global-X Fertilizer/Potash ETF (NYSEARCA:SOIL).
It's only 4 months old with $29 million in assets and an average daily share volume of 78,000. But I hope the volume picks up because a look at this fund's holdings shows it's highly focused on fertilizer companies – mostly outside of North America.
Here's a look at all three ETFs and their holdings. Not all companies are listed, but this table captures more than 80% of each fund's holdings.
click to enlarge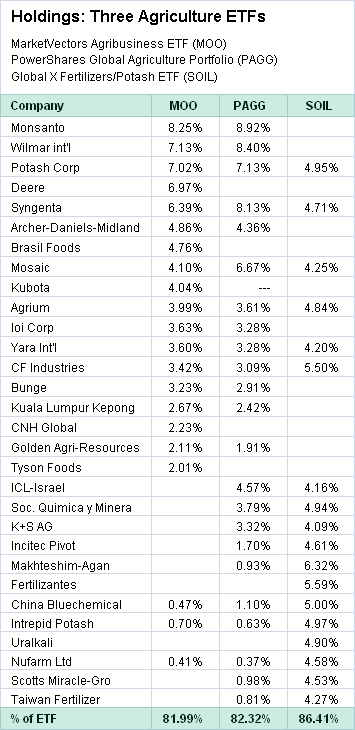 While MOO and PAGG provide exposure to some fertilizer stocks, SOIL could be a great fund– if liquidity picks up. And SOIL's expense ratio of 0.69% is a bit less than PAGG's.
But I'm in no rush. There are a couple of signs I'm looking for.
One is a return to a falling US dollar, which would bode well for SOIL, a fund with exposure mostly outside the US.
Another would be rising oil prices. If you've read Michael Pollan's book, The Omnivore's Dilemma, you gain an appreciation for the notion that, in many ways, corn is simply refined petroleum. (And to the extent you believe that hogs are refined corn, well, they're actually refined petroleum, too).
So if the dollar falls and oil prices rise, I think you could see crop prices begin to move up as well. And that means fertilizers could see higher demand.
If nothing else, I'm glad I researched the Global-X SOIL ETF as the company did publish a couple of interesting charts – showing world fertilizer consumption and how that breaks down by region: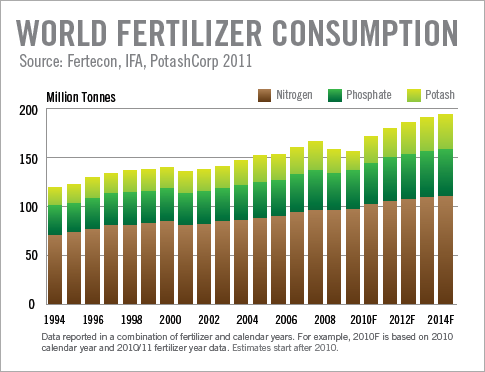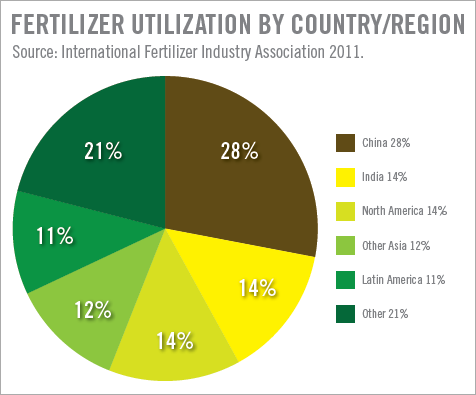 Warning: Puns ahead
It goes against my grain to recommend such a thinly traded ETF like SOIL, so I'll probably stick to MOO for the time being.
I may be tempted to go off my high-volume ETF diet and nibble on some shares, but I'm certainly not going to bet the farm.
Disclosure: I am long MOO.