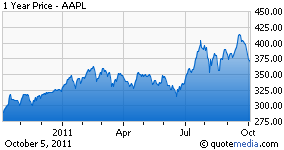 The market sell-off on Apple (NASDAQ:AAPL), stemming presumably in part from the firm's failure to release the much-anticipated iOS5 (announcing iOS4s instead) provides investors with an outstanding opportunity to buy the dip. Here's why:

1. For Apple, nothing really has changed. iOS5 is still coming soon, and more importantly, the products that are in the company's development pipeline are still in development. As I've noted in my previous commentary on Seeking Alpha, the Apple TV set is the biggest opportunity for the firm to create a new product that disrupts an entire industry - and thus paves the way for higher earnings and appreciation in Apple's share price.

2. In terms of the all-important macroeconomic situation, the U.S. Federal Reserve is still in the unfortunate position of needing to expand the money supply to avoid a wider collapse in U.S. equities. Though Bernanke did tone down the stimulus via the announcement of Operation Twist in September (rather than a more aggressive form of monetary intervention), I am confident that greater expansion of the money supply is inevitable, and all that has really occurred is that investors have been provided with more time to buy equities while they are cheap. The real opportunity is in equities with safe haven attributes - such as a high market capitalization, stable earnings, dividend issuance and a low P/E. Apple meets all these requirements except dividend issuance. This is an important drawback, but so long as new disruptive products are in the pipeline and success in China remains a priority, I believe the stock will continue to yield increases in purchasing power for its shareholders.

3. Technically, the picture is particularly appealing. The stock formed a long wick pattern on yesterday's daily chart off the 200 EMA near the bottom of the price channel - on strong volume. These factors lead me to conclude buyers are stepping in and will push the share price higher. The chart below illustrates.
Click to enlarge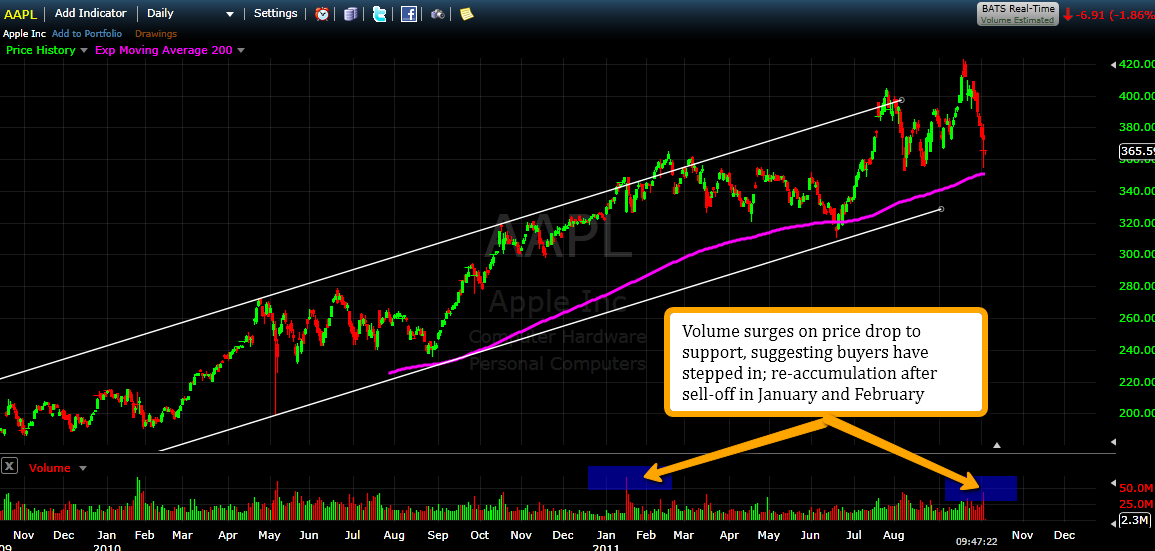 Click to enlarge

Disclosure: I have no positions in any stocks mentioned, and no plans to initiate any positions within the next 72 hours.