General Electric Company (GE) was at one time the bluest of blue chip companies. Most in the business world are familiar with one of GE's recent blue chip managers, Jack Welch, the legendary CEO who ran GE for 20 years, through the 1980s and 1990s, nearly quadrupling the company's revenue over the period. He was famous for his efforts to streamline GE's many businesses, ruthlessly eliminating uncompetitive activities and managers, and implementing a six sigma quality program. Shareholders were richly rewarded during this time.
Then came the lean years. Jeffrey Immelt succeeded Welch as CEO, but presided over a steep drop in the company's share price. Some claim that Immelt bears primary responsibility for this outcome, while others say he was simply a victim of bad timing, as he took the helm just days before the terrorist attacks of 2001, saw the bursting of the dotcom bubble, which led to an economic downturn, and more recently managed the company through the great recession of the late-2000s.
Although the economic environment continues to be challenging, perhaps it is not an unreasonable time to evaluate today's GE under Immelt's leadership, now that he has had a full decade to make his mark. As things stand today, is GE still a blue chip buy? GE is such a sprawling and diverse place that even the most energetic analyst would find it difficult to accurately measure the value of its many disparate pieces. So we have chosen to apply a big-picture quantitative overview of its financials to see how it compares with the variety of companies you can buy in the stock market today. We hope this quantitative lens can shed some light on the question of whether GE's blue chip status has been tarnished since Jack Welch left the company.
General Electric Company is a diversified technology and financial services corporation, offering a range of products and services in diverse fields, including aircraft engines, power generation, household appliances, healthcare products, industrial and consumer financing products, media through NBC Universal, and others. The company serves customers in more than 100 countries and employs almost 300,000 people worldwide. After running a Company Report on GE, we came up with the following output:
(Click charts to enlarge)



GE generates an aggregate score of 56.4%, which is the average of a quality score of 55.4% and a pricing score of 57.4%. So far the numbers look somewhat pedestrian, but we'll withhold judgment until we can see the entire picture.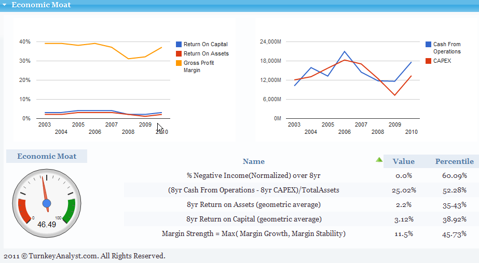 Reviewing the metrics making up our Economic Moat quality score, above, we see that the company has not been keeping up with the competition. While the company has not lost money in any of the past eight years, normalized (8year average) operating cash flow – capex/assets yield is 25%, placing it just above the average within our comparison universe. Normalized (8yr average) return on assets of 2.2%, and return on capital of 3.1% are decidedly sub-par, ranging between the 35%ile and the 39%ile. Margin stability is also low at 11.5%, placing it in the 46%ile. You can see in the graph, above left, how margins contracted from the 40% range to something closer to 30% during the 2008-2009 time frame. These are not the characteristics of a typical wide-moat business.


The stability of GE's business also warrants some tough questions for Mr. Immelt. As seen above, GE's Altman Z score for predicting bankruptcy is 0.64, significantly below our preferred threshold of 3.0. While GE's coverage ratio (EBIT/interest expense) looks reasonable, a debt-to-capital ratio of 115.7% seems less reasonable versus our comparison universe. If borrowing costs increase, the company could face a drag on earnings from increased interest expense. Liquidity ratios are also weak, with a quick ratio under 1.0, and a current ratio significantly under our preferred level of 2.0. If the company needs liquidity, it may have to look someplace other than working capital to find it. Even a strong f-score cannot offset these troubling statistics, and our overall Stability rating for GE is weak, at 33%.

Our Earnings Quality screen may also raise some eyebrows within blue chip land. While operating accruals/net income look decent at -152%, placing the company in the 78.5%ile, operating accruals/assets are flat out poor at 40.2%, leaving the company in the bottom quintile, and operating accruals/assets are also below average at -2.8%. The aggregate Earnings Quality score of 47.0% suggests a company with a middling quality of earnings. That is not typically what you would expect from a blue chip investment.

Shareholders Yields, above, are also nothing to write home about. Normalized (8yr average) FCF/TEV, TTM EBIT/TEV, and TTM FCF/TEV are all significantly below average, versus our comparison universe. These suggest the enterprise is pricey. Of the cash flow yields, only normalized (8yr average) EBIT/TEV of 6.1% is somewhat respectable, coming in at the 53%ile. The lone bright spots in the analysis are a decent book-to-market ratio of 79.4%, which is in the top third of the universe, and a normalized (8yr average) net income to market cap yield of 10.2%, which places it in the 92%ile, but given the earnings quality results above, it's hard to get too excited about this latter figure.
Overall, it is difficult to see how GE offers compelling value here. Along our quality dimensions, the company is not showing the traditional strong signs of an economic moat, generates some questions around its financial stability, and also demonstrates suspect earnings quality. We believe Mr. Immelt could do better in these areas. Additionally, while GE's shareholder yields appear above average in the aggregate, normalized cash flow yields are not especially strong, and TTM cash flow yields are quite weak.

While GE may have been a blue chip company a number of years ago, today the case is not so clear-cut, and we would only be buyers at a better price, given that there are so many better opportunities available today in the market.

Disclosure: I have no positions in any stocks mentioned, and no plans to initiate any positions within the next 72 hours.