September was the most miserable month for China Internet stocks year-to-date: The 50 stocks in this industry plummeted 22.1% on average (Table 1), underperforming the monthly returns of the Nasdaq Composite (-6.4%), the BNY Mellon China ADR Index (-14.3%), and the Halter USX China Index (-20.5%). Such performance accelerated the industry's latest downtrend, which started from May (-11.6%) and June (-9.3%) and resumed in August (-11.9%) after a brief rebound in July (+4.6%). Below are my analysis of the major themes and topics for the month:
Traditional sub-industries outperformed emerging sub-industries. During the U.S. market turmoil in September, as global economic uncertainties made investors even more risk-averse than in August, China Internet's emerging sub-industries remained the worst performers: B2C e-Commerce, online video, and social media stocks plunged 34.7%, 28.0%, and 26.4%, on average, respectively, led by Dangdang (NYSE:DANG), -37.2%; Tudou (NASDAQ:TUDO), -47.7%; Youku (NYSE:YOKU), -34.7%; and Sina (NASDAQ:SINA), -33.3%.
By contrast, traditional cash-cow sub-industries performed relatively better: B2B e-Commerce, online travel booking, online advertising and online games stocks declined 11.1%, 13.9%, 22.5%, and 23.4%, respectively. The most resilient stocks for the month were small caps, which dominated the list of top 15 performers. Tencent and Alibaba were the most resilient large cap China Internet stocks, declining 11.5% and 11.6%, respectively.
China-listed stocks outperformed U.S.-listed stocks. In addition to the global economic concerns, two regulatory factors pounded China Internet stocks listed in the U.S.: First, the Variable Interest Entity structure, which has been widely used by Chinese technology companies listed overseas, has recently drawn significant scrutiny from China's regulators.
Second, the U.S. Justice Department is investigating the accounting practices of Chinese companies listed in the U.S., according to a Reuters report on September 29. These two factors caused U.S.-listed China Internet stocks to tumble 26.5% on average in September, falling far behind their China mainland-listed peers' -14.3% performance. In addition, 19 of the 20 worst performers in the industry were listed in the U.S. (Table 1).
What should Sina do to reduce regulatory uncertainties? Sina's 33.3% drop in September highlighted almost all the risks facing China Internet stocks: in addition to all the factors mentioned above, SINA was particularly hard-hit by regulators' recent comments on restricting rumors online. Regulators were clearly concerned about the damages caused by some rumors that were spread widely using microblogging services such as Sina's Weibo.com.
In my view, there are many things that Sina cannot control, but one thing it can do to greatly reduce regulatory uncertainties is to implement a real-name registration system similar to the ones used by Facebook, Renren.com (NYSE:RENN) and Tencent's Pengyou.com. As we have seen time and time again, the creators of rumors almost always used pseudonyms instead of real names when they posted false information.
I believe the significant usage of pseudonyms on microblogs has made it very difficult to trace the real source of rumors on Sina Weibo, it has also become a major problem preventing advertisers from spending significant ad budgets there. After all, advertisers believe a real-name account is much more valuable than a pseudonym-based account. Implementing a real-name system will significantly limit rumor-creators' activities on Sina Weibo, and help Sina satisfy the demands from regulators and advertisers.
Some investors may worry that the real-name system, which was a major reason behind the failure of Baidu's (NASDAQ:BIDU) Shuo Ba microblogging service, will cause Sina to lose a lot of users. I believe the non-real-name system did help Sina Weibo grow explosively in its early stage (it's ironic that during the early stage, some analysts interestingly cited real-name registration as one of Weibo's major bright spots).
However, today Sina Weibo's user base is large enough for it to not worry about losing those pseudonym-based accounts. After all, Weibo's core users - the celebrities and the middle-class users - have overwhelmingly used real names. Implementing the real-name system does not impact these core users. China's microblogging industry has likely reached an inflection point, and it is no longer a good idea to compete on who has more users and less "user-disturbing" monetization. Now it's time for Sina to really focus on its core users and advertising clients instead of those pseudonym-based accounts that have little potential in monetization and lots of potential in causing troubles.
Table 1: China Internet Stocks' Performance in September 2011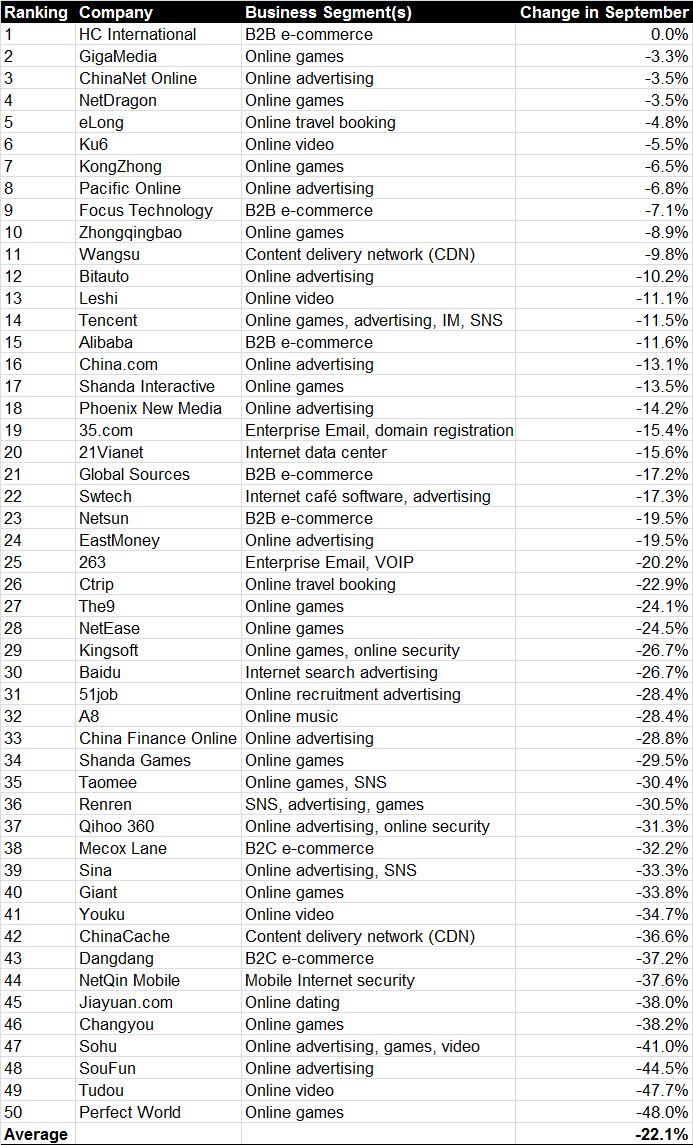 Disclosure: I have no positions in any stocks mentioned, and no plans to initiate any positions within the next 72 hours.
Additional disclosure: My virtual investment portfolio has long positions in GA, NCTY and NTES and short positions in DANG, MCOX and YOKU.