Momentum stocks can be great places for investors during volatile periods. However, momentous increases often end in devastating decreases in the share price. One reason for this is that investors may believe a particular stock has hit a short term bottom; therefore investors buy the stock in anticipation of a big run. This same process works vice-versa as well.
One of the most important aspects of momentum trading is the ability to correctly judge the best time to buy and sell securities. Because of this, trends are important to keep track of for momentum stocks. These trends can be insightful and paint clear patterns of how stocks react.

Over the last six months several stocks have been momentum stocks, but one in particular is Polypore (NYSE:PPO). Part of this has to do with the overall stock market becoming much more volatile in early August; Polypore's stock has become extremely volatile since August as well. Nevertheless, Polypore's stock has followed a fairly simple pattern. To describe this pattern, I will use Polypore's chart over the past six months for two reasons: First, this will enable us to view current trends that also apply to the future, not old trends from a bull market that may not currently apply. Second, viewing the chart over the past six months enables us to have a reasonable amount of data that does not bog down the overall thesis.

Another important note to make, as you will see in the charts below, is that I have broken down the past six months into three distinct phases as well as one subphase. I have done this for two main reasons. First off, these phases include sharp increases and decreases in share price followed by a natural calm period. Secondly, it is apparent each phase has become more volatile throughout the past six months. In other words, over the past six months, the share price increases have not been able to make up for the decreases. This is important because, if this trend continues, investors should be expecting steep share price increases followed by even steeper losses. If this holds true, it will not be a good idea to hold Polypore's stock for more than a 3- to 5-day span. Below I will discuss in more detail the reasoning behind 3 to 5 days.

We will begin on April 26, where Polypore's stock closed the session at 55.50. I chose this starting point because this is right before the stock began a several-month series of up and down momentum moves with an overall loss of roughly 6.7%. Beginning in late April, the stock began to show signs that a momentum trend was going to begin. Please note, unlike with Apple (NASDAQ:AAPL) in a previous contrarian article, I will include earnings reports as part of the momentum moves in the share price, because these events are important for the stock, and more often than not they directly cause sharp stock price consequences.

Nevertheless, after April 26 investors watched the stock run 11.3% through April 29. During the next three days we saw the stock almost give everything back, as the share price fell about 10.4% to end the May 4 session at 55.37. As you will see below, this six-day up-and-down trend is characteristic of Polypore's stock. The stock tends to jump up followed by a sharp decline shortly after. This will be very important to remember, because this pattern will continue over the next few months for Polypore. Therefore, long term-investors can take advantage of this pattern and collect profits near the top, while buying near the bottom. Please note I say "near" because I am not suggesting investors attempt to buy at the absolute bottom and sell at the absolute peak. This is very difficult to time correctly, and could end in substantial losses.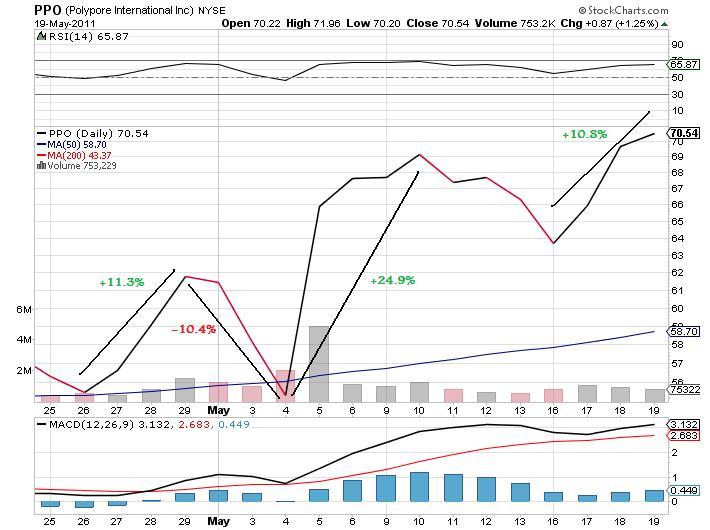 Polypore chart from April 25, 2011, through May 19, 2011.

As mentioned above, the first phase continued with a steep 24.9% increase in share price over the four trading sessions between May 4 and May 10. This can be attributed to strong earnings along with a stronger than expected outlook by Polypore. The stock then saw a natural pullback through May 16 before another strong 10.8% run during the three trading sessions ending on May 19. As you can see, the stock grew roughly 27% during the first phase, due to Polypore's earnings and a more or less strong stock market.

The next important period is what I am classifying as a subphase. I classify the period from June 16 through July 6 as a subphase because it simply shows a momentous increase in share price with no large decreases. Nevertheless, this is a perfect example to show investors the potential a momentum stock inherently has. On June 16 the stock closed at 56.12. This was soon followed by a 13-trading-session gain of 29.8%. During this near three-week rally the stock only saw one red day, on June 22, when the stock declined about 1.5%. Also of note, July 6 set the stock's 52-week high of 74.21; however to keep the data discernible, I will continue to use closing prices.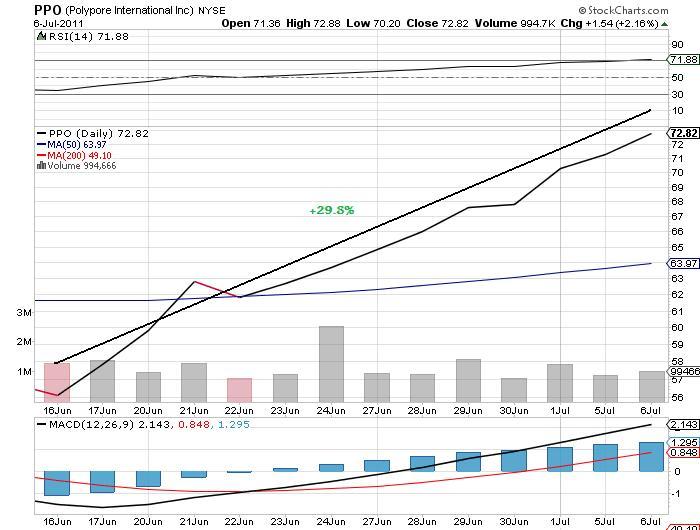 Polypore chart from June 16, 2011, through July 6, 2011.

The second phase, which also marks the beginning of a volatile period, begins on August 1. At the onset of August Polypore's stock sat at 68.56. Following this, the stock had a 10.3% drop in share price on August 2. More incredibly, the stock ran even higher with a 13.4% increase in share price on August 3 as the stock closed at 69.73. Over the next three days the stock slid nearly 26% to close the August 8 trading session at 51.64.
Unsurprisingly, after that slide, strong buying momentum brought the stock back up to 64.64 over the next five sessions, is a 25.2% increase. This was then followed by a five-day slide where investors saw the stock dip 19.5%, only to return 12.1% back to investors over the following two days. The stock continued to rise the next three sessions to close the August 29 session at 63.00, about 8.1% below the August 1 closing share price.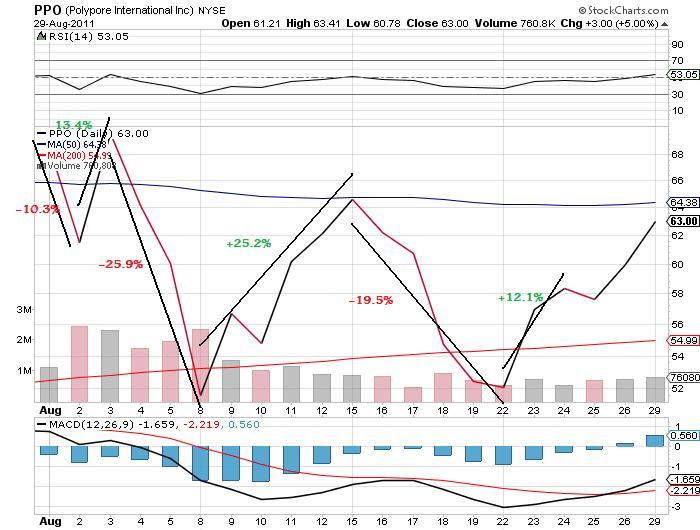 Polypore chart from August 1, 2011, through August 29, 2011.

As you may be thinking, August was a very tumultuous month for Polypore's stock. While the above values are simply numbers, it is important to point out some of the more important trading sessions. Keep in mind, Polypore's earnings were released on August 2 before the opening of the market. Therefore, from August 1 to August 8, the rather impressive and at times whimsical moves in the share price were due to a mixed earnings report and a volatile stock market. The rest of the month was also characterized by a stock market filled with volatility and investors looking to ride "hot" stocks. Since Polypore was, and still currently is, a momentum stock, investors and traders bought and sold in hoards. This caused the stock to move at relatively sharp levels over the key 3- to 5-day periods.

The final phase consists of more of the same action the stock saw in August. While some comfort and calmness did come about, the stock continued the momentum that many stocks did not see. To begin, September 9 saw the share price close at 59.05. Six trading sessions later, September 19, the stock closed 14.6% higher. This was then followed by an even greater 16.8% decrease over the next three days. The following three days saw a 9% run, which brings us to the current stage: From September 27 through October 4, the stock has slid roughly 15.6%.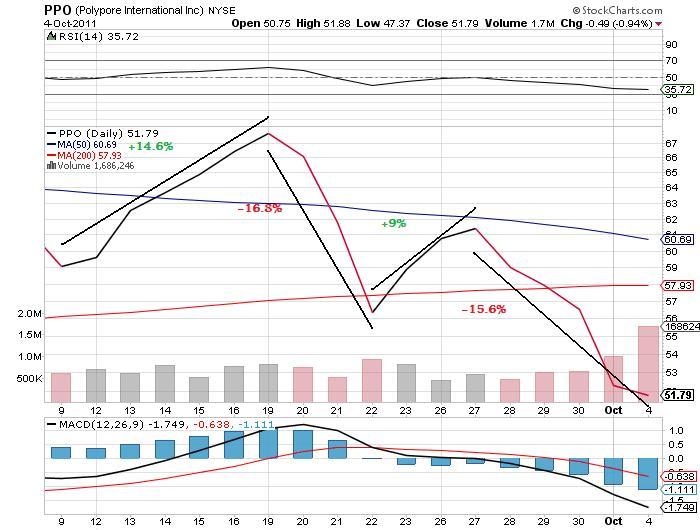 Polypore chart from September 9, 2011, through October 4, 2011.

Two majors patterns have been recognized. First, Polypore's stock tends to make very large moves. Second, it should be recognized the majority of the momentum runs are within a 3- to 5-day span. However, it is important to note the stock does make moves that last longer than five days. Therefore, based upon the current trend, we may see Polypore's stock make an 8-10% run sometime in the next week. I do not expect to see the stock slide for more than one more day; in fact, even with the news out of Europe late in Tuesday's session, I still expect the stock to move into the green the rest of this trading week, which fits perfectly into the 3- to 5-day span.

It may seem coincidental that the stock runs 10% or more the rest of the week if the market rallies on European news, which at this moment has not been officially confirmed. However, this strong move could have been predicted based upon the patterns outlined above. It is important to keep in mind this note is intended for shorter-term investors, because the stock is continuing on a fundamental trend of lower lows and lower highs since the 52-week high in July. Several things may be affecting this downtrend, but the point remains the same-- the stock is trending downwards, and while steep share price increases do occur, I do not recommend opening any long-term positions under the current market situation.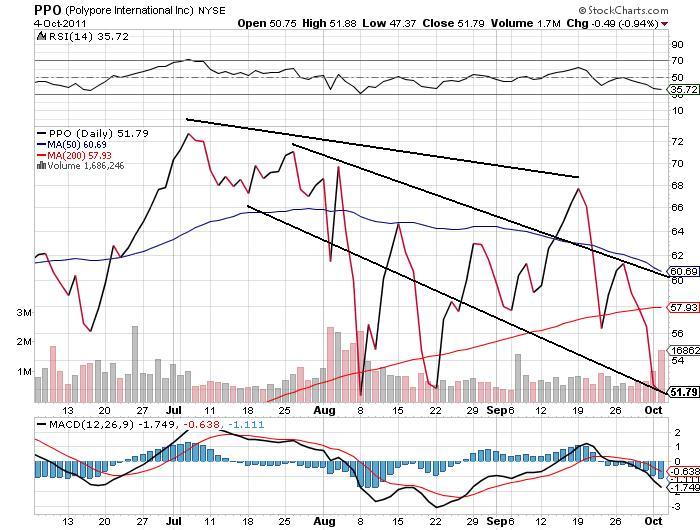 Polypore chart over the last four months.

To finish up, let me make a more precise example of how I see Polypore's stock moving the next week or two. As mentioned above, I am expecting a 10% run by the end of this week, which would place the stock at around 56.97. However, with the European news, I would not be surprised to see a 15% run, which would place the stock at 59.55. Nevertheless it is better to be on the conservative side, therefore I will continue with the 10% example. If the 10% increase in Polypore's share price does occur, we may see a 4th or possibly 5th day of increases continuing into early next week. This could possibly take the stock back to the $60 level, which means late next week or the following week I would expect to see the stock slide back to the $45 to $50 range as investors take profits and the downtrend continues.

With that said, it is important to note these predictions are based upon a continuing downward market. If this trend reverses, Polypore's stock will, for obvious reasons, not fall below the $50 level. I do not see this happening, and I do expect to see Polypore's momentum continue for the rest of 2011, as investors contemplate a potential recession, Greece's possible default, and whether the stock market is currently overvalued as it was more than a decade ago. Also, as mentioned above in the subphase classification, Polypore's stock can make big runs during any given strong periods. Only time will tell which way the stock market goes, but using the 3- to 5-day rule for Polypore's stock, investors can collect profits as the year continues.

Disclosure: I have no positions in any stocks mentioned, but may initiate a long position in PPO over the next 72 hours.