Along with other asset management firms, BlackRock (NYSE:BLK) has seen a precipitous stock decline since the start of 2010, with its value down by more than one third. The financial corporation now trades at 12x and 10.6x past and forward earnings, respectively, and offers an appealing dividend yield of 3.74%. Despite this attractive valuation, many investors are concerned about BlackRock's beta of 1.56 and macro headwinds. Proportionate client concerns, however, have resulted in the asset management company moving into lower yield but, of course, safer products. I would have preferred that the company remained more concentrated in higher-yield securities, since I find that the stock has essentially reached its bottom, but consumer demand has pushed the business mix in the opposite direction.
BlackRock recently revealed third quarter earnings of $3.00, which beat expectations through top-line growth and lower margins. The firm grew in size and now has more than $3.65T assets under management. With size, however, comes returns closer to the market and since I am fairly bullish on the market over the next few years, I remain optimistic about BlackRock's growth prospects. When enterprise value is evaluated at around 7.2x forecasted 2012 EBITDA, many analysts are finding that the stock offers a ~40% margin of safety or more. With a dividend yield far above competitors, BlackRock provides a favorable risk/reward beyond market anticipations.
I further see the expansion of the company's ETF business as beneficial to attracting more conservative investors and locking out competition. While BlackRock has experienced a decline in ETF market share - from a peak of 56.5% in 2006 to 43.3% currently - the business segment is, nevertheless, still likely to generate strong and sustainable inflows. Vanguard has more than tripled its ETF market share to 16% and also now has a majority share of emerging market ETFs. Again, though, BlackRock still will sustainably improve cash flow in the way that allows for further expansion.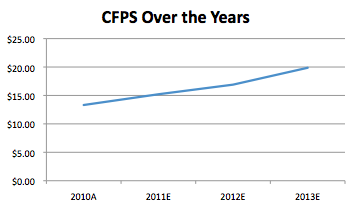 Mutual fund and equity returns will also likely make a favorable reversal for BlackRock. Equity funds had $8.9B worth of outflows recently, mainly concentrated in scientific and commodity funds, thus allowing much room for correction. Instead of repurchasing shares in the near future, management is also expected to repay off net debt which stands at more than 13.5% current market value. Finally, given that the firm is better positioned than its competitors to weather macroeconomic volatility, BlackRock has been cited as a long-term deep value play.
Over the next few years, I anticipate revenue growing by 13.6% to $9.8B in 2011 and then by 8.1% and 10.9% in the following two years. Consensus estimates for EPS are that it will grow by 13% to $12.36 in 2011 and then by 11.6% and 16.6% in the next two years. Analysts currently rate the stock near a "strong buy" given solid fundamentals and a favorable competitive position in a well-diversified business. Management's expected goal to deleverage also comes at the right time when the company has established a global foothold with tremendous upside.
In addition to BlackRock, I am bullish on the financial services industry in general. Click here to read my analysis on KKR (NYSE:KKR), here for Goldman Sachs (NYSE:GS), and here for Barclays (NYSE:BCS). The last of these companies appears to be the most obviously undervalued stock, but all provide great margin of safety opportunities.
Disclosure: I have no positions in any stocks mentioned, and no plans to initiate any positions within the next 72 hours.