Gold and silver futures have plummeted recently. They now give every indication that they have put in a 'V" bottom (overnight Sunday to Monday Sept. 25-26, 2011). Gold futures peaked recently at $1,923.70, and they bottomed overnight (Sunday to Monday Sept. 25-26) at 1,535.00. At the time of this writing gold is at $1,628/oz. It has been fluctuating since the recent low. On the bounce it made it back up to $1,640/oz. within a few hours. That's more than a $100/oz. bounce in a few hours. That reeks of capitulation to me.
Silver futures peaked recently at $43.50/oz. (they were higher earlier in the year), and silver futures bottomed at $26.15 overnight (Sunday to Monday Sept. 25-26, 2011). Later the same day (Monday Sept. 26) the silver futures bounced back up to $30.83. That's almost an 18% bounce upward in a few hours. Again this looks like a capitulation "V" bottom to me. The silver futures have been consolidating since. The current reading is $29.75/oz. The rapid drop is scary, but it may be overall goods new if it is the end of the fall.
A lot of stocks have been floundering due to the overall market downturn. The silver miners are no exception. In fact, they have been falling since early in 2011, even though silver futures hit a high of $49.82 in April. Now they are back to strong long term support. It seems likely silver miners will find support here. The industrial value of silver is thought to be approximately $21/oz. However, if you add in all of the use for speculation, such as the SLV ETF and other such investment vehicles, the extra demand factor brings that base value up to approximately $28/oz. The silver ETFs added 120M ounces of silver in 2010 to bring their total up to approximately 547M ounces worldwide. The $28/oz. figures is just a bit lower than the current futures value. The industrial demand grew by 21% in 2010. Since the total global production of silver in 2010 was only 735 ounces, the ETF demand growth is significant. A top strategist, John Stephenson, sees silver going to new high of $50+ in the near term, and he considers that prediction conservative. If this happens, it should help the silver miners' stock prices rise.
Yes, there is a huge amount of worry about a near-term Greek default. The EU has already determined that the Greeks have not met the conditions of the first bailout. Still the Troika will want to avoid a default in the near term. Such an occurrence might serve to put Italy and Spain in the cross-hairs of the bond vigilantes. Plus the Greeks have made a legitimate effort to meet the requirements. The economic slowdown caused by the Greek austerity measures effectively prevented the country from getting the income it needed to meet the terms. In fact it may be hard for Greece to continue increasing its austerity measures near-term without pushing itself into a depression. Some see this situation as pushing the world into a recession.
On the other hand, much of the economic data for the last week or so have been good. The ISM Index beat at 51.6 versus the expected 50.5, and construction spending beat at +1.4% versus an expected -0.5% on Monday Oct. 3, 2011. Russian GDP came in at the expected 3.40% (YoY). The French, German, British, and European manufacturing PMIs were all beats. The US automakers beat at 13.10M versus 12.50M. Last week the US initial unemployment claims beat at 391K versus an expected 419K. The US Q2 GDP beat at 1.3% versus an expected 1.2% and a previous 1.0%. The Chicago PMI beat at 60.4 versus an expected 54.0. The Michigan Sentiment beat at 59.4 versus an expected 57.5. German unemployment beat at 6.9% versus an expected 7.0%.
These positive data are not signs of a failing US or world economy, especially since China depends so much on the US and EU markets. On Tuesday the AUD commodity prices (YoY) were up 26.60% versus last month's 25.10%. This means the bottom has not completely fallen out of commodity prices. On top of all of this, OPEC may institute cuts to buoy oil prices. The Libyan oil may not return as quickly as expected, although there may be an "easy" blip up of available oil at the very beginning of the restoration. For a lot of the oil supply to be restored, the infrastructure will have to be repaired or replaced. Plus, it is October already. Peak winter heating demand will be upon us soon. All these oil availability factors may serve to buoy oil prices. Higher oil prices may serve to buoy other commodities such as silver and gold. I note much of the economic data above is from Yahoo Finance.
Further Dragi, an Italian, is set to become president of the ECB on Nov. 1, 2011. Most think he will insist on easier monetary policy. Many think the ECB will lower rates from 1.5% to 1.0% by the end of 2011. The expanded EFSF and the bond buying program should be inflationary. Roubini thinks the US Fed will start a QE3 program by the end of 2011. The recently falling commodity prices may allow for this, or in Bernanke's view, they may necessitate it (stave off deflation). Many think the RBA (Australia) will lower rates by 0.75% by the end of 2011. This is inflationary.
These things all tend to support the idea of higher silver and gold prices. The good economic data cited above tend to take the edge off the fear that makes investors want to sell everything. With silver stocks far oversold, it makes sense that they would begin to bounce soon. You could try averaging in. You could try buying at what may be fantastic bargain prices. You could wait until after the EU settles what it is doing about Greece in the short term. You should at least put silver stocks on your watch lists to buy.
A few of the stocks that may be good buys are: Pan American Silver Corp. (NASDAQ:PAAS), Coeur d'Alene Mines Corp. (NYSE:CDE), Silver Wheaton Corp. (NYSE:SLW), Compania de Minas Buenaventura SA (NYSE:BVN), and Hecla Mining Co. (NYSE:HL). Some fundamental financial data for these stocks are in the table below.
Data from TDameritrade and Yahoo Finance.
Stock

PAAS

CDE

SLW

BVN

HL

Price

$25.28

$20.56

$27.45

$36.97

$5.20

1-Year Analysts' Target Price

$44.47

$39.43

$52.15

$50.35

$10.50

Predicted % Gain

76%

92%

90%

36%

102%

P/E

9.14

78.47

19.72

11.49

18.51

FPE

7.22

5.29

11.07

8.91

7.43

Average Analysts' Opinion

2.3

2.3

1.8

2.5

2.6

Miss Or Beat Amount For Last Quarter

-$0.04

-$0.33

-$0.04

-$0.17

-$0.03

EPS Estimate For FY2012

$3.50

$3.89

$2.48

$4.15

$0.70

EPS Estimate For FY2012, 90 Days Ago

$3.05

$3.16

$2.27

$3.91

$0.70

EPS % Growth Estimate For 2011

194.30%

309.30%

149.40%

44.80%

83.90%

EPS % Growth Estimate For 2012

13.30%

76.00%

25.90%

9.80%

22.80%

5-Year EPS Growth Estimate Per Annum

11.00%

25.00%

17.00%

13.15%

12.20%

Market Cap

$2.73B

$1.84B

$9.70B

9.44B

$1.46B

Enterprise Value

$2.36B

$1.96B

$9.69B

8.95B

$1.07B

Beta

1.40

1.99

1.55

0.81

2.58

Total Cash Per Share (mrq)

$4.27

$1.20

$1.99

$2.61

$1.35

Price/Book

1.80

0.89

4.21

3.25

1.38

Price/Cash Flow

11.59

8.84

25.03

10.32

10.94

Short Interest as a % of Float

1.66%

7.01%

1.45%

0.66%

9.00%

Total Debt/Total Capital (mrq)

0.00%

8.36%

12.65%

2.50%

0.72%

Quick Ratio (mrq)

4.21

0.82

--

3.97

1.97

Interest Coverage (mrq)

--

3.64

--

--

64.65

Return on Equity (ttm)

13.48%

0.86%

16.66%

31.61%

7.99%

EPS Growth (mrq)

1,877.62%

185.02%

840.14%

81.82%

118.50%

EPS Growth (ttm)

166.42%

114.07%

138.38%

30.56%

-16.55%

Revenue Growth (mrq)

54.00%

128.76%

104.99%

52.31%

32.98%

Revenue Growth (ttm)

39.89%

99.99%

74.46%

51.87%

43.45%

Annual Dividend Rate

$0.10 (0.40%)

N/A

N/A

$0.12 (0.40%)

$0.49 (1.33%)

N/A

N/A

Gross Profit Margin (ttm)

46.74%

32.83%

86.09%

56.63%

54.82%

Operating Profit Margin (ttm)

42.12%

24.12%

58.20%

45.83%

6.21%

Net Profit Margin (ttm)

25.72%

2.36%

60.10%

67.04%

17.19%
These are all strong stocks. They are all bargains. The average FPE is 7.98. All have double-digits EPS Growth Estimates per annum. The EPS estimates for four of five these companies for FY2012 have been raised -- not lowered -- in the last 90 days. The stock whose FY2012 EPS was not raised was flat, not down, after 90 days. This is during a time when most other stocks' earnings estimates have been lowered. This makes these standout stocks, even if they have been going down with the overall market (and with silver as it has sold off).
Three of the five stocks have analysts' one-year predicted price gains of greater than 90%. These companies all have little debt. They should all survive a downturn well. Some have truly outstanding net profit margins. They could easily bounce upward if the market moves up. The overall market rallied Tuesday Oct. 4, 2011, on news that the EU countries were considering recapitalizing their banks. Also Fed Chief Ben Bernanke said the Fed is prepared to take further steps to help the economy.
Of course, not long after that, Moody's downgraded Italy's sovereign credit rating from Aa2 to A2 with a continuing negative outlook. Many expect a downgrade of Italy's banks to follow soon. This will hurt Italy's ability to borrow. We will have to see how all of this unfolds. If this ultimately means that Italy will need a bailout or a default, this may mean you don't want to buy any stock. In the meantime, the silver stocks above are big bargains. If you buy (or average in), you can always sell if Italy starts looking very weak. On the other hand, the market did finally seem overjoyed with the EU credit crisis action today. It could try to climb a wall of worry.
A brief description of the companies is below:
Pan American Silver Corp. (PAAS) is the world's second-largest silver producer, with seven silver mines in Mexico, Peru, Argentina, and Bolivia. There is some risk that Bolivian mines could be nationalized. However, there has been no overt action to do this yet. Otherwise PAAS looks great.
Coeur d'Alene Mines Corp. (CDE) has mostly completed its major investments in its new mines. It is now in a position for its EPS numbers to benefit from its now lower costs. CDE also has a Bolivian mine, San Bartolome, which runs the same risk of nationalization as PAAS' Bolivian mines.
Silver Wheaton Corp. (SLW) acquires long-term silver purchase agreements. It has 14 long-term silver purchase agreements and 2 other long-term precious metal agreements. It acquires silver and gold production from counterparties in Mexico, the U.S., Greece, Sweden, Peru, Chile, Argentina, and Portugal. It has a long history of successfully signing lucrative purchase agreements. The current upset may allow it to demonstrate its expertise again.
Compania des Minas Buenaventura, S.A. is a precious metals (primarily gold and silver) company. It is headquartered and operates in Peru. It owns or owns an interest in many mines in Peru. The president of Peru has just signed a new Windfall Profits tax on mining profits, which will cost BVN some of its profits. However, it should still do well. Nationalization seems not to be under consideration for now. In August BVN was granted the permits necessary to begin metallurgical operations on its new Tantahuatay mine. It has a 40.09% interest. The project, which was completed in July 2011, is estimated to produce approximately 100,000 ounces of gold per year. This should help BVN's bottom line going forward.
Hecla Mining Company (HL) mines silver, gold, zinc, and lead. It owns a mine in northern Idaho and one near Juneau, Alaska. It is perhaps safer in the geographic location sense, although Obama is talking about Windfall Profits Taxes too. Hecal has two promising development projects. One is the San Juan Silver JV in Colorado, and one is San Sebastian near Durango, Mexico. Hecla is the lowest-cost silver producer in the U.S. This indicates good management.
The two-year charts give a good idea of how oversold these stocks are.
The two-year chart of PAAS is below.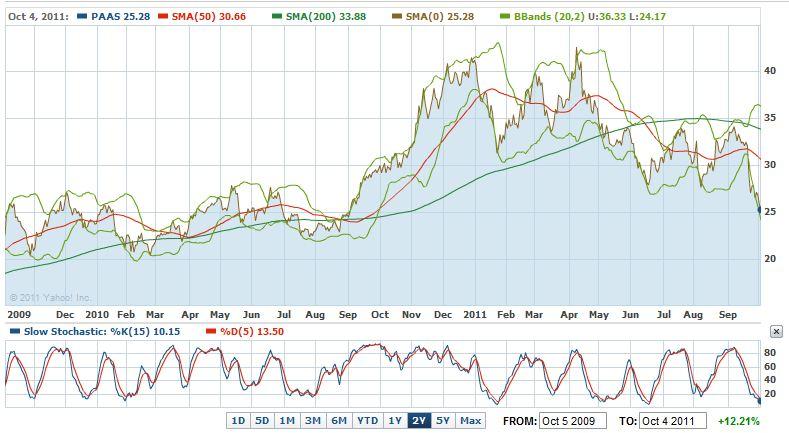 Click to enlarge

The two-year chart of CDE is below.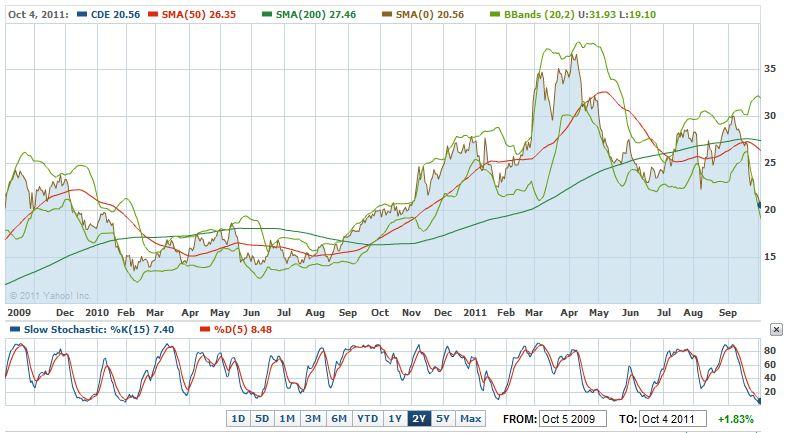 Click to enlarge

The two-year chart of SLW is below.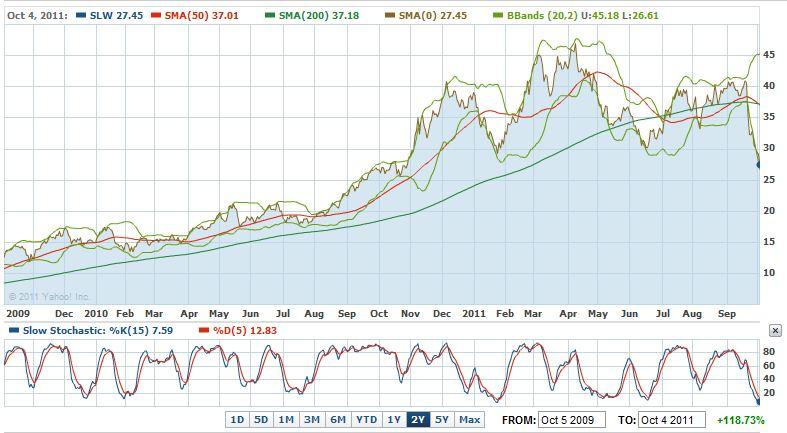 Click to enlarge

The two-year chart of BVN is below.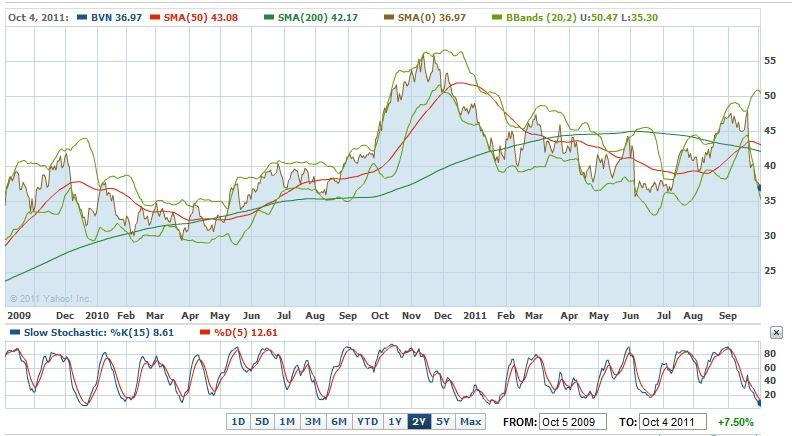 Click to enlarge

The two-year chart of HL is below.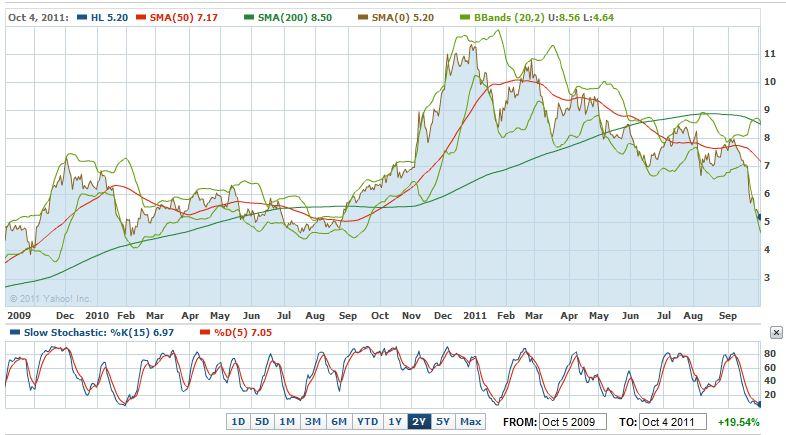 Click to enlarge

The sub-charts of all the above show each stock is highly oversold. Each stock is at or near its lower Bollinger Band. Each stock is far below its 200-day SMA. Each is primed to bounce upward. Some of the stocks have low Betas. SLW may be the only one with a still strong chart. However, each of the others is at or very near a major support point. Logic says they should all bounce upward. I think any of them is a buy. The ones with predicted growth of 90%+ may be better buys than others.

Disclosure: I have no positions in any stocks mentioned, but may initiate a long position in PAAS, CDE, SLW, or HL over the next 72 hours.