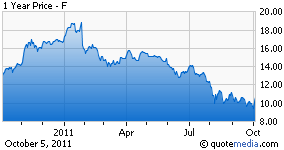 Ford Motor (NYSE:F), rallied nearly 8% as investors poured into a late market rally. Ultimately we think the price spike can be attributed to a few different factors, but most importantly, it looks like Ford and the UAW have struck a deal that should be beneficial to both employees and shareholders. Although the UAW still must ratify the deal, initial terms of the deal indicate a fair agreement for employees, and a tremendous sign of confidence for the United States economy in the mid-term. We're looking to add to our position in Ford in our Best Ideas Newsletter.
Lower Entry-Level Pay, More Variable Pay
As expected with the precedent set with the GM (NYSE:GM) deal a few weeks earlier, the new labor contract creates an entry level wage of $15.78, with a guaranteed raise to $19.28 in year four of the agreement. Additionally, the contract opts for profit sharing initiatives rather than annual raises. This aligns the compensation of employees even more with the interests of shareholders, which tends to be a net-positive. Current employees will receive a $6,000 signing bonus to compensate for frozen cost of living adjustments since 2007.
On top of achieving a lower fixed cost structure, Ford pledged to add 5,570 new factory jobs in the United States - on top of the over 6,000 jobs management promised earlier this year. We think this signals that the company is pretty optimistic about automotive sales over the next three to five years, and applaud any company that's able to create more jobs in a difficult economic situation.
The deal also allows Ford to buy out up to 20% of the aged workforce for $50,000 or $100,000, depending on skill level. This paves the way for lower fixed labor costs but accelerated pension usage. We think this will still provide a net cost savings.
As S&P stated a few weeks ago in a note to clients, they plan on upgrading Ford's credit rating to BB+, the highest junk debt rating, assuming this labor contract doesn't put them at a disadvantage. Since it's a very similar deal to the one the UAW struck up with GM, we would call the deal relatively neutral. A credit upgrade should follow, paving the way for Ford to return more cash to shareholders via a dividend.
Don't Forget About September Sales
What got completely lost in the hysteria of Monday's market sell-off were the excellent sales results reported by the Big Three. GM and Chrysler outpaced Ford with increases of over 20% (Chrysler on a much smaller base). We pulled some favorable data points from their release and sales call.
For one, sales in California, the largest and most sprawling car market, were up 50% year-over-year. If the California economy recovers, Ford has a tremendous opportunity to sell a lot of high mileage vehicles. Additionally, we noted that sales of Ford trucks were up 14.8%. As we mentioned in our last piece, SUVs and trucks are higher margin vehicles and we think the dramatic increase is due to both some of the substantial pent-up demand and a stimulus from lower gas prices. We essentially see gas prices as neutral to vehicle sales in the long-run, but a relief in fuel costs can stimulate purchases in the higher margin vehicles in the short-term.
Select September Sales Figures:
Sales of the Ford Explorer were up over 200%, growing off a very small base. And though sales of the Focus, among Ford's top sellers, were down 28.4% from a year ago, we buy the management argument that it was due to supply chain constraints.
We also like that Ford is still on pace to sell over 2 million cars in the U.S. this year, with the SAAR for September coming in at 13-13.1 million. Even after the increase, shares remain incredibly undervalued with our worst case scenario fair value at $20. In the spirit of transparency, we make available our DCF valuation model template here (investors can re-use it to value any operating firm). Shares have suffered so much selling pressure over the last several months that the downside should be limited to that of the broader market.
Disclosure: I have no positions in any stocks mentioned, and no plans to initiate any positions within the next 72 hours.