Last month, the mere rumor that China was looking at purchasing Italian bonds sent stocks surging higher. However, it is far more likely that China will take a "wait-n-see" approach.
Consider the contentious nature of international trade and currency disputes between China and the developed world. In response to a widespread belief that China keeps its currency artificially low, the U.S. Senate has been advancing a bill designed to curtail some Chinese products. Similarly, Europe is currently debating China over trade barriers to European exports.
Unfortunately or fortunately, Beijing understands that China is driving the global growth car. With the spectre of another global recession weighing on consumer, corporate and investor sentiment, Chinese officials have been ever-so-subtle in discussing developed world debt mismanagement. As recently as last month, Shen Danyang, a spokesman from China's Ministry of Commerce, opined that if the debt crisis in the European Monetary Union intensifies, the event may further damage China-EU economic and trade relations.
Can trade tensions really escalate beyond words? Not unless China wants it to. After all, China owns massive amounts of U.S. and European debt, and it is one of the few countries that might be willing to buy more. In contrast, the EU does not have a great deal of bargaining power.
That said, if the eurozone can't right its ship on its own, Chinese exports could screech to a halt. Indeed, investing in China ETFs has been brutally unkind over the last 12 months. Note: SPDR China (NYSEARCA:GXC) and Guggenheim China Small Cap (NYSEARCA:HAO) have charted dreadfully bearish paths.
Click to enlarge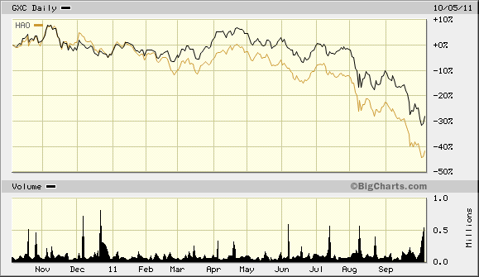 Could China help restore confidence in the worldwide stability of financial markets? Absolutely ... if it wants to. But Chinese decision-makers are more likely to wait for Buffett-like Bank of America bargains. Not only would that be more profitable ... it would come with a bit of desperate begging on the part of the EU.
Clearly, U.S. investors shouldn't "bank" on China's willingness to do much more than diversify its holdings. The best chance for resolution may need to come from Europe itself, taking a cue from the U.S. government's TARP.
Will a European TARP-like action leave a bad taste in the mouths of stronger EU countries like Germany? It will indeed. However, it still remains the best chance at adequately shielding European banks from a toxic sovereign debt shock.
In spite of 10/5's monstrous jump off the bottom for materials, natural resources, China and Brazil stocks, I'm not ready to revisit cyclical global growth (see table below). For one thing, a convincing European plan needs to rise like a phoenix from the ashes. Similarly, China may need to signal that it is finished with monetary and fiscal tightening. In essence, once China goes neutral and/or decides to ease, investors will be more likely to return to the emerging market-driven, global growth story.
Resources-Related ETFs Rocket on Wednesday, 10/5
Approx %
Market Vectors Coal (NYSEARCA:KOL)
5.75%
SPDR Metals & Mining (NYSEARCA:XME)
5.68%
IQ Small Cap Canada (NYSEARCA:CNDA)
5.46%
Market Vectors Rare Earth Metals (NYSEARCA:REMX)
4.37%
iShares DJ Basic Materials (NYSEARCA:IYM)
4.34%
iShares MSCI Canada (NYSEARCA:EWC)
4.34%
Guggenheim China Small Cap (HAO)
4.21%
SPDR S&P China (GXC)
4.10%
Disclosure: Gary Gordon, MS, CFP is the president of Pacific Park Financial, Inc., a Registered Investment Adviser with the SEC. Gary Gordon, Pacific Park Financial, Inc, and/or its clients may hold positions in the ETFs, mutual funds, and/or any investment asset mentioned above. The commentary does not constitute individualized investment advice. The opinions offered herein are not personalized recommendations to buy, sell or hold securities. At times, issuers of exchange-traded products compensate Pacific Park Financial, Inc. or its subsidiaries for advertising at the ETF Expert web site. ETF Expert content is created independently of any advertising relationships.