You're strong, you're stubborn now
in an endless symbolic war
brave or bored, either/or

sometimes i ricochet from the past
and at times a future i've already had before
champion or chore, either/or.
-Elliott Smith, Either/Or
Lately, I've focused on reminding myself - and hopefully others - not to let emotions interfere with trading and investing. That means not falling for the allure of owning thousands of shares of a sub-$5 stock as opposed to just a few of one that trades for over $100. That means not relentlessly hanging onto an opinion about a stock or company when reality or evidence points in opposing directions. And it also means not catching falling knives on the notion that a stock "cannot go any lower" because this or that financial metric justifies a price of at least X.

Many of us who attempt to make a living following and working the stock market tend toward being competitive and stubborn. We like to consider past success and connect it to visualizations of a future where, of course, we end up victorious, while ignoring present - and often stark - reality.

These types of attitudes can cost you money in the stock market. That's not to say that the time never exists to average down or take advantage of a value play or exploit a mismatch between stock price and current or anticipated company performance. Just pick and choose carefully when you employ such strategies. And ensure that a sound belief informs the choice, not the games humans often play with themselves.

Even in the face of overwhelming evidence to the contrary, humans continue to make poor choices. Just look at the comment threads to articles on stocks such as Research In Motion (RIMM) and Sirius XM (NASDAQ:SIRI). You could write an entire dissertation on those two stocks alone.

I like to see graphic representations of how wrong I am, while I am in the process of being wrong. After seeing them enough times, I tend to snap out of my errant ways. But, if I never see it - or choose to ignore it - I get burned more often than not, both in the market and in life.

The following stocks represent some of 2011's most prominent falling knives. All the way down, however, longs have bought and held somewhere in the freefall's trajectory. While they're not all victim to psychological forces, many remain bagholders. And, in some instances, they're quite vocal about their bullish sentiment. Some of these stocks might go up, but don't get suckered into the belief that they have to.

Click to enlarge (Charts courtesy of Yahoo Finance)

RIMM - The trademark falling knife. Marked by the psychology of it can't get any worse and the hope of M&A activity, not to mention a tragic misread of the numbers.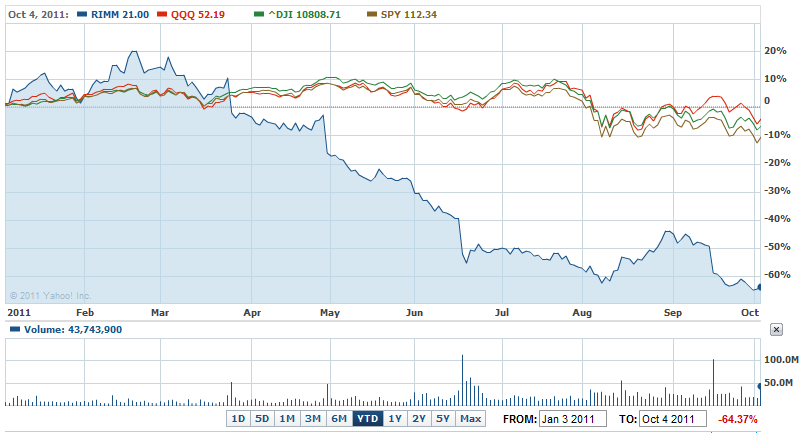 SIRI - The quintessential falling knife since July. Marked by group psychology and the notion that one meteoric rise should naturally and justly lead to another.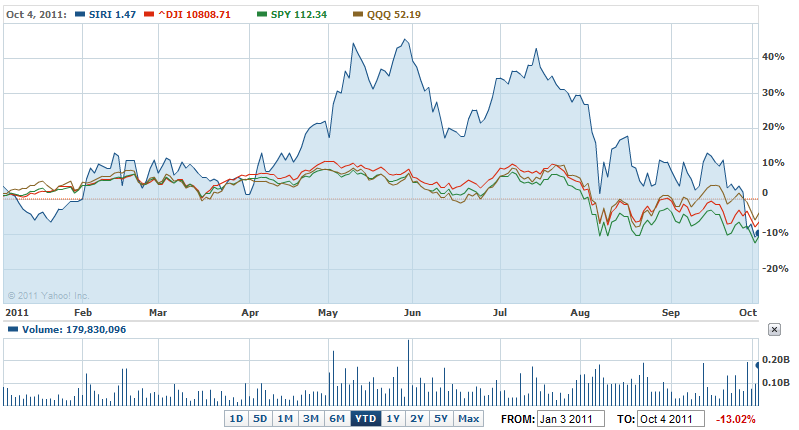 Bank of America (NYSE:BAC) - Too big to fail!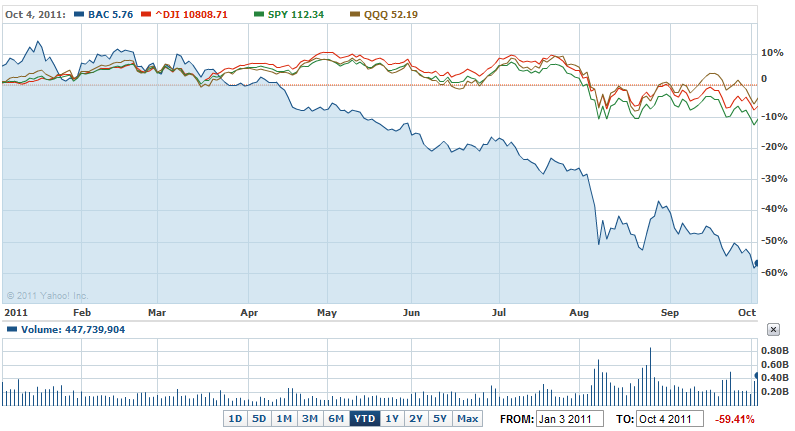 Level 3 Communications (NASDAQ:LVLT)
- Similar to SIRI in many ways. Plus, lots of hope for M&A activity.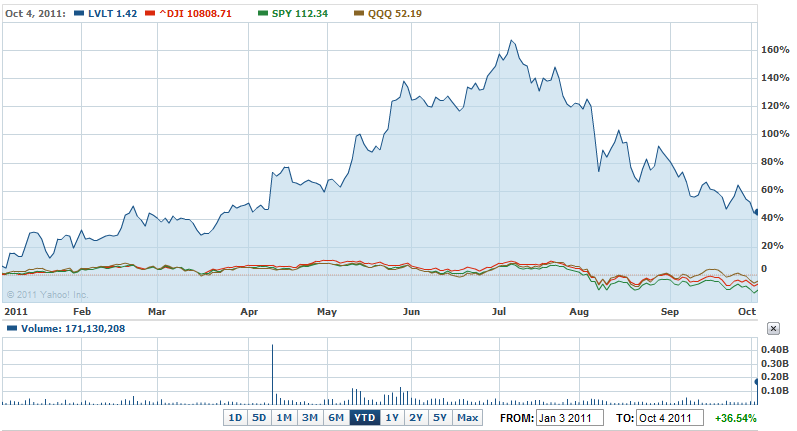 Certainly, any of these four stocks - and many other falling knives - could turn around and generate considerable returns for investors who stay the course and buy on dip after dip or at or near the bottom. Heck, SIRI and LVLT both generated impressive returns from the beginning of the year until each imploded, beginning in July (and a mini-implosion for SIRI in June).

Just be sure you're not kicking yourself next year because you thought a massive growth company like Apple (NASDAQ:AAPL) or Chipotle (NYSE:CMG) was "overvalued" and a stock like the four charted here presented "tremendous value" and the dream of riches at "bargain" prices. I would venture a guess that, come 2012, history will show, generally speaking, that you should have made the trend your friend.
Disclosure:
I am short RIMM.
Additional disclosure:
I may initiate a short position in SIRI or BAC over the next 72 hours.