Land oil service companies have high Betas. As such they have been beaten down much faster than the overall market. The normal reason for this is that growth companies often trade on forward momentum. In the typical case this forward momentum often disappears as the economy slows or becomes troubled. This has not been the case so far with land oil service companies. Most of them have beaten and raised most recently. Further this is not likely to become the case. New technology has made it possible to recover oil from many areas such as oil shale fields, where it was previously unfeasible to do so. This has opened up huge new oil fields in just the last few years. Most of these are in the very beginning stages of development. They are huge prolific fields. This is creating an incredible amount of new business for the land oil service companies. The fast growth is unlikely to falter even in hard economic times. It should go on for at least 5-10 years. Often these companies are now drilling, etc. 24 hours a day. They are that busy. These high beta land oil service stocks have therefore been beaten down unfairly. Eventually the market will realize this. At the point they are at right now they are huge long term buys. You can't go far wrong with any of them.
An example of one of the prolific fields is the Bakken. A few year ago the USGS said it contained 3.5B barrels of recoverable oil. This year the CLR CEO said it contains 24B barrels of recoverable oil. A number of scientists have estimated that it contains 300B barrels total of oil. Even the 24B barrels of recoverable oil are a small proportion of this. As time goes on, further technological advances may allow more of this "total oil" to be recovered. This would provide even more work for the oil service companies. I note that 99% of the wells drilled in the Bakken have found oil. 90% are commercially viable. With these kinds of odds (and good seismic data) oil companies can have good faith that their investments will result in profits in the near term.
In Texas all of the drilling permits are given out by the Railroad Commission. This makes it easier to track the numbers there. The following chart illustrates the ramp up that is occurring in the Eagle Ford oil shale field, on of the prolific new fields.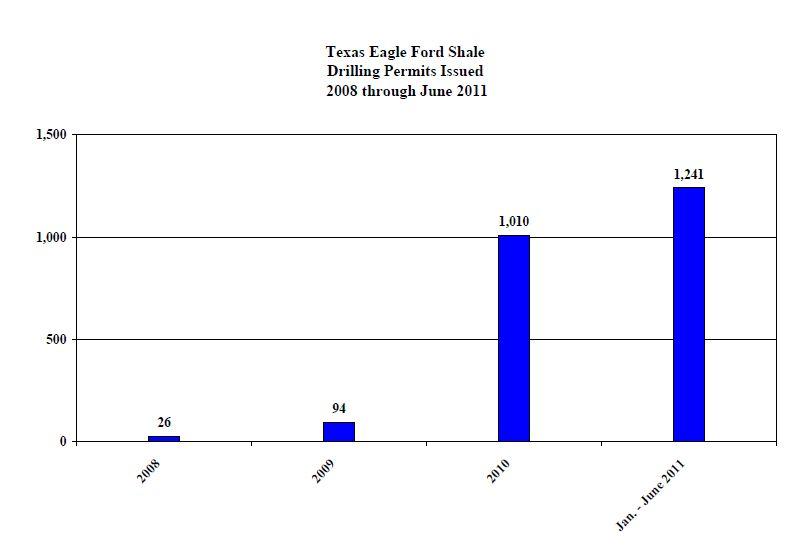 Of course, many are worried about the price of oil curbing drilling. First we are in a long term up trend in oil. Emerging markets will use more as their economies emerge. For instance, China is the biggest new car market now. However, they use only about 2.25 barrels of oil per capita per year currently. The U.S. uses closer to 22 barrels of oil per capita per year. How long do you think it will take China to significantly increase its oil usage? People do want to drive all those new cars they are buying. India uses less than 1 barrel of oil per capita per year. If these two countries alone move their use up to 5 barrels of oil per capita per year, this would increase demand by over 20 million bopd. This is more than the entire U.S. usage rate. China and India are not the only growing economies. There are many more. Imagine what the price of oil would do if the U.S. doubled or tripled its oil usage. That is effectively what is going to happen long term. The EIA chart below shows the short term outlook for oil prices.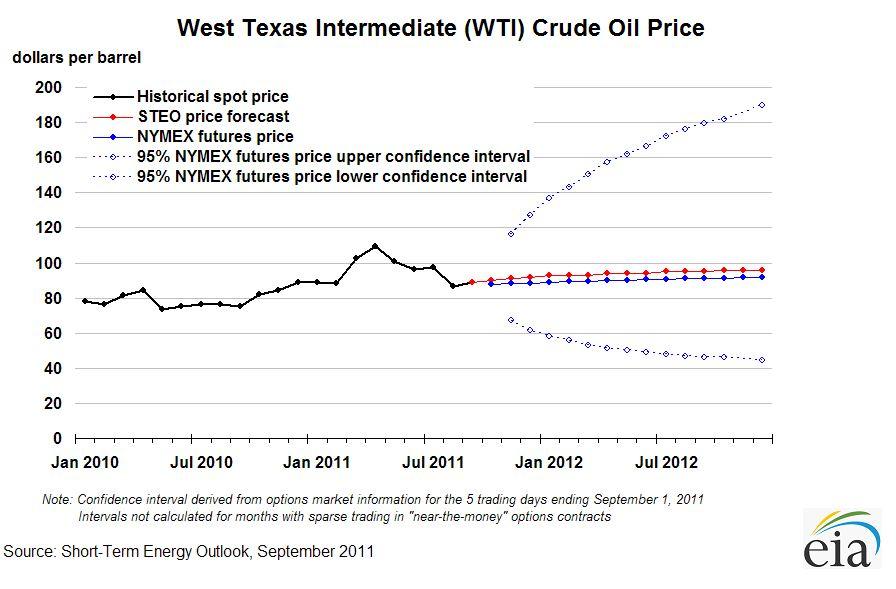 The EIA clearly does not believe that the price of oil is going down dramatically. Many others believe the mid seventies will be the bottom. Governments and futures exchanges have made changes since 2008 to discourage speculators. This means there will be fewer sellers if we experience another recession. It means the price of oil will fall less far. It means these prolific new fields will continue to be profitable to drill in even if we are hit with a new recession. Plus the oil companies will know that the price of oil will soon go back up. They will keep drilling partially for the future profits they will reap.
Other fields are in various stages of development. However, they will all likely need huge amounts of drilling. A few of these are the Anadarko Basin, the Permian Basin, the Utica shale, the Tuscaloosa Marine Shale, the Niobrara shale, the Tonkawa, the Frontier, the Granite Wash, the Avalon, the Bone Spring, the Monterey/Santos shale and the Kern County shale in CA, the Green River Valley Oil shale, and many others. Some estimate that the Monterey/Santos play in CA holds as much as 15.4B barrels of oil. The Utica shale, only recently preliminarily proved out by Chesapeake Energy (NYSE:CHK) is though to contain 2B to 8B barrels of recoverable oil. This was the initial estimate for the Bakken. This estimate may grow too. Fewer than 50 wells have been drilled in the Utica so far. Likely over 10,000 will eventually be drilled there. Do you think these kinds of situations will provide accelerating growth? The Tuscaloosa Marine Shale is also called the Louisiana Eagle Ford. It is thought to contain as much as 7B barrels of recoverable oil. The Green River Valley shale may contain three times the total oil reserves of Saudi Arabia, although most of this area is banned for drilling and/or is owned by the US government. When you add the drilling for the natural gas and the unconventional liquids plays, the total amount of drilling needed in the US alone for the next ten years is truly incredible.
A few of the land oil services companies that stand to benefit in the near term and long term are: National Oilwell Varco, Inc. (NYSE:NOV), Schlumberger Limited (NYSE:SLB), Halliburton Company (NYSE:HAL), Baker Hughes Inc. (NYSE:BHI), Nabors Industries Ltd. (NYSE:NBR), and Patterson-UTI Energy Inc. (NASDAQ:PTEN). All but NBR beat earnings last quarter, and NBR only missed by -$0.01. The FY2012 EPS estimates for all of these stocks are higher than they were 90 days ago. The work they have to do is increasing as new fields are opening up, and it was already a stupendous amount. I cannot see a likely scenario in which these companies would not make huge profits. Their growth seems to be accelerating even in these hard time. I don't see why this would not continue to be the case. This means that the normal reason for selling high Beta stocks does not apply to these land oil service companies. This means their recent sell off has been mostly a market artifact -- underserved. It means they should bounce back relatively quickly even in a bad economy. The fundamental financial data in the table below tends to substantiate this view. The data are from Yahoo Finance and TDameritrade. 
Stock

HAL

BHI

SLB

NOV

NBR

PTEN

Price

$30.51

$45.23

$59.11

$52.78

$12.32

$16.56

1 yr Analysts' Target price

$65.89

$93.08

$107.56

$94.17

$31.23

$39.26

Predicted % Gain

116%

106%

82%

78%

153%

137%

PE

11.65

15.04

15.67

12.81

12.57

10.95

FPE

6.75

7.60

10.93

9.26

4.87

5.29

Avg. Analysts' Opinion

1.6

1.9

1.8

1.6

2.3

1.9

Miss Or Beat Amount For Last Quarter

+$0.07

+$0.02

+$0.02

+$0.13

-$0.01

+$0.03

EPS Estimate for FY2012

$4.52

$5.95

$5.41

$5.70

$2.53

$3.13

EPS Estimate for FY2012 90 days ago

$3.93

$5.42

$5.14

$5.29

$2.46

$2.73

EPS % Growth Estimate for 2011

63.10%

95.90%

32.90%

9.30%

31.00%

219.40%

EPS % Growth Estimate for 2012

34.50%

36.80%

42.40%

27.50%

70.90%

36.10%

5 yr. EPS Growth Estimate per annum

24.37%

29.65%

17.32%

15.43%

22.00%

17.37%

Market Cap

$28.06B

$19.73B

$79.76B

$22.36B

$3.54B

$2.55B

Enterprise Value

$28.31B

$22.07B

$82.15B

$18.35B

$6.97B

$2.77B

Beta

1.64

1.57

1.42

1.52

1.93

1.84

Total Cash per share (mrq)

$2.05

$2.15

$3.66

$8.12

$2.34

$0.42

Price/Book

2.41

1.32

2.50

1.33

0.63

1.10

Price/Cash Flow

7.79

7.64

10.28

9.92

3.36

4.19

Short Interest as a % of Float

2.82%

2.15%

1.78%

2.68%

3.32%

3.55%

Total Debt/Total Capital (mrq)

24.70%

19.19%

22.97%

2.95%

42.64%

14.42%

Quick Ratio (mrq)

2.31

2.08

1.26

1.76

2.30

1.53

Interest Coverage (mrq)

18.43

11.43

22.71

--

2.62

38.01

Return on Equity (ttm)

22.49%

9.22%

18.75%

10.99%

3.13%

10.57%

EPS Growth (mrq)

53.88%

231.08%

20.97%

18.26%

51.57%

171.63%

EPS Growth (ttm)

95.09%

175.08%

58.82%

7.33%

39.60%

31,482.57%

Revenue Growth (mrq)

35.29%

40.52%

61.16%

19.45%

50.27%

95.47%

Revenue Growth (ttm)

36.44%

68.04%

55..39%

5.31%

55.46%

115.56%

Annual Dividend Rate

$0.36 (1.20%)

$0.60 (1.30%)

$1.00 (1.70%)

$0.44 (0.90%)

N/A

N/A

$0.20 (1.20%)

Gross Profit Margin (ttm)

19.14%

22.19%

23.62%

43.21%

39.60%

40.67%

Operating Profit Margin (ttm)

17.93%

12.52%

16.85%

19.76%

3.96%

19.34%

Net Profit Margin (ttm)

11.24%

7.41%

13.57%

13.43%

3.34%

11.57%

A few things stand out. NOV, SLB, PTEN, and HAL all have double digit Net Profit Margins (ttm). HAL , NBR, and BHI both have 5 yr. EPS Growth Estimates per annum of greater than 22% -- outstanding. Except NBR, all the above stocks have average analysts' recommendations of less than 2.0. All are BUYS, even NBR. Thus far the trend for analysts' EPS estimate revisions upward has been strong. All of the current FY2012 EPS estimates are higher than they were 90 days ago. The macroeconomic outlook reviewed above should mean that this trend will continue. The above numbers, rather than being overestimates are very possibly underestimates. A severe constraining of capital seems the only thing that is likely to derail this boom. I believe the Fed and other Federal bodies will try very hard to make sure the liquidity shrinkage of 2008 does not recur. If they do this, the land oil services companies should quickly grow profits. By this I mean that they will likely also have multiple guidance raises beyond the current estimates.
I am only presenting the charts of the two best growers below.
The one year chart of HAL is below: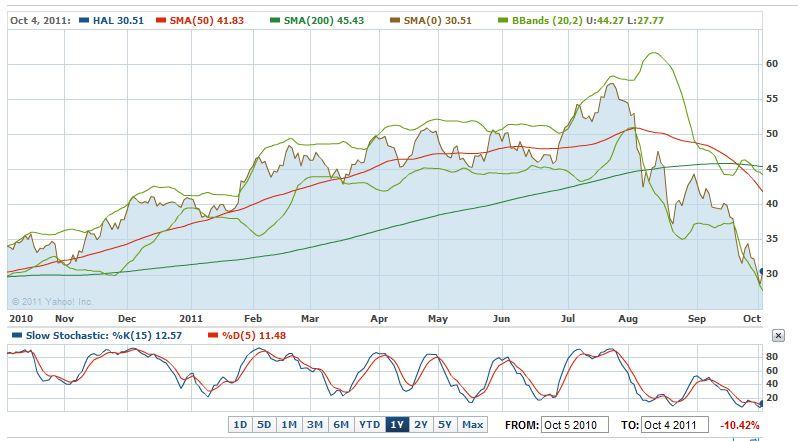 The one year chart of BHI is below: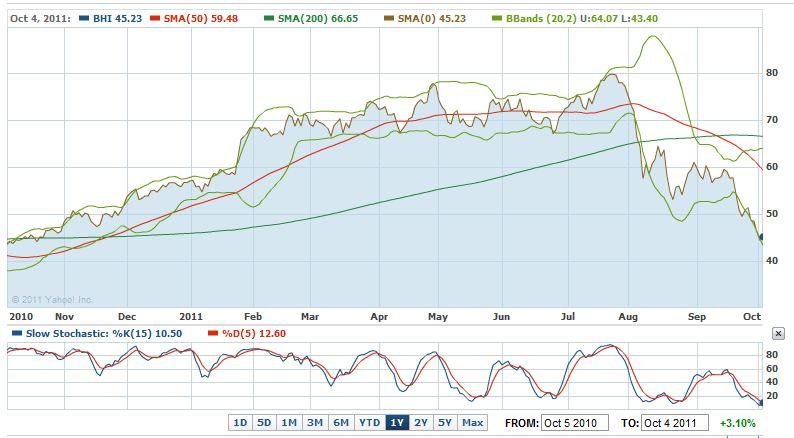 These stocks are far oversold on their Slow Stochastic sub charts. They are all at or near their lower Bollinger Band. They are all far below their 200-day SMA's. This includes the stocks not shown. The stocks are also at strong longer term support. Virtually all the price appreciation of the last year has been wiped out. Given the growth that has occurred in that year, it should not have been. At the current moment the market seems to be trading on news about the credit crisis in Europe. If it looks like this is impacting either the U.S. or China negatively, the market seems to push further down. This will likely continue to be the overriding market force for the near term (and possibly the long term). That situation is such a mess that almost no one would pretend to be able to predict it day to day. I cannot tell you which day is the best to buy these stocks. However, the above are great values. They have great growth potential that is not likely to be slowed at all or appreciably by a slowing economy. To me it looks like it should accelerate. These stocks are great value (and momentum) plays. Averaging in is a good strategy. Who wants to feel the pain if the market suddenly makes a big move down? On the other hand, it is hard to imagine these stocks getting much cheaper. HAL and BHI have an average FPE of 7.18. They have an average 5 year EPS Growth Estimate per annum of 27.01%. Near 30% growers might normally expect to carry near FPE's of 30. In hard times they might expect to carry FPE's of one half that (15). Given that they are now carrying FPE's of half of the normal oversold FPE number, they have to be considered great bargains. The fear that the growth will be curtailed by a downturn, is misplaced due to the huge amount of new oil shale field drilling that needs to be done. The estimates for these companies still seem more likely to grow than to shrink.

As a final point some may think all of the natural gas drilling may wane during these tough economic times due to the low price of natural gas. First many of the biggest companies are supporting a good portion of this. companies such as Chevron (NYSE:CVX) and Exxon Mobil (NYSE:XOM) do not stop long term plans based on temporary economic fluctuations. Second a lot of many companies holding in natural gas fields are leases. These companies often have to drill on a rigorous schedule just to retain their leases. Third China, India, and other emerging countries are energy hungry. These countries are not as foolish as the U.S. is being about natural gas. They recognize it as a cheap, clean source of energy. For this reason LNG transport capability is quickly growing worldwide. Natural gas prices are predicted to gain some traction due to LNG beginning in 2012. LNG exports to China, India, et al are predicted to be a thriving (and growing) industry by 2015. This means those ultra low natural gas prices will at least rise significantly. It means the natural gas wells will likely virtually all be profitable. It means companies will not stop drilling for natural gas.
Good Luck Trading.

Disclosure: I have no positions in any stocks mentioned, but may initiate a long position in HAL, BHI, SLB, NOV, NBR, PTEN over the next 72 hours.