If the stock market is like a roller-coaster, then the low-priced small capitalization stock is like the 'Kingda Ka' ride of the Six Flags amusement park. Just how high and how low do these stocks ride in bull and bear markets? One look at the Russell Micro-cap index will give you some idea of average volatility.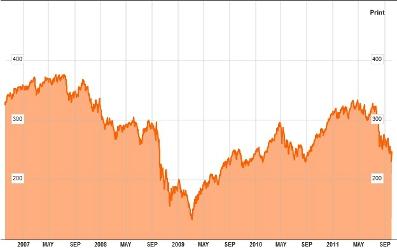 Over the past 5 years this breed of stock has fallen by two-thirds, and then jumped up 2.5 times its low. Staying invested in tiny stocks can truly be a butt-clenching experience. How can you strategically invest in these small/micro-cap stocks? When is the best time to do so?
Challenges of Small-Cap Investing
In theory, investing in these tiny companies could potentially yield large gains. The practice, however, is far from easy. You have liquidity issues where some of these stocks trade so thinly that buying even a small amount will drive prices up wildly. If you spread your capital over a great many stocks, you have high transaction fees and the cumulative effect of smaller slippage fees.
Why not invest in an ETF such as iShares Russell Microcap Index ETF (NYSEARCA:IWC) that mirrors the index and would solve both of these problems? You could buy 1,000 shares for an investment of roughly $40,000 with a small slippage of 5 cents or 0.125%. While this may seem to be the answer, a simple index may not be the best way to target small-caps. Take a moment to examine how strategic micro-cap investing can lead to higher alpha.
Seeking Alpha with Portfolio Rotation
Can we acquire larger gains through more precise targeting techniques and asset rotation? Here is one stock-picking method I use to find tiny small-cap rockets:
Remove the higher price-to-earnings ratios when compared to industry peers
Remove the higher 'institutional holding' companies when compared to their industry peers
Remove lower insider ownership companies when compared to industry peers
Annual earnings reported and some quarter over comparative quarter growth between years
Price between $1 - $10 and market capitalization under $1 billion
NO over the counter stocks
If you were to use these simple rules and re-balance monthly from March 31st 2001 onward, what would your 10 year trading history look like?
[Click images to enlarge]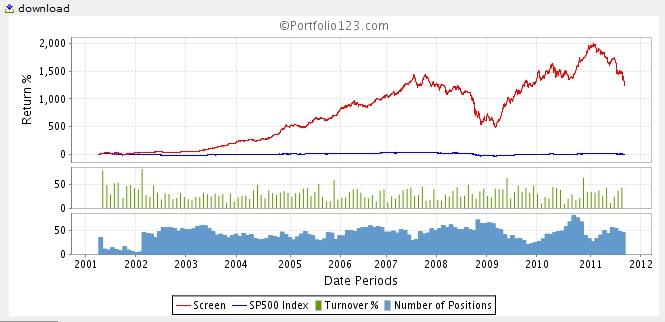 If you don't consider slippage and transaction fees, your portfolio would have turned $100 into $1,351 over 10 years. But don't start counting your profits based on this. Some highly illiquid stocks are hiding here. We will require that at least 10,000 shares are traded daily (which is still not very liquid for these low prices), and one percent slippage. Even 1% slippage will require patience and small investments in many of these stocks.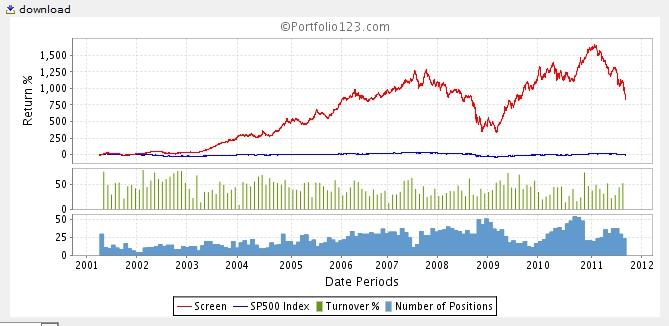 The gains are still high after eliminating extremely illiquid stocks and accounting for slippage in the diagram above.
Still, we do not want to re-balance every month as our profits will quickly be consumed with very high trading costs. We run another test that has us picking random entry dates with our buy rules, after which we hold for a one year period. We do this 500 times and analyze the averages. Over the last 10 years this strategy (one outlined in article) has beat the market by 25% annually. In up markets this strategy returned an average of 45.22% annually, or 31% more than the S&P 500 average.
Here is a partial list of some current candidates that would fit our description to buy once conditions are right:
| | | | |
| --- | --- | --- | --- |
| Ticker | Name | MktCap (mil) | Industry |
| | Analysts International Corporation | 16.74 | Software & Programming |
| | Coleman Cable, Inc. | 142.18 | Misc. Fabricated Products |
| | Majesco Entertainment Co. | 86.72 | Software & Programming |
| | Carriage Services, Inc. | 103.45 | Personal Services |
| | IEC Electronics Corp. | 48.51 | Electronic Instr. & Controls |
| | J. Alexander's Corporation | 34.76 | Restaurants |
| MDF | Metropolitan Health Networks, Inc. | 186.66 | Healthcare Facilities |
| | Mastech Holdings, Inc. | 9.78 | Business Services |
| | Newpark Resources, Inc. | 539.33 | Oil Well Services & Equipment |
| | PC Connection, Inc. | 224.66 | Retail (Catalog & Mail Order) |
| | Tii Network Technologies, Inc. | 26.59 | Electronic Instr. & Controls |
As you run through these companies, make sure you look at such things as debt levels and the ability to pay on bills. Current Ratio and Debt to Equity ratios are going to be just a couple of fundamentals you will want to check out. As well, do any of the companies have upside potential? As these tiny cap stocks often have few analysts following them, much of the burden of due diligence will land squarely on your shoulders.
How do we know when it is a good time to buy?
Bull Market Rockets
It is important to buy these little rockets when conditions are favorable towards a bull market. How could you possibly know that? I use this one simple rule to calculate when a new bull market might be near: buy when the current year's analyst estimates for the S&P 500 are trending up (use weekly estimate figures). When they trend upwards (you can create crossover triggers using moving averages such as the 5 week and 21 week), you have positive market wide earnings momentum that investors like. Conversely, when the annual forecasts are being slashed due to current or forecast conditions, this typically weighs very heavily on share prices.
Below is a chart showing the S&P 500 current years estimates (updated daily) since July 1st of this year.

The reduction in the S&P 500s current year earnings (July) estimates actually lead the subsequent price fall in the index. A quick confirmation of this signal is to use a moving average on the price chart of the S&P 500 (such as 100 days).
What does this mean for the small cap investor? In the high-stakes game tiny capitalization stocks, buy when the market has the most likelihood of going up. Upward trending forecasts combined with some basic chart movements can give clues when markets might be turning up. To be clear – that day has not arrived quite yet using the above market timing model. If you invest too early, be prepared for some extreme portfolio draw-down in the short-term.
Getting Ready For Rocketing Micro-Caps
What does this mean for you – the small-cap investor? Do you sit around waiting sitting on your hands? Far from it. Now is the time to start investigating stocks – such as the list that I have provided as you determine which stocks provide the best value. Look for companies being punished the worst. Put these on a short-list. Try to keep those with the highest financial liquidity and lowest debt ratios.
As soon as you see the market mayhem subside while the broad market forecast is trending up along with prices in major indexes for at least 2 - 3 weeks – you can start to take positions in these stocks. After doing so, buckle in for a bumpy ride as, despite all the precautions you may take, these tiny stocks will probably be some of the most volatile companies you ever trade. If you keep a basket of at least 5 companies, you should be able to achieve high alpha (and beta) gains with these rocket-propelled picks.
Disclosure: I have no positions in any stocks mentioned, and no plans to initiate any positions within the next 72 hours.