Dryships (NASDAQ:DRYS) is one of the most well-known of the companies in the dry bulk shipping sector. Once a darling of the China story, it traded as high as $131 in October 2007. Since that point, poor debt management, a collapse of the global economy and subsequently the shipping market, and round after round of equity issuance has driven the stock lower and lower. It currently trades just over $2/share.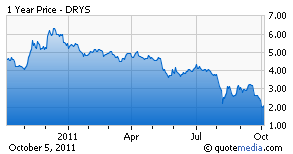 However, as the economy collapsed, the company actually positioned itself relatively well. Its best investment was the takeover of Ocean Rig UDW (ORIG), a deep-water drilling company. Recently, the company has begun to monetize that investment, with a private placement, a spinoff to shareholders, and the use of Ocean Rig shares as capital for the takeover of OceanFreight, due to close by the end of the year. However, even after all of these divestitures, Dryships still owns about 75% of the company.
Here is where the disconnect comes in. Ocean Rig currently trades under the symbol ORIG at about $15/ share. According to Dryships,
following the completion of the partial spin-off, we will own approximately 98,587,915 Ocean Rig UDW shares, or approximately 75% of Ocean Rig UDW's outstanding common shares.
From here it's simple math. 98,587,915 X $15 = $1,478,818,725.
DRYS current market cap: $787,000,000.
| | |
| --- | --- |
| Market Cap | $787,000,000 |
| Value of Ocean Rig UDW Stake | $1,478,818,725 |
| Value of Drybulk and Tankers | $(691,818,725) |
Most people would agree that dry bulk shipping is hurting, but is the value of that part of the company really negative? Ultimately, you have to look and realize that this company owns boats, a tangible asset with value. I believe that the main reason for the valuation is a concern about liquidity.
However, the company has a track record of being able to negotiate loan covenant waivers with lenders, and now has the ability to quickly raise liquidity by selling parts of its stake in Ocean Rig. In addition, Ocean Rig has strong cash flow, providing the possibility of it issuing a dividend which would flow directly back to Dryships.
To steal a line from Dryships' June analyst meeting: Buy Ocean Rig…get the drybulk and tankers for free.
June 2011 Analyst Day Presentation
Information Statement for shareholders of record
Disclosure: I am long DRYS.
Additional disclosure: I am also long ORIG. I am short DRYS puts. I may initiate a long position in OCNF which has agreed to be acquired by DRYS for a combination of cash and ORIG shares.