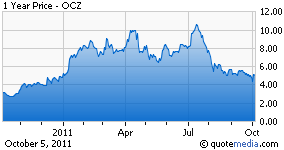 OCZ Technology Group (NASDAQ:OCZ), a San Jose, CA-based manufacturer of solid-state drives (SSDs) used in high-performance storage and server systems, announced its August 2011 quarterly report after the market close yesterday. On the surface, headlines indicate that the company missed its earnings (3c loss versus 6c earnings estimate) while narrowly beating revenue ($78.5 million versus $77.1 million estimate), and also reporting in-line guidance for FY 2012 ($320-$350 million versus $333.3 million estimate).
A quick drill-down into the press release and the company's conference call yesterday evening after the market closed reveals that the 3c non-GAAP loss includes approximately $2.3 million related primarily to R&D prototyping, intellectual property and other specific engineering expenses, which are not reflective of R&D expense on a run-rate basis. Taking these non-recurring expenses out would lead us to 2c in earnings; still, a miss but not as wide. Furthermore, gross margins in the August quarter at 21.6% were sequentially higher than the 20.0% in the May quarter and significantly higher than the 4.3% in the year ago August 2010 quarter, and the company reiterated its long-term gross margin target range of 30%-40%.
Most third party research firms such as IDC and Gartner are forecasting annual SSD shipment growth of 70%-90% and annual industry revenue growth of 35%-45% for the next five years (due to falling prices). Applying even the lower end of that forecast (35%), the lower end of the company's target long-term gross margin (30%), the company's current operating expense ratio of 23% (although that is trending down from 26% last August) and a projected tax-rate of 25% (as the company currently has net operating losses) gets us to a projected net income of $260 million or over $5 per share in FY 2016. Even discounting some uncertainty into these forward numbers, it is easy to see that the current price of $4.97 at the close yesterday is a bargain, and that the investing community has not fully factored in the impact of higher revenues and margins into the stock price yet. We believe that shares can easily double from here, approaching its $10.94 high from July.
Besides reporting quarterly numbers for the August 2011 quarter, OCZ also announced that they acquired the U.K. design team from PLX technology that should allow them to speed time to market and reduce development costs for the company's next-generation SSD solutions. We first announced our bullishness of OCZ in our review of technology stocks on August 8th, and we stand behind that. OCZ is a dominant player and technology leader with the most innovative products in the SSD market, and we would buy into it here.
Another player in the SSD market that may be of interest is STEC Inc. (NASDAQ:STEC), a manufacturer of non-volatile solid-state drives used in enterprise storage systems and servers. STEC fell off at the end of July after reporting a disappointing June quarter report in which it missed earnings (23c versus 24c) and significantly lowered revenue guidance ($70-73 million versus $96.4 million) and earnings guidance (8c-10c versus 32c). We issued a sell on STEC after the earnings report, however it is possible that its shares may receive a pop on account of the news from OCZ yesterday.

Other competitors in the semiconductor storage space include Marvell Technology Group (NASDAQ:MRVL), a designer of analog, digital, mixed-signal and microprocessor ICs, that trades at forward 10 P/E while earnings are projected to drop from $1.64 in 2011 to $1.53 in 2013; Sandisk Corp. (SNDK), a manufacturer of non-volatile removable memory cards, that trades at forward 9 P/E while earnings are projected to increase from $4.60 in 2010 to $4.70 in 2011; LSI Corp. (NASDAQ:LSI-OLD), a designer of ICs used in hard disk and solid-state drives, that trades at forward 8-9 P/E while earnings are projected to increase at 15% growth from 48c in 2010 to 64c in 2012; and Seagate Technology (NASDAQ:STX), a manufacturer of hard disk drives, that trades at a forward 5 P/E while earnings are projected to increase at 33% growth from $1.24 in 2011 to $2.18 in 2013.
Disclosure: I have no positions in any stocks mentioned, but may initiate a long position in OCZ over the next 72 hours.