We need to add a new name to the ever increasing list of insolvent EU countries: the Kingdom of Belgium. Yesterday, it was reported that Belgium, in conjunction with the French government, would effectively nationalize and then break up the struggling mega bank Dexia (OTC:DXBGF) and spin it off into the form of a good-bank/bad bank scenario (with taxpayers forced to pay the bill). This news is widely credited with sparking the 400-point move in the Dow in the last 45 minutes of trading. While equity markets were jumping, Belgium's 5-year CDS moved sharply higher to 308 bps, 13% higher than yesterday. To put this number in some perspective, Belgian CDS only reached 153 bps at the height of the 2008 financial crisis.
The collapse of Dexia should not have taken anyone by surprise. In fact, the hopelessly irresponsible bank is no stranger to taxpayer funded bailouts. Back in 2008, during the depths of the US financial crisis, Dexia was injected with 6.4 billion EUR of capital by the French, Belgian, and Luxembourg governments. In addition, the bank was given up to 150 billion EUR in funding guarantees to assure reassure counterparties and to allow the bank to continue operations
One of the most troubling aspects of the Dexia saga is the incompetence of EU regulators and ratings agencies, which should spook any bank shareholder. Dexia notes proudly on its website that it passed last year's EU bank stress test, saying: "The conclusion of the stress tests is that Dexia does not require additional capital to withstand the CEBS two-year 'what-if' adverse scenario including the additional sovereign shock." Most skeptics pointed out the flaws of the EU bank stress tests, mainly that they were too conservative and failed to prepare banks for an extreme case like a sovereign default.
It turns out that those critics were correct. While corruption and stupidity is to be expected among EU bureaucrats, one would think that investors could at least rely on ratings agencies for some factual information. After all, they must have learned something from the whole US sub-prime scandal. Wrong! Back in July, Moody's and S&P came out with their respective rating actions. S&P reaffirmed Dexia's long-term debt at A1 and removed the bank from their credit watch list. Moody's downgraded Dexia's credit rating to A1 from A3 with a stable outlook. Just for the record here, according to Moody's, A1 means "a low credit risk with elements that present that suggest a susceptibility to impairment over the long term " In reality, an A1 rating from Moody's should mean that the bank may collapse within the next 3 months due to poor asset quality, reckless lending practices, and an over-reliance on wholesale funding.
The major story of the Dexia bailout is that it now puts Belgium in the same position as EU bailout recipient Ireland, which was rendered bankrupt by the markets and frozen out of the credit markets in late 2010. Belgium at this time is unable to afford a major bank bailout for two major reasons: deteriorating economic finances and lack of political consensus. In 2010 Belgium GDP came in at $467 billion dollars, and debt to GDP rose to 97.2%. For 2011, the Belgian government estimated its full year funding requirements at around 41.1 billion EUR. It should be noted that this number was based upon overly rosy economic estimates and continued strong demand from foreign investors. The last point is key. As of June 30, 2010 foreign investors owned a whopping 88.7% of Belgium's Treasury certificates and 55% of its Linear Bonds. The Bonds were the most important form of financing for the government. This dependence on foreign financing leaves Belgium very susceptible to a loss of market confidence. How investors will react to an over-leveraged country bailing out a bankrupt bank with total assets (517 billion EUR) that exceed the country's GDP is not a pleasant thought.
Furthermore, Belgium faces some major refunding issues between 2012-2015.
click to enlarge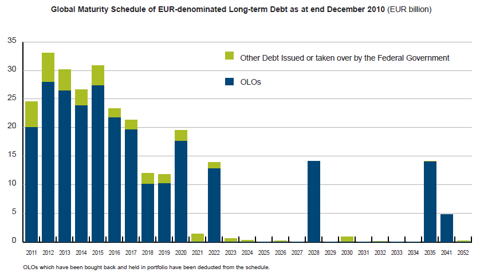 Compounding Belgium's troubles is the lack of a functioning central government. The country is deeply divided between the Flemish and Walloons. This tension has paralyzed the country's political apparatus making it difficult to form a strong and decisive government. While general elections were held on June 30 2010, Belgium is still without a viable government due to political deadlock. The country's political chaos is not going to instill market confidence in the Belgium government.
We have seen the EU sovereign crisis play out in a similar fashion to what's happening to Belgium. CDS spreads start to widen, undermining confidence, which in turn leads to higher government bond yields. For overly indebted countries, this begins the downward spiral as investors flee the country, making debt refinancing and new issuance more difficult until an EU bailout is the only solution. The insolvent country will continue to deny any problem and constantly issue press releases blaming speculators for spreading false rumors. Days later, the country receives an EU stabilization package in return for draconian austerity measures. Don't look now, but Belgium 10-year bond yields are up 17 bps to 4% while last year they were at 3.3%. It looks as if Belgium is going to become a new member of the PIIGS club. The market will need a new acronym.
Disclosure: I have no positions in any stocks mentioned, and no plans to initiate any positions within the next 72 hours.