China and India gather a lot of attention when talking about emerging markets. However, recent data suggests that both are fighting tough inflation. India has a lot of sociopolitical conflict and lacks water supplies for future generations. China is in the midst of a real estate boom that has all the signs of collapsing. If the Western world goes into recession, China will go with it. There are other emerging markets that offer strong alternatives, and South America is one of them.
South America has strong economic fundamentals: better demographics with younger populations who are actively expanding their income levels. Strong companies are poised to take care of the demands of the rising South American middle class. Energy, healthcare, and agriculture are some of the sectors experiencing growth. One country in particular, Chile, is the best market in the region.
The first thing you need to know about Chile is that the private savings rate is 21%. This is not a nation of over-consumers who are leveraged to the hilt with mortgage, car, and credit card debt. This is a population that saves and spends wisely. Secondly, the country itself has a positive current account balance, meaning it exports more than it imports. Not only does Chile save, it produces. Public debt is only 6% of GDP, compared to the US at 100% of GDP (if you believe our government's numbers). The Chilean peso has strengthened relative to the US dollar, which bodes well for investors who can earn an exchange rate premium on Chilean investments.
GDP growth was 24% in 2010 and the unemployment rate, while high at 8.1%, is also falling. Chile is the best Latin American nation at combating inflation, and is much better at this than China or India. All signs point to a growing economy with a strong manufacturing and exporting base and a nation of frugal people with lots of discretionary income. In other words, Chile is a profit magnet.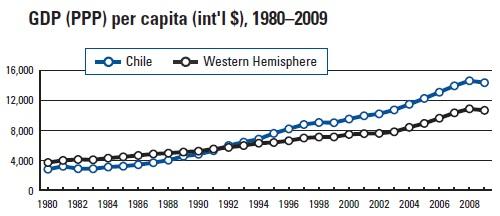 Chile's main industry is mining, specifically copper. In addition, Chile exports agricultural goods including a very strong selection of wines and beers. One of the great benefits of Chile is the weather in the central region, almost identical to that of Southern California, which offers a strong and consistent growing season. Chile has a strong manufacturing base in fertilizers and chemicals. Chile is currently ranked as the 23rd best country for business by Forbes. They currently have 59 free trade agreements in place, though most of their trade is with the US, China, and Brazil. Nevertheless, they are fairly diversified in their trading partners.
According to Credit Suisse, Chile is in a transition from an efficiency driven to an innovation economy. Companies, flush with cash, are expanding R&D and developing new products. Chile is ranked #11 in the Freedom Index published by the Heritage Foundation. Finally, Chile boasts a wide diversity of political ideas with 7 major political parties, is ranked higher than average in property rights support and public trust of politicians.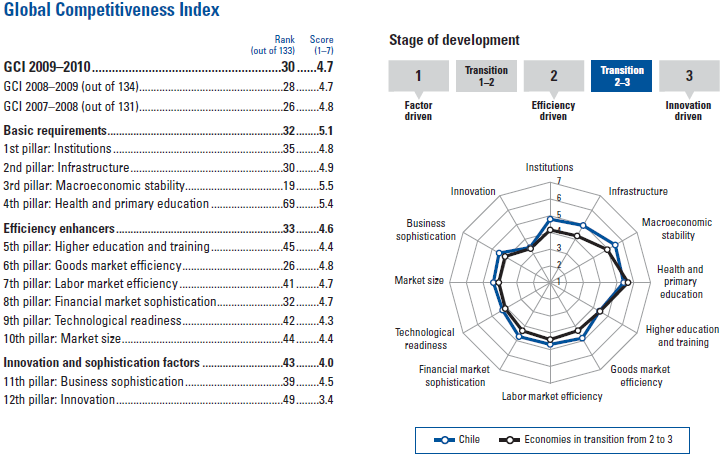 Probably the best news about Chile is what they don't have, which are huge unfunded liabilities in the health and retirement sectors. Chile privatized their pension system and since has seen strong growth in retirement accounts. The best thing about privatization is the system is not a ponzi where successive generations pay for the preceding one. Each retirement account is separate unto itself and cannot be used to pilfer the funds of other pensioners. Therefore, the overall accounts cannot go bankrupt. In addition, the demographics of Chile are strong such that the pension investments themselves will continue to generate positive returns for the foreseeable future.
Chile's health system in the cities is as advanced as western nations. Chile graduates as many doctors per capita as the US. Many Chilean doctors attend the most prestigious universities the West has to offer, and they bring that expertise home with them. Without a large social insurance system, costs are much lower at about 1/3 of what most other OECD nations pay per person. In other words, healthcare in Chile is both plentiful and cheap. And the government stays out of it so the system is not on the verge of financial collapse.
Lastly, South America has access to a plethora of clean water supply via the Guarani Aquifer. This aquifer covers 460,000 square miles in an area larger than Texas and California, and is expected to support South American residents for several hundred years.
Investment Options
There are some securities on American exchanges you can gain access to without opening a foreign brokerage account. These are traded as ADRs, where the price is converted from Pesos to Dollars.
Energy Companies
Enersis SA (ENI)

Enersis is a holding company in Chile that, through its subsidiaries, generates and distributes energy in South America including Chile, Argentina, Peru, Columbia, and Brazil. It should be noted that in South America, overall energy demand per capita is relatively low when compared with the rest of the industrialized world. This means that as Chile and South America grow, their energy needs will grow exponentially to meet demands of a more sophisticated industry and population.
Enersis has lost 13% in the last six months, but has a strong 4.8% dividend and has increased capacity. As South America develops and demands more energy, Enersis will grow.
Empresa Nacional de Electricidad S.A. (NYSE:EOC)
EOC is the largest power generation company in South America. They rely mainly on hydroelectric to supply their customers, and supplement electricity needs with coal and wind power.
The company's recent investments are expected to increase capacity by 50% over the medium term while reducing internal power generation costs at the same time. Both the weather patterns and increased expenditures have seen a 20% dip in the stock price, however, the company has grown 9% over the last 3 years and the company has distributed 6% more dividends over that time frame. Dividends are currently 5.8% and together with growth expectations should make EOC a very solid investments over the next few years.
Credit Suisse has gone bullish on both EOC and ENI in September and expects 25% growth in the market moving forward.
Financials
Administradora de Fondos de Pensiones Provida SA (NYSE:PVD)
PVD is the administrator for the private pension fund system in Chile, as well as offering life and disability insurance. The company has a HUGE benefit not found in many other financials. First, Chileans invest in an AFP (administrator) for their entire lives, rarely changing. This differs from the US, where as you change companies, then most likely so does your investment administrator. That means PVD does not suffer from funds turnover, and gets to take advantage of account growth from inception to redemption for most of its participants.
Chileans are required by law to pay into the pension system. In addition, only 3 companies dominate this market with PVD being the largest. Combine these features with the strong emerging growth characteristics of Chile (increasing wage rates and stronger employment values), and PVD begins to look really interesting from a growth perspective. And not only does the company grow, but it pays a strong dividend (6.1%) now.
The company's share price has faded, along with most of the financials, however I do not believe the price action is warranted. PVD stands above most other financials by having a distinct market advantage in a growing market.
Banco Santander-Chile (NYSE:SAN)
The bank saw increases in net income of 1.9% YoY on an operating income increase of 6.8% YoY. The company pays a 3% dividend, an increase of 10.6% from 2010. Dividends have increased for 5 years in a row. Net margin is 34.5%, though have seen operating costs increase over the last year.
Even though analysts are bullish on the stock, I hesitate to engage this one. As per research done by Credit Suisse, using price to franchise value metric, this bank is higher than it's peers in South America. Franchise value is defined as total deposits + mutal/pension funds + technical reserves. I look for the price to fall a bit more before entering.
CorpBanca S.A. (BCA)
This bank gives a 7.4% dividend at current prices on a 96% payout ratio. The company has a 6.4% 3 year sales growth, YoY 2Q 6.4% revenue growth and 6.5% YoY earnings growth. Profit margins are 44.6%. Solid. However, the company has negative cashflow as of late and has substantially increased borrowings to support operations. Again, this bank has higher than average price to franchise value relative to it's South American peers. I still stay away from this one and look for another bank candidate.
Banco de Chile (NYSE:BCH)
Banco de Chile gives a 4% dividend, has 14.9% 3 year EPS growth and 9.3% 3 year dividend growth. The bank does not payout all of its profits to shareholders, and that suits me just fine in this market. I would rather have a more solid balance sheet and room for growth than to maximize my profits in the short term at the expense of operations. This bank has a better overall balance sheet than either CorpBanca and Banco Santander, and more upside in future performance. Analysts are bullish, and Credit Suisse notes that BCH is at the median for price to franchise value metric when compared to Latin American banks.
Recent price pressures in financials have put pressure on this stock, which looks to me like a perfect buying opportunity for the long term. Buy when there is blood in the streets. I could see if falling lower, but in the long term, the valuation should rise to meet performance.

I'll take a position in this one in the next few days as I move more funds into my brokerage account.
One caveat to the banks listed here: if we have a global banking crisis, all bets are off even for emerging market banks. While they may be stronger, they will not be immune from global credit crisis. BCH has the best chance of survival amongst the Chilean banks due to their stronger than average balance sheet, but you are investing in any bank at your own risk given current risk levels.
Transportation
Lan Airlines S.A. (NYSE:LFL)
Lan Airlines has a 3 year sales growth of 7.6%, 81.1% increase in 3 year earnings, and gives a dividend of 1.6%. The company has lots of debt, however, and low current ratio. The company is primarily financed through debt and needs growth to ensure repayment of loans.
To that end, Lan has made a bid for Brazilian airliner TAM. TAM has access to key Asian markets and has 40% of the Brazilian flight market share. Brazil has key routes to destinations Lan Airlines would like exposure to, so the deal makes sense strategically.
TAM is healthier on the balance sheet, but also brings quite a bit of debt with it. TAM has a higher operating margin than American airliners, so the combined company will be in better shape than most US airline companies.
Increased competition in Latin American routes have caused Lan and TAM to lose some market share and this has impacted revenues. The combined company will substantially increase revenues, but the new company will need to grow to finance existing debts. Chilean regulatory officials have signed off on the deal and the airlines are appealing some of the merger conditions though the merger is expected to move forward. The new airline will be the second largest publicly traded airline in the world.
Bigger is not always better, however, and I will be staying out of this one. While a more attractive play than US counterparts, I am looking for better financial footing in my prospects and potentially better payouts.
Agriculture and Food
Chemical & Mining Co. of Chile Inc. (NYSE:SQM)
I first wrote about SQM at the beginning of this year in an article entitled Investing For Food Inflation. The company primarily markets fertilizers and nutrients, but also has medical and industrial product lines. At the time, the stock looked too expensive, but on recent pullback to $46 range looks more attractive. The company balance sheet is extremely strong.
With a 0.9% dividend, you are investing for growth. Of the global sectors which I feel are bullish, food and agriculture is one of them. I expect solid growth for SQM moving forward. Analysts have it as a buy with target of $63.95. Recent operating margins have improved over previous averages, which appears to indicate the company is improving efficiency.
I'll soon take a small position and look for growth.
Vina Concha Y Toro (NYSE:VCO)
VCO has a 5% dividend. Operating margins have fallen from 15% in Q1 of 2010 to 13.6% in same quarter 2011.
Vina Concha y Toro is the most respected wine brand in Chile. Chileans wines were voted the 3rd most respected brand in the world. Indeed, the National Society of Agriculture highlighted that more Chilean grapes are sold than those from any other place on earth. The market for Chilean grapes and wine is strong. Though, foreign brands are competing vigorously in these markets leading to declining market shares for Chilean manufacturers VCO and CCU. However, the reason I picked this stock is that the best brand in an emerging market typically does well, even in the face of foreign competition. VCO has an established brand, but will be challenged to alter the product mix to include cheaper vintages and perhaps even brews to expand their market appeal, as CCU and AMBEV have done already.
One reason for this stock's price fade has been the strong Chilean Peso, which has slowed exports to the US which is VCO strongest foreign market. To combat this, Vina Concha has purchased a Californian wine maker Fetzer, which produces the Fetzer, Bonterra, Five Rivers, Jekel, Sanctuary and Little Black Dress brands of wines. This adds about 15% additional revenues to the bottom line and capitalizes on the weaker US dollar, effectively acting as an internal company hedge to the strengthening Chilean Peso while taking advantage of a strong US market. Shares will rise with this acquisition. Vina Concha already has a strong balance sheet and delivers a 5% dividend at current prices. As Chileans expand their income and demand strengthens for premium beverages, I expect that VCO will increase domestic sales enough to offset any sales declines abroad.
Compania Cervecerias Unidas S.A. (NYSE:CCU)
CCU is the largest brewer and 2nd largest winery in Chile. The dividend is 1.3%.
The company owns 83% of the beer market in chile, though foreign competition has been reducing their market share. Some analysts believe that the Chilean market is looking for craft brews and wine selections as income levels increase across the country. The key to future growth will be how well the company reads the market and adjusts to consumer preferences for higher quality products. The company has a better cash position than Vina Concha y Toro and may be better positioned to grow product lines. But they will need to bring the fight to other Latin American markets to do it.
ETF - Trading the Broad Market
iShares MSCI Chile Investable Market Index Fund (NYSEARCA:ECH)
The best part about this fund is exposure to Chilean companies that you cannot invest in through the American exchanges. The bad part is with all ETFs, you are taking on the bad with the good. YTD, the fund has fallen 38%, much more than individual emerging market stocks. The shares are cheap, but what about the portfolio risk?
Major holdings are listed below, with notes from me on those not already discussed.
1. Empresas Copec SA (COPEC): 11.93% (energy, forestry, gas stations)
2. Cencosud SA (CENCOSUD): 8.79% (largest retail company in chile – food, home improvement, department stores, shopping malls, office space)
3. Empresa Nacional de Electricidad (chile) (ENDESA): 8.34% (energy utility)
4. Enersis SA (ENERSIS): 8.26% (multinational latin American electric company)
5. Empresas Cmpc SA (CMPC): 7.92% (forestry, paper)
6. Soc Quimica Y Minera Chile B Common Stock Npv: 5.30% (SQM) (chemical, medical, industrial)
7. Banco Santander-Chile (BSANTANDER): 5.13%
8. Lan Airlines S.A. (LAN): 4.80%
9. Cap Sa Cap Compania De Aceros Del Pacifico (CAP): 4.79% 9 (holding company for mining and steel)
10. Falabella Sociedad Anomina Comercial E Industrial (FALABELLA): 4.74% (retail like cencosud)
I like the ETF at current price levels but don't like the exposure to Banco Santander or Lan airlines. The retail exposure is a nice boost for rising Chilean incomes.
Overall, I think there are impressive opportunities in Chile and in other Latin American markets as well. You'll notice the best Chilean companies here all pay solid dividends and have solid growth prospects. Some of the others represent risk, but in most cases the listed equities compete very well with their Western counterparts. Given the growth story in Chile, an investor would be wise to consider diversification in this emerging market.
Disclosure: I have no positions in any stocks mentioned, but may initiate a long position in VCO, ENI, EOC, PVD, BCH, SQM over the next 72 hours.