During the current downturn almost all stocks have fallen dramatically. As a result of worsening economic expectations many, if not all commodities have fallen too, including oil. This has given small cap oil development stocks two strong reasons to fall, and these high Beta stocks have responded by falling faster than the overall market. This all seems to make sense until you consider a few other factors.
Oil is in a secular growth phase worldwide. There can be minor retracements, but emerging market growth is growing the demand for oil faster than the supply is increasing. Oil prices will likely continue to consistently go up for at least five years. Secondly, a lot of E&P oil companies hedge their production by 50%-80%. When prices fall from a high of approximately $115/barrel for WTI to a recent one year low of $74.95/barrel, many oil companies are likely still going to get $85+/barrel for most of their oil. As it so happens, WTI oil futures have bounced upward in the last two days to $80.13/barrel at the time of this writing.
Much of the recent market fall has been due to the negative credit crisis news from Europe. On Tuesday Oct. 4, 2011, there was news that the Europeans were looking at ways to recapitalize banks in all EU countries. Subsequently Chancellor Merkel said she would support a European wide bank recapitalization plan. This has eased a lot of the fears about the European banking system.
These were triggered by the myriad problems with weak sovereign debts.. You might claim the EU stress tests should have accounted for this. However, those stress tests only stressed the EU banks "trading books" or only about 10% of the sovereign debt being held by the EU banks. There has been no stress of the other 90% of the sovereign debt being held by the EU banks. It is easy to see why Europeans and others are worried, especially when a Greek default may be imminent. The latest Greek comments say they can go until mid-November before defaulting. Perhaps this clarification has taken some of the pressure off.
It is hard to say how the Greek situation or the other credit crisis problems will resolve themselves in the near term. The can could be kicked down the road again, or we could finally see a Greek default. What has improved recently is the economic outlook in the U.S. The ADP jobs number beat at 91,000 versus an expected 45,000 on Wednesday.
The ISM Index beat at 51.6 versus the expected 50.5, and the Construction Spending beat at +1.4% versus an expected -0.5% on Monday Oct. 3, 2011. The Russian GDP came in at the expected 3.40% (YoY). The US automakers beat at 13.10M versus 12.50M. Last week the US Initial Claims beat at 391K versus an expected 419K. The US Q2 GDP beat at 1.3% versus an expected 1.2% and a previous 1.0%. The Chicago PMI beat at 60.4 versus an expected 54.0. The Michigan Sentiment beat at 59.4 versus an expected 57.5.
This all seems to mean that the U.S. economy is healthier than the EU credit crisis bears have been saying. It means that China is not in as bad shape as those same bears have been saying. If the U.S. is healthier, China's biggest market is healthier. Then China is going to be healthier. It was no surprise to see oil and other commodities prices go up. How long this will last is another question. It will probably be determined by the EU credit crisis again. However, it may follow the U.S. data until after the U.S. NonFarms Payroll data on Friday.
If oil and commodities are bouncing (or at least consolidating), this should allow the best of the oversold oil small caps to recover even more. Some of the best oil small caps are developers in two of the most prolific fields - the Bakken and the Eagle Ford. A few of the healthiest looking ones of these seem to be: Northern Oil and Gas Inc. (NYSEMKT:NOG), Forest Oil Corp. (NYSE:FST), American Standard Energy Corp. (ASEN.OB), and Kodiak Oil & Gas Corp (NYSE:KOG). These have all been beaten down. They all represent good growth opportunities going forward.
NOG has approximately 155,000 net acres in the Bakken/Three Forks. FST has approximately 116,000 net acres in the Eagle Ford,103,000 net acres in the Granite Wash, 49,000 net acres in the Wolfcamp, 169,000 net acres in East Texas / north Louisiana, and 78,000 net acres in other ventures. ASEN.OB has 32,300 net acres in the Bakken in North Dakota; 6500 net acres in the Permian, and 2000 net acres in the Eagle Ford, etc. KOG has 70,000 net acres in the Bakken / Three Forks, and 7000 net acres in the Green River Basin (Vermillion Basin) -- Niobrara, etc.
NOG is not very exposed to falling oil prices. It has two types of oil hedges in place through 2012. It has swaps for approximately 1,447,000 barrels of oil at approximately $88, and it has costless collars for about 243,000 barrels of oil at $85/$101.75. It expects a 2011 exit rate of 10,000-11,000 BOE per day. It expects to spud 40 wells in 2011 with an average expected EUR of 500,000 boe. It expects to add acreage at a rate of approximately $20 million per quarter. Its average cost per well is estimated at $6.5M. Its drilling capital plan is $260M.NOG has protected itself well. The following two charts show NOG's recent growth.
[Click all images to enlarge]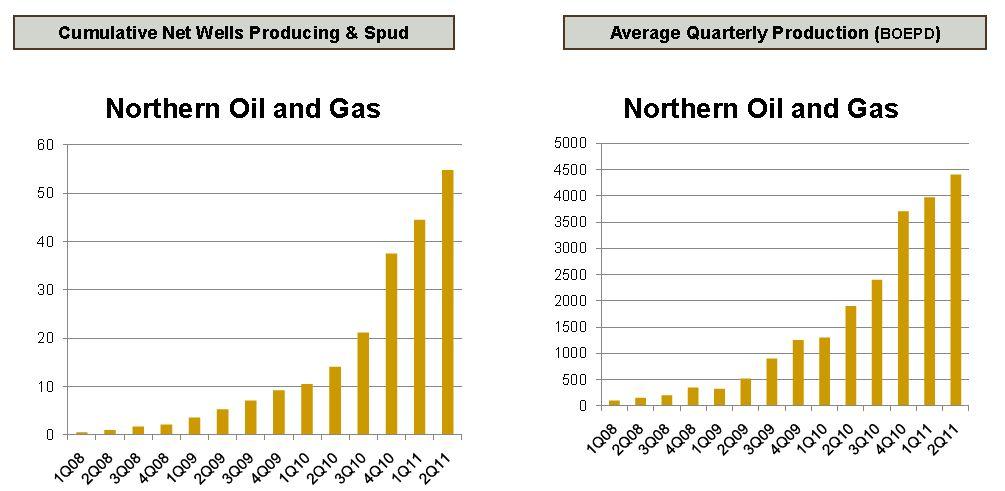 Click to enlarge
The quality of some NOG's partners tends to make one trust it a little bit more. This list includes XTO Energy (NYSE:CVX) (now Chevron), Brigham Exploration (BEXP), Marathon, EOG Resources (NYSE:MRO), Continental Resources (NYSE:CLR), and Hess (NYSE:HES) among others. This is respectable company.
FST has oil swaps at $85 per barrel and oil collars at an average of $75.00/$90.20 for 2011. It has natural gas liquids swaps at $38.15 per barrel. It has natural gas swaps at $5.48 per MMBtu. FST would be helped if the price of oil goes up. However, it has little further downside to experience. Plus its natural gas swaps should make/save it considerable money this year. The chart below shows FST is one of the lowest cost natural gas producers.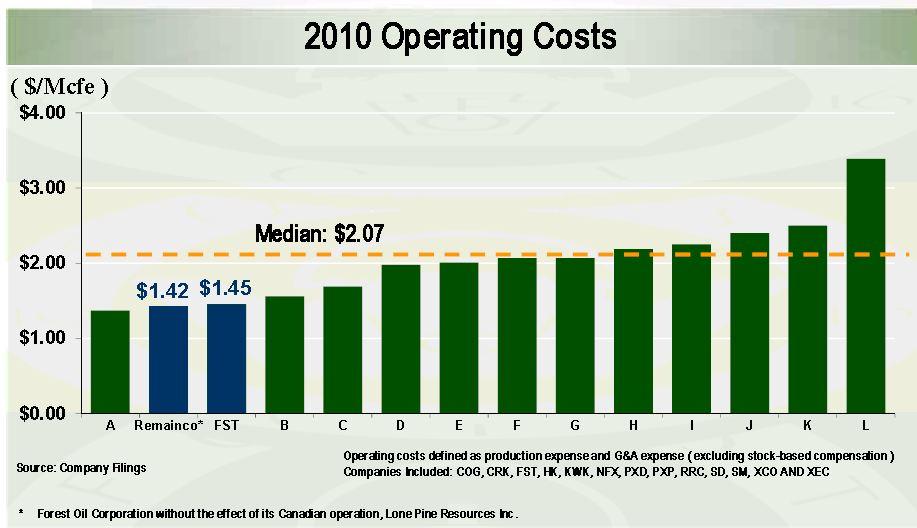 Click to enlarge
The chart below shows FST's production distribution.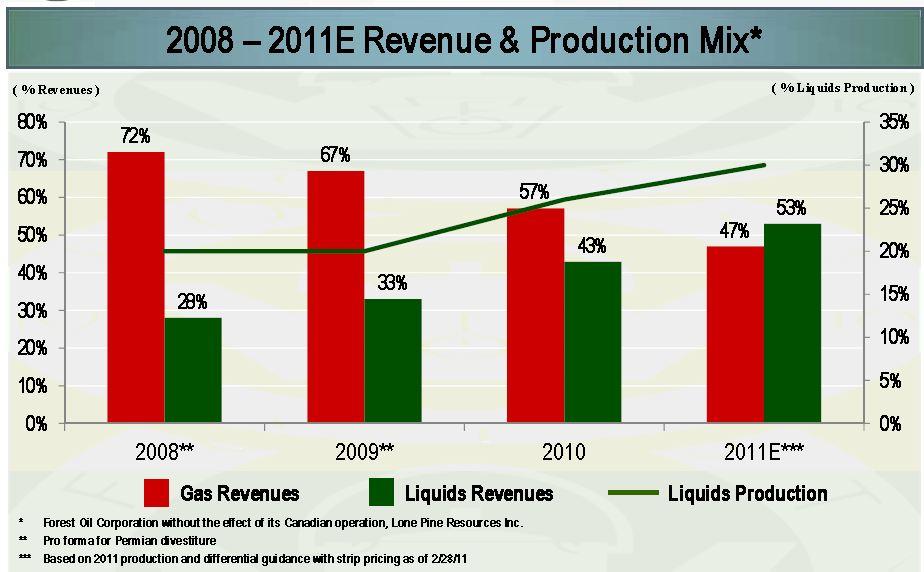 Click to enlarge
ASEN.OB is harder to glean information for. However, it did grow revenues for the first six months of 2011 to $5,570,856 from $3,382,738 in the first six months of 2010. (about a 65% increase). It grew oil production volumes by 106% and natural gas volumes by 42% year over year for Q2 (ending June 30, 2011). This is good growth for almost anyone.
KOG results are probably best presented by their own spreadsheet / chart below. One point to note is that oil production is forecast to more than quadruple in 2011 over 2010. That's good growth.

Click to enlarge
The table below contains some of the fundamental financial data for these stocks. The data are from TDameritrade and Yahoo Finance. Since many of these are very young companies, I will not bother with as much data. Some data can be more misleading than elucidating for early stage companies.
| | | | | |
| --- | --- | --- | --- | --- |
| Stock | | | ASEN.OB | |
| Price | $19.71 | $10.56 | $4.60 | $4.63 |
| 1 yr Analysts' Target price | $31.00 | $29.20 | $14.00 | $8.41 |
| Predicted % Gain | 57% | 177% | 204% | 82% |
| PE | 86.83 | 9.98 | N/A | 257.22 |
| FPE | 12.24 | 6.64 | 8.52 | 5.79 |
| Avg. Analysts' Opinion | 1.8 | 2.3 | 2.0 | 1.7 |
| Miss Or Beat Amount For Last Quarter | -$0.07 | +$0.06 | -$0.10 | +$0.01 |
| EPS Estimate for FY2012 | $1.61 | $1.59 | $0.54 | $0.80 |
| EPS Estimate for FY2012 90 days ago | $1.79 | $2.48 | $0.41 | $0.79 |
| EPS % Growth Estimate for 2011 | 141.90% | -27.10% | N/A | 766.70% |
| EPS % Growth Estimate for 2012 | 114.70% | 31.40% | 550.00% | 207.70% |
| 5 yr. EPS Growth Estimate per annum | 40.00% | 8.67% | 35% | 20.00% |
| Market Cap | $1.22B | $1.18B | $182.10M | $969.19M |
| Enterprise Value | $1.14B | $2.84B | $181.81M | N/A |
| Beta | 2.20 | 1.67 | 1.09 | 3.72 |
| Total Cash per share (mrq) | $1.25 | $4.39 | $0.01 | $0.24 |
| Price/Book | 2.70 | 0.81 | 3.39 | 2.59 |
| Price/Cash Flow | 30.74 | 3.03 | -- | 59.02 |
| Short Interest as a % of Float | 38.74%% | 6.42% | -- | 11.41% |
| Total Debt/Total Capital (mrq) | 0.00% | 57.67% | 0.00% | 26.14% |
I note FST's FY2012 earnings estimates declined dramatically from 90 days ago. This is likely due to the spin off of FST's Canadian subsidiary, Lone Pine, on June 1, 2011 via an IPO. FST retained 82% of the stock, but none of the production and earnings. FST distributed 70 million shares of Lone Pine (LPR) to FST shareholders after the market closed Sept. 30, 2011.
I note that NOG's still high short interest is likely a hangover from the recent accusations of accounting malfeasance. These seem to have been put to rest, but the stigma seems to remain. I never saw a huge motivating factor for such behavior. To my knowledge no malfeasance was ever proved. The average analysts' opinion of 1.8 should tell you that other knowledgeable people do not put much stock in the accusations either.
From the data above, FST looks like a solid pick with great growth potential. This company has been around for a while, but the new oil shale fields have not been technologically available. FST is effectively a more mature entrant to a new market. It should do well, and it looks like it is off to a great start.
ASEN.OB is enticing for its potential 200%+ one year stock price gain. This is more speculative than FST though.
NOG and KOG look like good solid plays, although smaller than some other companies. They can get further beaten down in a recession / depression scenario, but that would be normal for any small oil company. In two years they should both be worth significantly more.
I won't bother with the charts, all of these stocks are at or near oversold levels. Since these are relatively young stocks, the charts are not particularly helpful after the recent overall market downturn. All the above stocks are ready to bounce upward if the overall market can move up. They should all move up much faster than the overall market.
Disclosure: I have no positions in any stocks mentioned, but may initiate a long position in NOG, FST, ASEN.OB, KOG over the next 72 hours.