It was an extraordinary reversal.
At 3:20 PM on Tuesday afternoon, I checked the markets one last time before entering a brief meeting. The S&P 500 (NYSEARCA:SPY) was DOWN 20 points and plunging toward the lows of the day and the year for that matter. But by the time I returned to my car and turned on the radio a just past 4:00 PM, the S&P 500 had finished the day UP 26. And then the markets continued the party into Wednesday, with the S&P 500 tacking on ANOTHER 20 points to the upside. The total gain for the S&P 500 over the course of roughly 7 trading hours: 46 points, or +5.8%. Remarkable! But did anything magical happen on Tuesday afternoon to inspire such a sudden and swift turn to the upside? Unfortunately, the answer is a flat no. Instead, the reasons for stock market concern are about as profound as ever.
The primary reason cited for the latest stock rally is now brinking on the comical. Of course, it was yet again the now commonplace "hopes that European officials are working toward resolving its debt crisis." If this is truly the reason for stocks to rally, it presents an increasingly disconcerting problem. This is not the first time that some unfounded rumor about Europe has surfaced to excite the market. Instead, they have been coming every few days for several months now. But the rumors never materialize into action or anything of substance for that matter. Thus, if stocks are truly rallying every time a new rumor leaks into the market, it demonstrates a troublingly widespread lack of discipline and sound decision making. A market that flies higher on rumors is one built on sand (or short covering). Until we see actual action taken to meaningfully address the crisis in Europe AND we see signs of sustained improvement in the U.S. economy, it is prudent to remain highly skeptical of any sudden rallies higher in stocks.
While the rally has been an unexpectedly heartening turn of events, stocks face increasingly bracing headwinds to continue its recent rise for a variety of reasons.
(Click charts to expand)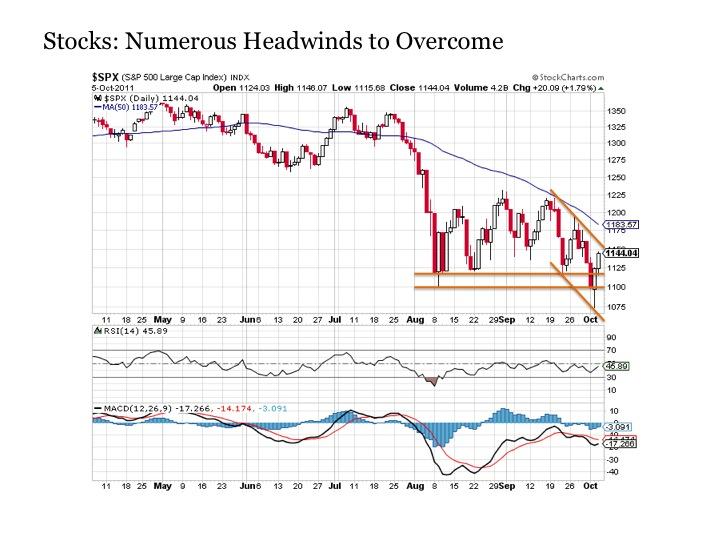 First, the U.S. stock market continues to defy the global trend. While stocks across the rest of the world are now trading well below early August lows, U.S. stocks clawed back above this support. But with markets increasingly facing the risk of economic slowing and financial contagion, U.S. stocks will be hard pressed to hang on much longer.
Second, a fair amount of technical damage was sustained during the latest correction prior to Tuesday's rally. Stocks established a new intraday low of 1074 on the S&P 500, which will be the next target for a retest in the coming weeks.
Third, U.S. stocks are now locked in a sharply downward sloping channel that began in mid September, and stocks are now at the high end of this channel at 1150 after today's close.
Fourth, even if the S&P 500 were to break out above 1150, it quickly encounters stiff resistance at its increasingly downward sloping 50-day moving average at 1183.
Fifth, stocks were not oversold prior to their most recent bounce, and do not appear poised to make a bullish crossover anytime soon, particularly since stocks have been locked in a bearish trend since late July. Lastly, after steadily improving since early August, momentum indicators have definitely rolled back over in recent weeks and continue to deteriorate despite the recent bounce.
Lastly, Bank of America (NYSE:BAC) remains at the forefront of one particular market segment in financials that warrants continuously close attention. Bank of America broke decisively below support at $6 per share and traded as low as $5.13 on Tuesday before rallying. But even the recent bounce has been generally unexciting. Moreover, the broader trend remains decisively lower. And as long as major financials like Bank of America and Morgan Stanley (NYSE:MS) continue to struggle, it will be difficult for the broader stock market to sustain a rally for long.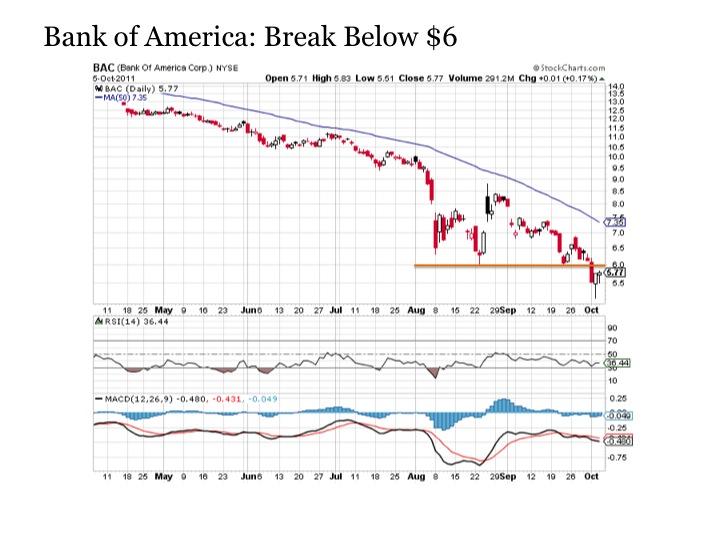 Bottom Line
Risks remain at highly elevated levels despite the recent bounce in stocks since Tuesday afternoon. As a result, it may be worthwhile to use the latest rally to trade out of selected stock positions in preparation for what might be another staggering leg lower looming right around the corner.

Disclosure: I have no positions in any stocks mentioned, and no plans to initiate any positions within the next 72 hours.
Disclaimer: This post is for information purposes only. There are risks involved with investing including loss of principal. Gerring Wealth Management (GWM) makes no explicit or implicit guarantee with respect to performance or the outcome of any investment or projections made by GWM. There is no guarantee that the goals of the strategies discussed by GWM will be met.