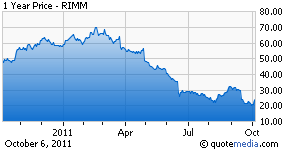 By: John J. Critchley Jr.
Another day, another takeover rumor. So goes it in the world of Research In Motion (RIMM).
Recent Rumor timeline:
Just last week, there were reports of raider Carl Icahn buying a substantial amount of the stock. Mr. Icahn is an equity activist/agitator and has been known to acquire a substantial amount of an out of favor stock and push for increasing shareholder value through certain coercive measures, i.e. the sale of the company.
On Tuesday, RIMM jumps on rumors the company has hired investment bankers to consider strategic alternatives. Skeptics abound. The smart phone business for RIMM is currently abysmal and the Playbook has not gained much traction.
On Wednesday, Research In Motion closes +$2.59 (+12.33%) after an article suggests Vodafone (NASDAQ:VOD) is actively looking at the company.
If you are a believer that where there is smoke there is fire, here are some option plays to consider.
Three Takeover Options Plays
Due to persistent takeover rumors, the 30-day implied volatility of the RIMM options is quite elevated. The 30 day implied volatility is trading around 84.70%, significantly higher than the 52-week implied volatility low of 31.14% hit early this year.
Trade Idea No. 1 - All Cash Deal
If you believe that some takeover is in the works and the deal may be an all cash deal for RIMM, consider this trade idea:
To let this view time to play out, let's go out to the Jan'13 options. A simple covered call with a far dated expiration is the perfect option play for an all cash deal.
The play: To take advantage of the fact that a cash deal essentially sucks any extrinsic value out of an option.
a) Sell Jan '13 35 calls for $ 3.00. Selling 53% implied volatility. This is significantly higher than the historical average implied volatility for RIMM.
b) Let's buy the underlying at $23.85.
Why a covered call? There are two reasons:
Any cash deal under $35 yields the seller full option proceeds of $3.00. For example, if there is a $34 cash deal, you would receive the full $3.00 in option premium plus the appreciation in your underlying position.

With a stock only and/or a combination of a partial stock/partial cash deal, the final takeover price of the deal is contingent upon the performance of the acquiring company's underlying price.

With a cash deal, the terms are stated and final once approved.

The performance of the acquirer does not impact the trade's return.
Trade Idea #2 - An Imminent deal Plus Bullish On RIMM Fundamentals
For those who view a deal as a near term possibility, let's do a risk reversal. (Buying calls, selling puts) This trade is only for those who are comfortable with owning RIMM at a discount to the current price if no deal happens and/or the underlying trades lower.
The play: To capitalize on the reverse call/put implied volatility skew.
a) Outright buy Nov 29 calls at 1.50. This is approximately a 95.2% IV (implied volatility). Buying 95% IV is extremely expensive unless there is a violent upside move. This is precisely our thoughts and that is why we will need to finance this purchase.
To finance this expensive purchase:
b) Let's sell the November 19 puts at 1.20. This is approximately a 102.2% IV (implied volatility). You are selling implied volatility in these puts at a skew premium to your call purchase. This is very normal and standard option pricing behavior. Let's take advantage of the downside-implied volatility skew in these options to lessen the debit of our call purchase.
Net debit: $0.30.
Risk: You will have RIMM stock put to you at $19. In other words, you will be long and own the stock at $19 if no deal materializes and RIMM trades below $19. A 20.2% downward move in RIMM over the next two months.
Trade idea #3 - Pure Speculation
For those who view a deal as a near term possibility but are also averse to owning the stock if no such deal happens.
The play: Utilize speculative monies only to buy near term OTM calls.
a) Outright Buy Oct 30 calls at .39 This is approximately a 98.2% IV (implied volatility). This may appear high, but when real premiums are low the absolute IV reading is mostly irrelevant. What is important is time to expiration, leverage acquired from buying the options and realization and acknowledgment that these options may most likely expire worthless. This is a speculative play. Don't bet the mortgage money on this trade.
Risk: Time is not on your side in this trade. The real premium is low, but in two weeks these options will expire and if the underlying is not over $30 a share, you will lose your entire investment.
Stay tuned.
Notes: Prices quoted where the prices at time of submission and do not reflect current market prices.
Disclaimer: We are not liable for any trading decisions made by any reader. No advice is given or implied. The information offered in this article is for demonstration purposes ONLY and should not to be either construed as an offer or considered to be a recommendation to buy or sell any options.
Your use of this information is entirely at your own risk. It is your sole responsibility to evaluate the accuracy, completeness and usefulness of the information. You must assess the risk of any trade with a professional broker, or financial planner, and make your own independent decisions regarding any trades mentioned herein. This is not a solicitation to buy or sell any options, or to purchase or sell any credit spreads. Trading options only carries a high degree of risk, is not suitable for all traders/investors, and you may lose all of your premium money invested in the options. If you have never traded options before, we strongly recommend that you read a little background information made available by the government. Only you can determine what level of risk is appropriate for you. Also, prior to buying or selling an option, a person must receive a copy of Characteristics and Risks of Standardized Options.
Past performances do not guarantee future results. Please consult with your own independent tax, business and financial advisors with respect to any trade. We will not be responsible for the consequences of anyone acting on this purely demonstration material.
Disclosure: I have no positions in any stocks mentioned, and no plans to initiate any positions within the next 72 hours.