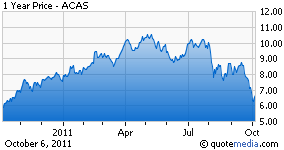 American Capital, Ltd. (NASDAQ:ACAS) is a business development company (BDC) with an asset manager subsidiary which has recently dropped below 50% on net asset value (NAV) at yesterday's closing price of $6.50. Like Madonna as Evita (I always wished that Michelle Pfeiffer had gotten the part), this stock at this price may be just "too good to miss."
I put a great deal of emphasis on book value in looking at BDCs - especially when I can pick them up at substantial discounts to NAV. I generally have more confidence in BDCs with low or no leverage and an asset mix loaded with senior debt. In this case, ACAS has some leverage and its asset mix includes a large amount of equity and mezzanine debt. I assumed that balance sheet cash would be used to pay down debt and that ACAS would realize 90% of book value on its senior debt assets, 80% on mezzanine debt, 70% on preferred equity, 50% on common equity, 10% on warrants, and 50% on structured products. These are relatively conservative assumptions, although certainly not the most pessimistic assumptions one could make. Anyhow, after writing all of these balance sheet assets down, liquidating them and paying off the remaining debt, I get $8.29 a share. This gives shareholders a nice cushion for write offs and write downs that will probably never occur to this extent. In recent quarters, ACAS has seen its NAV stabilize and even increase and has also paid down debt substantially. Of course, if we get a deep recession, write downs like the ones provided by my calculations could occur but it would still leave investors with a big discount to NAV.
ACAS has a kind of "kicker" because it has a subsidiary which is an asset manager. This sub manages American Capital Agency (NASDAQ:AGNC) which is a large agency mortgage REIT. Its fees depend on the net asset value of AGNC so that every time AGNC raises capital with a secondary offering(there was a successful one earlier this year), those fees go up. The agency mortgage REIT sector should continue to attract yield hungry investors although some writers have pointed out that dividends may decrease as long term rates(and rates on mortgages decline). My opinion is that investors will be so desperate for yield over the next year or two that the sector will continue to be able to raise capital because investors will be willing to accept lower dividend yield. To the extent AGNC successfully raises more capital, the fees of ACAS will go up and the book value of its subsidiary asset manager will increase.
BDCs have taken a horrible pasting in the market lately and I am not sure why. They have very little leverage and they lend mostly to domestic businesses so they will not suffer the kinds of problems the large banks will face if the European banks experience a crisis. BDCs will definitely experience loan write downs if we have a recession but most of them have very low leverage so they should be able to ride it out much better than they did 3 years ago. At any rate, the kind of discount to NAV provided by the current stock price of ACAS is "too good to miss."