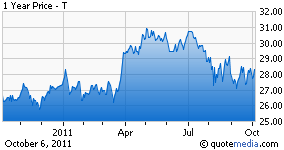 With the 10-year treasury yielding under 2% amid worries about slowing economic growth and the overhang of the European debt crisis hitting most of the market hard over the last few months, finding safe stocks with generous yields should be a core part of any investor's research efforts. One such stock that makes the grade is AT&T (NYSE:
T
).
AT&T – "AT&T Inc., together with its subsidiaries, provides telecommunication services to consumers, businesses and other service providers worldwide. Its wireless segment offers wireless voice communication services, including local wireless communications service, long-distance service, and roaming
services
." (Business Description from Yahoo Finance)
Seven reasons AT&T offers solid value at $28:
1.
AT&T offers a dividend yield of over 6% which should put a floor under the stock. It has also raised its dividend payments 5% a year on average over the past five years.
2. T is trading right at a strong technical bottom that has held numerous times over the past year (see chart).
3.
It is selling near the bottom of its five-year valuation based on P/S, P/B and P/CF.
4.
AT&T has an A rated balance sheet, a low beta (.67) and is selling at less than 12 times this year's projected EPS.
5.
The T Mobile acquisition has a good chance to move forward in some form over the next six months which should remove an overhang on the stock.
6.
Smart phone additions have consistently been better than expected and is a major reason the company continues to be able to slightly increase revenues annually despite continued deterioration in its landline business. AT&T should also have several advantages over other carriers with the new iPhone
lineup
.
7.
AT&T is under analysts' price targets. S&P has a price target on T of $34 a share and the medium analysts' price target on the stock is $33.
Disclosure: I am long T.