With the potential for a slowing economy, both domestically and globally, and with interest rates offering diminutive medium-term real rates of returns, I went hunting within the utility sector for stocks that offered an unusually low beta and a high dividend. As electric utilities generally offer the highest yield in the sector, I restricted the search to this industry. PP&L Corp (NYSE:PPL) came out on top with a 5.15% yield, based on a price of $27.15 and a beta of 0.44 versus a sector average of 0.57 and an industry average of 0.58.
With 10-yr Treasuries at 2.01%, PPL offers a substantially better yield than the sector and industry average yields of 2.76% and 2.88%, respectfully (source: Reuters).
PPL is an electric utility in transition. As with several of their peers, PPL is redirecting their business plan away from a heavy reliance on merchant power and towards a higher regulated utility business model. Recently, PPL has been purchasing regulated utilities in Kentucky, Western Virginia and in the UK. As of Dec 2010, PPL serviced 939,000 electric and 320,000 natural gas customers in KY and VA. PPL services 1.4 million customers in eastern and central Pennsylvania. PPL also operates two regulated utilities in England serving 2.5 million customers.
In addition, PPL owns and leases 11,700 MW of power generating capacity in the Northeast, Southeast and Southwest.
An in-depth business description of PPL is found at Reuters.
As of Dec 2010, 23% of earnings were generated from regulated activity, with a company stated goal of 73% by 2013. While the company is heavy weighted towards coal-fired plants and PPL estimates to spend about $3 billion a year in capital expenditures, largely represented by environmental upgrades, these capital expenses will show up as higher capital asset base calculations for future rate determinations. PPL is currently requesting some rate increases based on environmental upgrades and the decisions will be based on determining an acceptable rate of return.
The upcoming closure of inefficient coal-fired generation facilities may have the positive effect of removing capacity in the current weak Northeast power market, supporting PJM pricing. One of the factors driving merchant power producers to a higher percentage of regulated business models is the weak power market and lower PPA (power purchase agreements) pricing. PPL is not alone in its merchant power earnings decline over the past few years.
With a current stock price of $27.25, PPL has a market cap of $15.2 billion and earned $3.13 a share last year. This year, anticipated earnings are expected to fall to between $2.29 and $2.65, with a consensus of $2.59. 2012 earnings could be flat with this year as the transition to a more regulated takes hold. The more positive reports on the street expect earnings to grow 6.0% a year thereafter, with upwards of $2.80 a share estimated in 2014. PPL has generated middle-of-the-pack returns on invested capital. Trailing 12 months ROIC is 4.9% while the 5-year average is 5.5%.
PPL currently pays an annual dividend of $1.40 a share and represents a 58% payout ratio. While the 5-yr average dividend growth rate is 7%, it will probably drop a few points until the benefits of the higher regulated exposure takes better hold. PPL offers both a dividend reinvestment (DRIP) and a direct stock purchase (DSP) plan.
PPL is getting more investor interest lately. According to a recent SA article, Goldman Sachs Asset Management increased their holds of PPL from 7.3 million shares to 19.8 million. Shareholders have been solicited by a private equity firm, TRC Capital, to purchase up to 4 million shares at $27.00, but the company is advising shareholders against the tender offer.
1-Yr Chart:
click to enlarge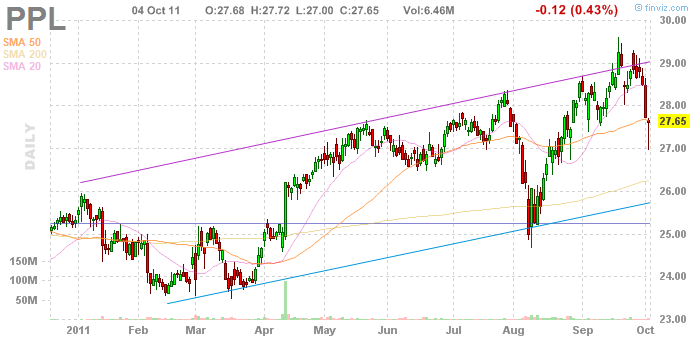 Click to enlarge
3-Yr Chart compared to S&P Utility ETF (NYSEARCA:XLU):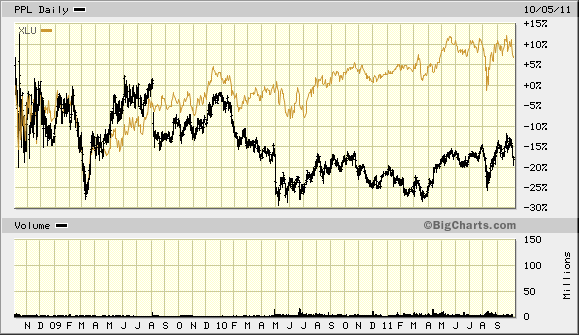 Click to enlarge
Previous article here
Even though PPL has a low beta, it offers some capital gains potential over time. Many analysts are looking for share prices in the $31 to $33 range. Total stock returns could be in the 8% to 9% range, with the vast majority coming from its yield. Investors seeking above Treasury yields with the security usually associated with extremely low beta stocks should review PPL.

As always, investors should conduct their own due diligence, should develop their own understanding of these potential opportunities, and should determine how it may fit their current financial situation.
Disclosure: I have no positions in any stocks mentioned, and no plans to initiate any positions within the next 72 hours.