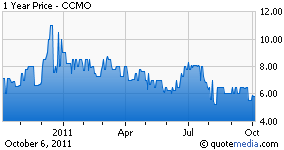 As somebody who started calling into a local radio station at 10 years of age and landed my first job on-the-air three years later, it's difficult not to unabashedly admire Clear Channel's (CCMO.PK) Bob Pittman as a radio legend. This excellent piece by Sean Ross of Radio-Info.com helps support that sentiment.
As such, I thoroughly appreciate and enjoyed the opportunity to have Pittman answer some questions about the company and the audio entertainment space via email. His responses should provide value, as a starting point, for investors interested in Clear Channel and related companies.
Initially, Pittman joined Clear Channel as Chairman of Media and Entertainment Platforms. On October 2nd, days after I sent him these questions, the company named Pittman CEO.
Rocco Pendola: To say Clear Channel has been aggressive in its promotion of iHeart Radio cries understatement. Some of the PR has even mentioned Pandora (NYSE:P) by name. Is this a case of terrestrial radio hitting back after reports of its death? It certainly reminds me of the old days just a little.
Bob Pittman: As the largest reach media company in the U.S. - with 237 million listeners for our broadcast radio properties alone - we didn't want to launch the New iHeartRadio like a start-up. We also wanted to show the world what Clear Channel can do with this national scale when we operate nationally.
As a first step, we re-invented the press conference with our announcement of the iHeartRadio Music Festival. Instead of a stage with chairs, a podium and water glasses, we turned to our national platform. For the first time ever, at 8:15 a.m. EDT on July 11, we roadblocked all 850 of our stations in 150 cities with a Ryan Seacrest audio announcement on the broadcast stations and his video on each station's website. Then we sent our listeners to the Today Show to hear Jennifer Lopez talk about it as well. Our teases of the announcement, and the announcement itself, reached 100 million people - and started a press avalanche.
The results were amazing. We had 80,000 Facebook fans of iHeartRadio before we teased the announcement. Today we have about 1.5 million, surpassing both Pandora and Spotify. When the tickets went on sale, the concert sold out in 10 minutes. The early data we have on streaming says we were in the top streaming events ever - even though it took place late at night on the East Coast. And we have now surpassed over 40 million downloads for our mobile product.
RP: There's lots of confusion out there among some investors regarding royalties. Please explain the royalty structure Pandora must abide by with the one Clear Channel uses across platforms.
BP: Pandora has a sweetheart royalty deal - which I think most observers view, and even their public filings show, is still pretty onerous. Although we also have rather onerous payments, it is a tiny piece of the overall cost structure of Clear Channel Radio. So we have the luxury of being able to make this sort of investment in order to add this kind of feature to our iHeartRadio product, in addition to our broadcast and digital-only stations, plus our deep social networking through Facebook.
RP: Does room exist for both Pandora and iHeart Radio in the mobile ad space?
BP
: Sure. Consumers look for choice. And they just got a lot more with iHeartRadio.
There's certainly enough future usage to go around. And, in the grand scheme of total radio listening, it is quite small right now anyway. Remember, all digital radio, even including the Internet-only services, is only about 3-4% of all radio listening. The game hasn't really begun yet.
RP: As Internet radio and mobile streaming goes, Pandora has the brand name (as I perceive it), but Clear Channel can leverage its terrestrial properties to drive listeners to iHeart Radio. Can you chip away at Pandora's brand enough to leave yourself with the unmatched power of the Clear Channel stable of stations?
BP
:
I think Pandora has carved out a niche for itself in custom radio. We think that is just a piece of the total pie - but one that we want to add to our stable too. With a billion radio receivers, broadcast radio is going to be the mainstay of radio for quite a long time. But we think iHeartRadio, by providing those stations, plus digital only stations, custom radio and strong social network features as an all in one product, is the better approach.
RP: Why the name iHeart Radio? I figure it's a way to draw in one of terrestrial radio's loyal core demos - 25-44 year old women. Am I over-thinking this?
BP
: Someone had picked it before I arrived. We tested it again before we added all the new features and services, and it tested well ... so we stuck with it.
Not sure what the origins were.
RP: Many Pandora and iHeart critics point to mobile data caps - and possibly Internet caps - as major stumbling blocks. What's your current take and outlook on that front?
BP: There's not enough usage yet to make it an issue, but I think more upcoming bandwidth begins to alleviate that issue anyway.
RP
: Sirius XM (NASDAQ:
SIRI
) has been, curiously, slow on the uptake in terms of aggressively embracing and leveraging mobile and online platforms. What do you make of this? And, as such, how concerned are you, within the context of your capacity at Clear Channel, with satellite radio from a competitive standpoint?
BP: Satellite radio users use more broadcast radio than the average user. Clearly these are the folks who want more choice and will pay for it, but they are using it in addition to, not instead of, broadcast radio. It's sort of like HBO and the basic tier and broadcast TV stations.
We don't view it as a threat - and indeed, as a subscription service, they don't have a competitive business model. We've embraced satellite and put some of our most iconic stations like KIIS-FM and Z-100 on XM.
We don't really view Sirius XM as a foe. Besides, I like (CEO) Mel (Karmazin) too much to ever think of them as the bad guys.
RP
: From an investment perspective, the first thing retail investors, for example, bring up when they hear Clear Channel is debt. In addition to working in the role of Chairman of Media and Entertainment Platforms for Clear Channel (Clear Channel named Pittman CEO October 2nd, after I sent him these questions),
you made an equity investment in the company
. Explain to investors why you were confident enough to make such a move, in light of the debt situation. And if you could, please provide some color on how the company intends to handle the issue going forward.
BP: As an investor, I love leverage. Yes, high leverage has risks - but since I believed the company was inherently worth more than the debt and the current equity, I saw the leverage as a great way to turbocharge my equity return. But every investor has to make those decisions for themselves.
Plus, I thought the company had some really nice new growth vehicles in digital and in selling advertising as a true national platform. After all, we reach more people every month than any television network and even more than Google's (NASDAQ:
GOOG
) audience in the U.S. I viewed this as a company with lots of growth opportunities - and with a footprint that was already market-leading.
RP: Should we expect Clear Channel to consist of fewer terrestrial properties going forward? Or more? If so, at what level in terms of market size would the company divest or expand? Thinking behind this question after the debt one - as digital grows, the company can become leaner and meaner by selling off under-performing stations.
BP
:
We love our scale. By operating in 150 cities, and including local sellers, we have a unique platform for advertisers. No other media company comes close.
RP: In the above-linked Wall Street Journal article, you talk about Clear Channel's "powerful local brands," using a story of how your young daughter is obsessed with Z-100, New York's legendary Top 40 station. Even at Z-100, however, mid-days come syndicated in the form of Ryan Seacrest. In smaller markets, local, from a talent and information standpoint, rules even less. How much of a concern should this be for radio? On one hand, smaller markets now have access to world class talent, but, on the other hand, it's simply not local. Where's the balance?
BP: I think it's completely local. We're committed to serving our markets with higher-quality programming than anyone else. BTW, do you think a TV station in Memphis isn't local because they run David Letterman instead of a local comedian at 10:30 each night?
I started in a really small market ... and it sounded horrible, but that was all that a station could afford in that size market. Because of our scale, we can give our smallest markets access to very high-quality big market program elements that can be put together to serve specific markets with a quality that could never be afforded any other way. We still have local people making sure the station is tailored to the market - and as the needs change they can change it.
Look at what we did in Tuscaloosa, Alabama, after those devastating tornadoes. The stations all went all-information. And our folks literally worked day and night, not because we told them to but because they wanted to – this is their community, they are an integral part of it and they wanted to serve it. We even have backup and portable generators, towers and transmitters located all over the country so we can quickly get one of them to any market experiencing a disaster so that we can get our stations back on the air and serving the community in time of great need. Know anyone else who does that?
RP: Part of my concern involving the local centers on my perception, at least, that the minor leagues no longer exist. The nurturing ground for young talents in small markets is much smaller than it was when I got into radio in the 1980s and much, much smaller than it was when you started out in the 1960s. Where will the next Rush Limbaugh or Ryan Seacrest come from? Or will it just be that they'll come from places other than small- to medium-market radio such as television? Should I be worried about this? Because clearly the Adam Carolla and David Lee Roth experiments did not work out when Howard Stern left terrestrial radio.
BP
:
That's a great question and one that we do work on. Tom Poleman, our President of National Programming Platforms, was given this by John Hogan as one of his new responsibilities. There's a lot we can do, and are doing, to find and develop talent using our existing stars and producers - and we're using some of our smaller stations as talent development and experimental opportunities for program and format development. It's another advantage to our scale. If these stations fail, it has almost no impact on our earnings - but the value of them as testbeds is tremendous.
Disclosure: I am long P.