There are a lot of mixed signals these days so let's summarize the bulls and the bears:

Bullish Case Going Into Earnings Season:
U.S. economic data, while not robust, have yet to point to a recession. Companies in the U.S. added 91,000 jobs in September, according to data from ADP Employer Services.
Retail numbers are holding up and showing slight growth according to the Associated Press:
The International Council of Shopping Centers said Thursday that revenue rose 5.5% in September, with several retailers including Target (NYSE:TGT) and Kohl's (NYSE:KSS) posting strong gains as consumers snagged discounted merchandise.

Wealthy shoppers seem to the only ones who were paying full price. Saks Inc. (NYSE:SKS) reported a 9.3% increase in September, better than the 6.5% gain expected by analysts. And Nordstrom (NYSE:JWN) Inc. posted a 10.7% surge last month, which exceeded the 5.2% analysts were predicting.
Despite all the negative market action, Q3 earnings are still expected to hold up for most sectors. Weakness from the financial sector and basic materials sector are expected by the market.
Speaking at a Fortune magazine event, Warren Buffett said Berkshire's Burlington Northern rail unit, its MidAmerican energy unit, manufacturer Iscar and diversified group Marmon will all post record profits this year. Buffett maintains that U.S. bank stocks are a buy.
With forecasts of a 90K jobs added in the non-farm payroll number tomorrow, we will get a quick rally on Friday morning if this number holds. From all the employment data, we are clearly not signaling a recession. Employment is not growing but it is holding up.
Latest 2011 Q3 Chart For Construction Employment
Click to enlarge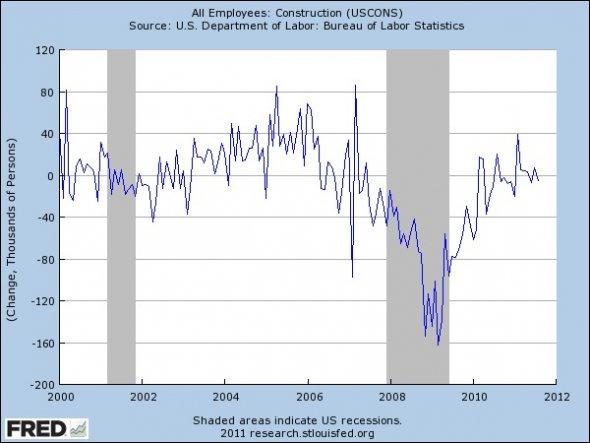 Click to enlarge
Bearish Case:
It's clearly too soon to call a recession in the U.S. but any shocks will push the U.S. over the edge. The problem is that the shocks seem to be in place.
The dollar Index is trending up and EUR/USD has no support until 1.30. The EUR/USD is looking like a great short at around 1.35 - 1.36.
Strengthening of the dollar can put a lot of pressure on commodities and stocks. If the euro devalues significantly against the dollar and breaches below 1.30 mark for a sustained period, it will be a huge headwind for commodities and equities.
Alcoa (NYSE:AA) kicks off earnings season early next week. The problem is that while expectations for Q3 earnings have been lowered, the market is still worried about the future earnings erosion. Consequently, the upside for beating earnings will not be as great as the downside of missing earnings.
Another big macroeconomic worry is that the U.S. government is cutting back on a federal level as well as on the state and local level after a decade of deficit spending.

2011 Q3 Latest Chart For U.S. Local Government Employment
Click to enlarge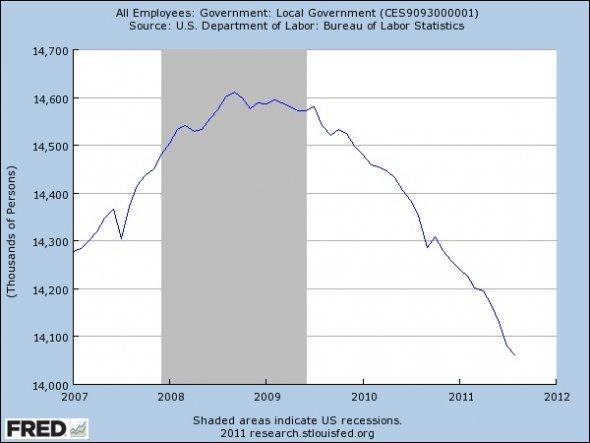 Click to enlarge
Markets can only focus trading on one theme at a given time. Soon all eyes will be focused on the fundamentals. In my next article, I will explore just how high the expectations are for Q3 and whether we are setting up for a great disappointment.

If I left any important points out for the bullish or bearish cases please let me know in the comments.
Disclosure: I have no positions in any stocks mentioned, and no plans to initiate any positions within the next 72 hours.