Whole Foods (NASDAQ:WFM) has beem both a Wall Street darling and a favorite of individual investors, but I'd like to give you a little note of caution. With a P/E ratio of 34 in an industry that normally trades a P/E ratio between 10 and 14, it might be a good time to protect your profits with stop-losses. The graph below, of weekly prices over the past 3 1/2 years (provided by Barchart) shows solid price growth: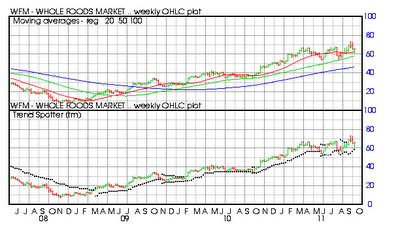 Whole Foods Market engages in the ownership and operation of natural and organic food supermarkets. The company offers produce, seafood, grocery, meat and poultry, bakery, prepared foods and catering, coffee and tea, nutritional supplements, and vitamins. It also provides specialty products, such as beer, wine, and cheese; body care and educational products, such as books; and floral, pet, and household products. As of February 9, 2011, the company operated 302 stores in the United States, Canada, and the United Kingdom. Whole Foods Market, Inc. was founded in 1978 and is headquartered in Austin, Texas. (Profile from Yahoo Finance.)
Factors to Consider
Barchart technical indicators:
67% Barchart long-term technical buy signal
Trend Spotter hold that is turning to a more bullish buy
Trading below its 20-day moving average but still above its 50- and 100-day moving averages
Up 1.91% in the last month
Relative Strength Index 48.98%
Barchart computes a technical support level at $63.43
Recently priced at $66.70 with a 50-day moving average of $63.74
Fundamental factors:
Wall Street brokerage analysts project increases in sales of 12.30% this year and 14.60% next year.
Earnings are expected to increase by 34.30% this year, another 17.20% next year and continue at an annual rate of 18.70% over the next 5 years.
These consensus forecasts result in analysts issuing 5 strong buy, 7 buy, 10 hold and one underperform recommendation -- the underperform may be due to the already high P/E of 34.31.
The company eventually wants to expand nationwide to 1,000 stores from its present 300 store count
The main advantage WFM has over other grocery retailers is that its more affluent shoppers may allow WFM to pass on any increases in food prices.
In this grocery sector, only Fresh Market has a higher P/E ratio.
The rest of the sector trades at a P/E in the low teens.
General investor interest:
There are 4,556 readers of Motley Fool expressing an opinion on this stock.
They vote 88% that the stock will beat the market.
The more experienced and savvy All Stars vote 92% for the same result.
Competitors and sector leaders:
In the past year Whole Foods had a price gain of 81%, far outstripping the retail grocery leaders Kroger (NYSE:
KR
), which gained only 6%, and Safeway (NYSE:
SWY
), which actually lost 16% (click chart to enlarge):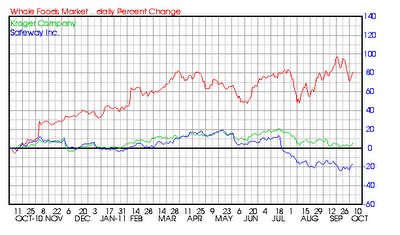 WFM is a member of the SIC 5411 Retail - Grocery Store sector, which has shown mixed results, with Fresh Market (NASDAQ:TFM) up 23% in the last year, Ruddick (RDK) up 16%, Wels Markets (NYSE:WMK) up just 1% and Arden Group (NASDAQ:ARDNA) down about 11% (click chart to enlarge):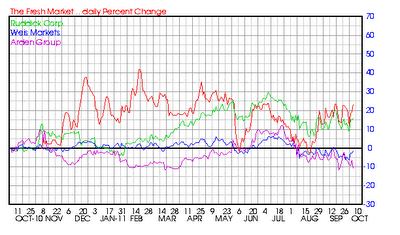 Summary
Whole Foods (WFM) has been a terrific stock, and a lot of money has been made by its investors, but eventually it's P/E will fall back in line with the rest of the industry. I'd only make new purchases on major market dips; if you are presently holding shares, please put in protective sell-stops to save the profits you've made.
Disclosure: I have no positions in any stocks mentioned, and no plans to initiate any positions within the next 72 hours.