We have had three nice rally days, and call volume instead of put volume is dominant, but this is still a bear market rally, in our view. If you are buying specific stocks for specific long-term reasons, that is one thing, but if you are buying indexes it may be best to wait for more of a confirming price movement.
To be clear, we think there are stocks worth accumulating at this time, but we don't think the same can be said about the broad indexes.
What might a confirming price move be? There is no magic or absolutely correct answer, but there are some reasonable answers. Consider these three as possibilities as you determine your own best re-entry level:
for aggressive risk, wait for the price to retrace more than 1/2 of the distance between the recent peak and recent trough
for moderate risk, wait for the price to be above both the 1/2 retracement level and the 200-day average
for low risk, wait for the price to exceed the 1/2 retracement, the 200-day average and the recent peak.
The obvious argument against this approach is that it leaves money on the table if the prices keep going up. That is the cost of getting some amount of directional and momentum assurance that the rally is not a head fake in a down move.
In view of the bear market conditions, some might consider even the "low risk" test to be too risky. China and the Euro Zone are in important bear markets, and the United States is at least on the cusp of a bear market, if not in one (we think it's a bear).
If we were in correction within an up trend, the three re-entry levels would be far more reassuring than if we were in a bear market.
Except for purchasing selected high quality, undervalued, dividend income stocks in a bear market, we prefer to own broad index funds when the slope of the 200-day average is pointing up, and the price is above the average.
Let's look at the United States, the Euro Zone and China in terms of the three re-entry levels we listed here.
The gold line is the 200-day average. The blue lines are the retracement lines between the peak and trough. The red line is the bear market indicator (plotted 20% below the trailing 1-year high. Click charts to enlarge.
United States (NYSEARCA:SPY)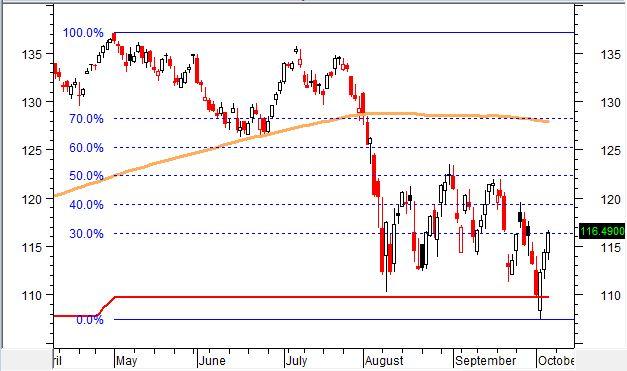 Click to enlarge
SPY is at about the 30% retracement level, well below the 200-day average, which is sloped slightly downward. It went below the bear market indicator on an intra-day basis 3 days ago.
Eurozone (BATS:EZU)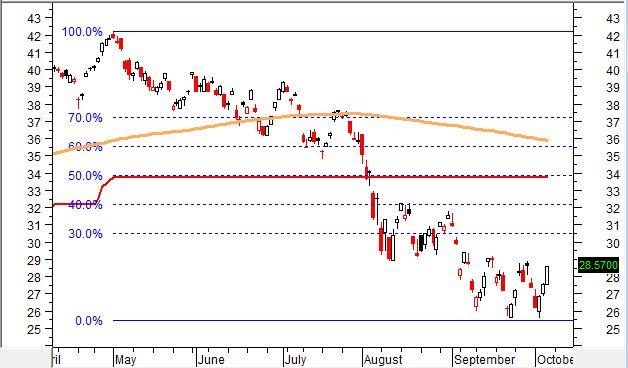 Click to enlarge
EZU is at around the 20% retracement level, well below the 200-day average, which is clearly sloped downward, and has been below the bear market indicator since early August.
China (NYSEARCA:FXI)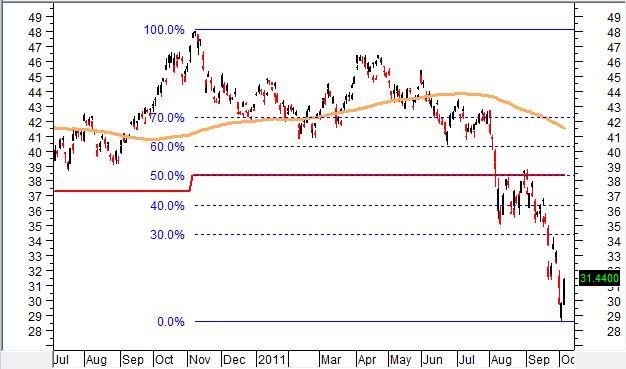 Click to enlarge
FXI is at a price below the 20% retracement level, well below the 200-day average, which is clearly sloped downward, and has been below the bear market indicator since early August.
Long-Term View of United States Stocks (S&P 500 Index):
It appears to us from this chart that the S&P 500 is in a bear market, that the current conditions reasonably match the price patterns in the downturns in 2000 and 2008, and that no intervening period had the same set of conditions:
price < 200-day average
200-day average is sloping downward
price pierced the 20% bear market indicator
In the current case, we also have a lower high in the April high versus the 2007 high.
The current price pattern resembles the 2007-2008 period more than the 2000 period.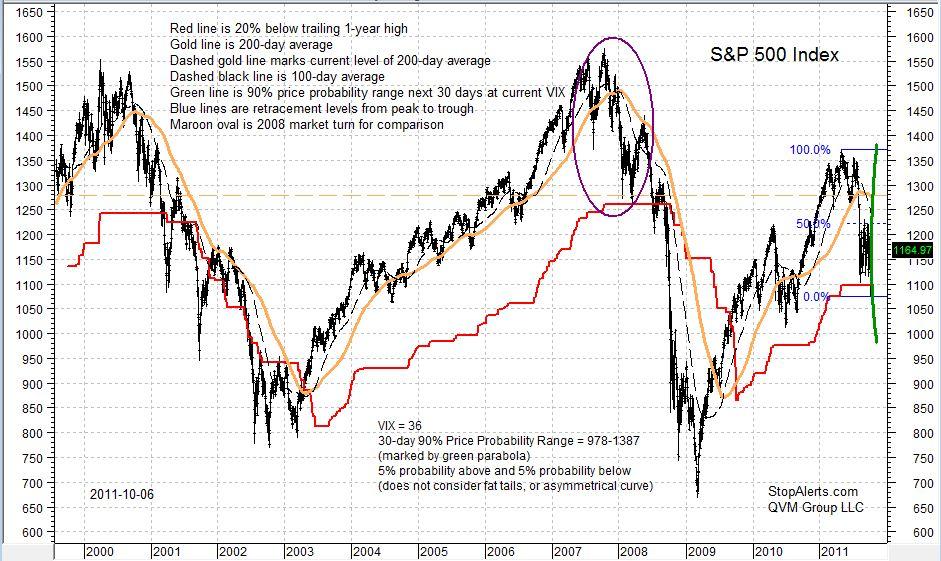 Click to enlarge

Overall, we think the mood switch from pessimism to optimism over the past few days is overdone, or at least not proved to be sustainable.
Europe has not solved their problems, they are just making positive statements about something they might do. The United States is still mired in political deadlock with a slow growing economy and a high unemployment rate. China is still coping with inflation, shaky property markets, and concerns about bank capital adequacy.
Things might get better soon, but they aren't better yet. Stock markets anticipate, but are they early to the party in this case?
Whatever you may buy in this time period, we think manual stops make more sense than automatic stops, given the high frequency computer trading and huge daily price swings typifying markets these days.
We think safety should be a top of mind concept in these markets.
Disclosure: StopAlerts.com is a service of QVM Group LLC, a registered investment advisor. As of the creation date of this article (October 6, 2011), QVM has a short position in SPY and has written near-term, far-out-of-the-money PUTS on SPY; and has no positions in any other mentioned security.
Disclaimer: This article provides opinions and information, but does not contain recommendations or personal investment advice to any specific person for any particular purpose. Do your own research or obtain suitable personal advice. You are responsible for your own investment decisions. This article is presented subject to our full disclaimer found on the QVM site available here.