As part of our process, we perform a comprehensive analysis of a firm's discounted cash-flow valuation, relative valuation versus industry peers, as well as an assessment of technical and momentum indicators. This process culminates in what we call our Valuentum Buying Index (VBI), which ranks stocks on a scale from 1 to 10, with 10 being the best (If a company is undervalued both on a DCF and on a relative valuation basis and is showing improvement in technical and momentum indicators, it scores high on our scale).
To get started, let's take a glimpse into our stock-picking track record:
Example #1 - Apple (NASDAQ:AAPL)
On June 17, we published an article on Seeking Alpha that suggested Apple was significantly undervalued.
At the time, Apple was trading around $320 per share and now the firm fetches a price tag near $380 per share, roughly a 20% gain. We're still expecting substantial upside for Apple to north of $500 per share.
Example #2 - AMR Corp (AMR), the parent of American Airlines
On May 17, we wrote a controversial article on AMR Corp (AMR), the parent of American Airlines suggesting its equity was practically worthless. The stock was trading at about $7 per share at the time.
And now, please read this article on American below for an update on how the story has evolved.
The put option in our Best Ideas Newsletter doubled, and we took profits. American is now trading at a mere $2.40 per share. We maintain the firm has a lot to do to create any value for shareholders. In other words, AMR's equity is still practically worthless.
Example #3 - Netflix (NASDAQ:NFLX)
On July 26, we wrote that Netflix was absurdly overvalued on Seeking Alpha. Netflix was trading well over $200 per share.
Netflix is now trading just over $100 per share. We're growing more constructive on the firm's shares given the fall and are awaiting an improvement in technicals before considering it as a long.
5 Significantly Undervalued Stocks
We reveal below 5 significantly undervalued stocks based on our DCF process, ranked by Price to Fair Value (current stock price divided by the firm's intrinsic worth). We update our Top 5 and Top 10 lists frequently on our website.
5 Undervalued Stocks
click to enlarge

Ancestry.com (NASDAQ:ACOM)
Ancestry.com is debt-free (read negligible financial bankruptcy risk), and as of the end of its second-quarter, held over $70 million in cash on its balance sheet. At 19x next year's consensus earnings estimates of about $1.50, it's trading just north of a market multiple on 30%-40% top-line growth and earnings that are doubling (look at the chart above -- we're not kidding). And with the release of the 1940 census in April 2012 -- the biggest catalyst genealogical research has seen in a decade, we fully expect consensus numbers to be too conservative. We're looking for about $2 per share in 2012, which makes Ancestry.com's currently price levels almost ridiculous.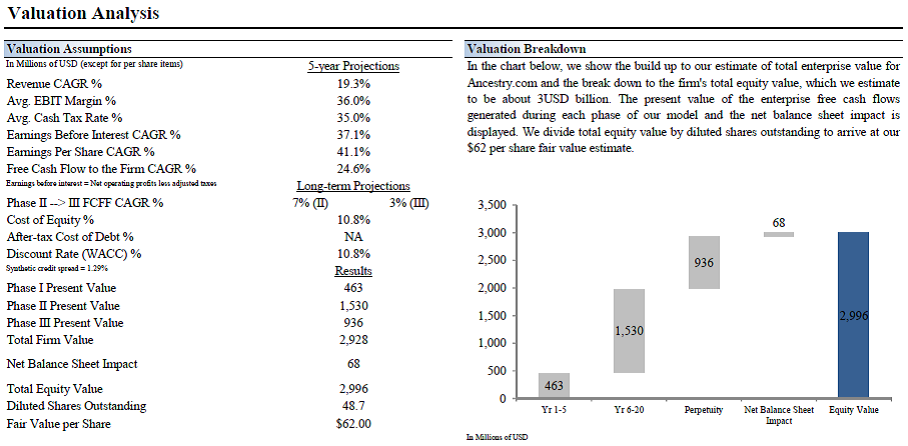 Office Depot (NYSE:ODP)
Office Depot earns a ValueCreation™ rating of EXCELLENT, the highest possible mark on our scale. The firm has been generating economic value for shareholders for the past few years, a track record we view very positively. Return on invested capital (excluding goodwill) has averaged 23.9% during the past three years.
That said, we're not too fond of Office Depot 's weak cash flow generation and high financial leverage. Although this combination does not guarantee financial problems down the road, it could potentially be a recipe for disaster during tough economic times. This name is not without significant risk.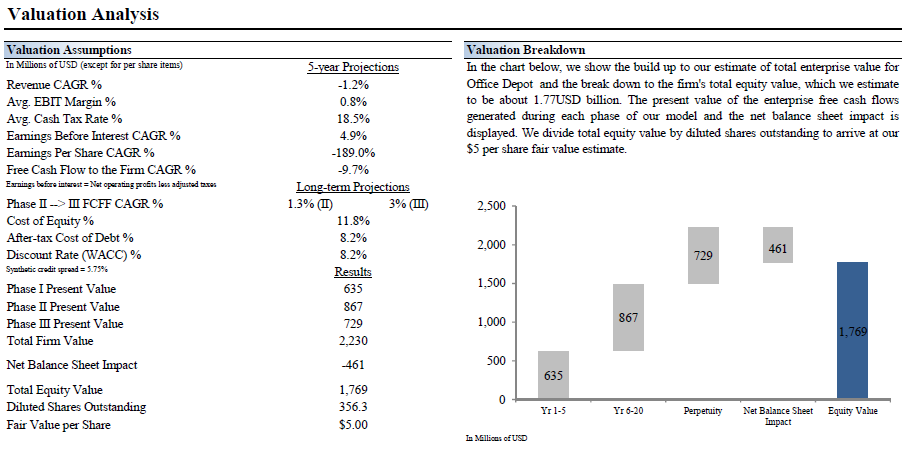 Terex (NYSE:TEX)
Terex's average return on invested capital has trailed its cost of capital during the past few years, indicating weakness in business fundamentals and an inability to earn economic profits through the course of the economic cycle. Though its valuation is compelling, we think there are better quality firms out there.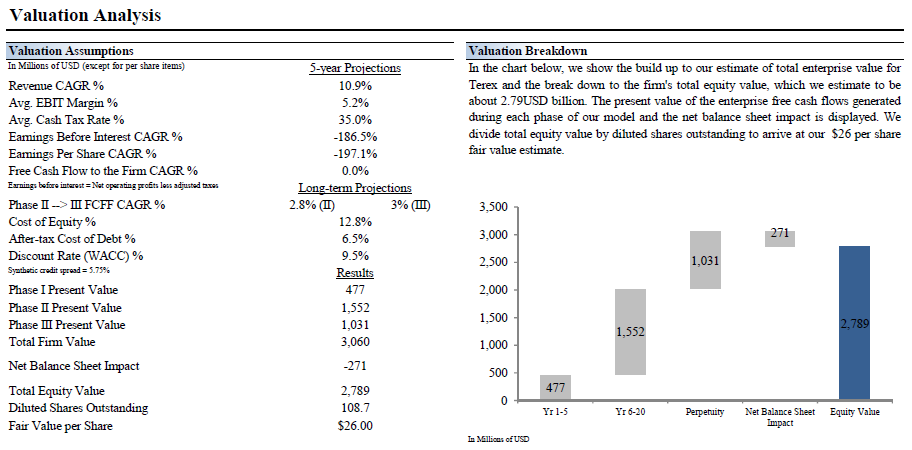 Intel (NASDAQ:INTC)
With very little long-term debt, in fact so little that the company earns positive interest on the loads of cash it's creating, we don't think there's much downside risk in Intel. It's not a huge discount from our bear-case scenario, and we think the buybacks and healthy dividend should support the stock.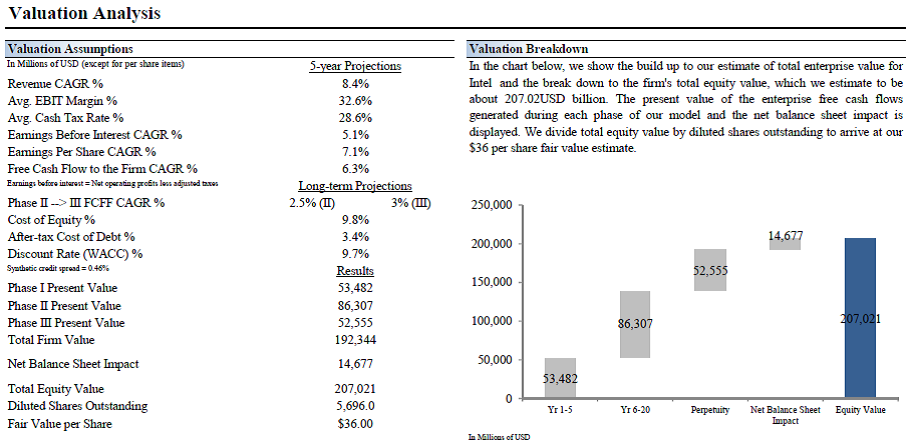 Hewlett-Packard (NYSE:HPQ)
Hewlett-Packard's valuation is compelling at this time. The firm is trading at a nice discount to our estimate of its fair value, even after considering an appropriate margin of safety. The firm's forward earnings multiple and PEG ratio also look attractive versus peers.
Hewlett-Packard has an excellent combination of strong free cash flow generation and low financial leverage. We expect the firm's free cash flow margin to average about 9.9% in coming years. Total debt-to-EBITDA was 1.3 last year, while debt-to-book capitalization stood at 35.5%.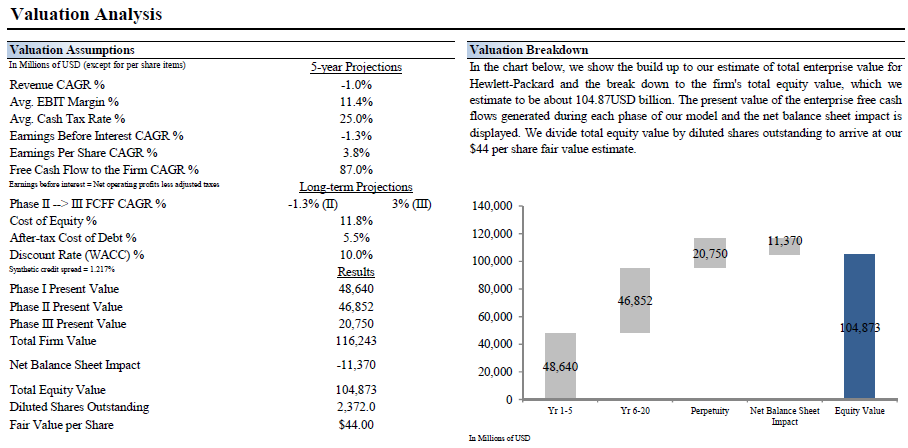 Disclosure: I have no positions in any stocks mentioned, and no plans to initiate any positions within the next 72 hours.
Additional disclosure: Ancestry.com, Intel, Apple, and Edac Tech are included in our Best Ideas Newsletter.