Mortgage REITs (mREITs) own mortgages on real estate assets. Some mREITs concentrate on commercial property mortgages, while others concentrate on residential property mortgages. Within the world of residential mREITs, there are two primary subdivisions: those that own mortgages insured by federal agencies and those that own mortgages without agency insurance.
Agency mREITs have portfolios made of mortgages insured by federal agencies that originate or back mortgages and then issue mortgage backed securities (MBSs) made up of multiple mortgages to investors. An agency MBS, as opposed to an MBS issued by a non-agency lender, comes with a federal agency guarantee and an implied U.S. government guarantee. Three well-known agency mREITs are Annaly Capital Management, Inc (NYSE:
NLY
), American Capital Agency Corp (NASDAQ:
AGNC
) and Hatteras Financial Corp (NYSE:
HTS
).
Non-agency mortgages have a more specific risk than agency mortgages, which includes nonpayment. Three well-known, non-agency mREITs are Chimera Investment Management (NYSE:
CIM
), MFA Financial (NYSE:
MFA
) and Two Harbors Investment (NYSE:
TWO
), though these companies also can and do buy large positions in agency paper (which is why they are also known as hybrid mREITs).
Without agency backing, defaulting borrowers will mean no payments and a considerably reduced MBS valuation. A great deal of non-agency paper is priced to assume significant default likelihood. Additionally, only a small percentage of recent mortgages are not agency-backed. The valuations for the pre-existing non-agency mortgages are especially volatile.
On Thursday, non-agency mREITs outperformed the agency mREITs to a noticeable degree, which may indicate that the market has bottomed out for both. CIM was up over 6.23% and MFA was up 4.33%, while MFA was up just under 2% (after factoring that it went ex-dividend). This compares to increases between 2.4 and 3.4 percent within the above-listed agency names. See the 1-day chart below.
Click to enlarge
: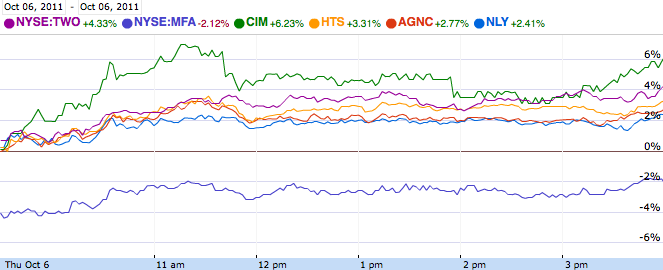 While rates have stayed low and trended lower this year, most investors believe rates must eventually rise. The current
Operation Twist endeavors by the Federal Reserve are expected to lower long-term interest rates, at least temporarily, while raising short-term interest rates. mREIT spreads are generally based on shorter term interest rates, so this twist could hurt their spreads and leveraged portfolio values in the short term. Such changes would be less problematic to the less leveraged non-agency mREITs, though probably still a negative for them.
Other recent concerns have hit the mREITs, including regulatory risks. On August 31, 2011, the SEC
released
two announcements that made investors question whether mREITs may eventually lose their status as REITs and/or be restricted as to the level of leverage they may utilize. Such risks remain minimal, but their creation necessitated analysts to factor them in and develop position papers regarding potential changes to the industry.
Over the last 2 weeks, these regulatory issues,
Operation Twist, general weakness in U.S housing and European bailout fears have taken down the mREITs to a far greater extent than the broader market. See the 2-week chart, below, comparing the S&P 500 to two mREIT ETFs, the iShares FTSE NAREIT Mortgage REITs Index ETF (NYSEARCA:REM) and the Van Eck offers the Marker Vectors Mortgage REIT Income ETF (NYSEARCA:MORT). Click to enlarge: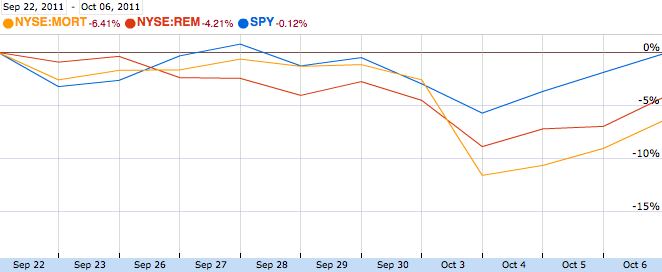 The chart shows that this week was especially volatile for the mREITs, though a good deal of this has to do with recent ex-dividend dates. Both mREIT ETFs were up about 3% on Thursday, or considerably more than the broader market.

This strong day for mREITs, generally, and specifically for non-agency REITs may indicate that the industry has bottomed out and/or that some short positions initiated post ex-dividend covered in contemplation of such a bottom. Most investors will still likely state that mREITs are preferable, largely due to the reduced non-payment risk, but the non-agency mREITs may present a greater opportunity for share appreciation, given their more significant sell-offs over the last few months.
REITs must distribute at least 90% of their taxable income in order to eliminate the need to pay income tax at the corporate level. Under the current tax laws, REIT dividends are taxed as ordinary income, and not at the lower corporate dividend rate.
Disclosure:
I am long
CIM
,
NLY
.
Disclaimer:
This article is intended to be informative and should not be construed as personalized advice, as it does not take into account your specific situation or objectives.