I was saddened to hear the news Wednesday night of Steve Job's passing. He was an American icon who revolutionized the way we live. Growing up, I often used Apple (NASDAQ:AAPL) computers in school, from elementary all the way through high school. I even used some in college. However, I've never actually owned an Apple product. Does this mean I don't care about Jobs and Apple? Not in the slightest sense. As a finance graduate, a trader, and now a writer, I have certainly dealt with Apple. If it wasn't for Steve Jobs, the half a dozen or so articles I've written in the past week that mentioned or detailed Apple would not have been possible.
This is truly a loss for America and a loss for Apple. But great leaders know that they will not be in power forever, and one of the greatest skills of a leader is his or her ability to inspire those that take his place to continue their greatness. And this is something Steve Jobs has done. Many question the future of Apple without Jobs, but I don't.
Steve Jobs knew his end was coming, as he often would use humor to deflect reports about his health. He knew that one day he would be no more, and Apple would need a new leader. And so when he left for medical reasons in January, and stepped down as CEO in August, he realized that this was it. The time had come to pass the torch. And he believed that Tim Cook was the right man for the job, and so do I. Steve Jobs may now be gone, but he will never be forgotten. His presence will live on at Apple for decades to come, and his spirit will guide those that follow in his footsteps. Unlike many, I believe the best is yet to come.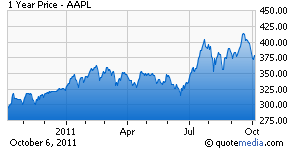 The fact that Apple's shares held up Thursday, down less than a dollar, shows that Apple will remain strong for years to come. When Walt Disney passed away on December 15th, 1966, Disney (NYSE:DIS) shares were trading at around 13 to 14 cents, split and dividend adjusted. Some 45 years later, they now trade for over $30. Walt Disney's death was not a death blow for the company.
Like I mentioned above, a great feature of a leader is their ability to inspire those who follow. Walt Disney certainly did that. On January 14th, 1984, Ray Croc passed away. McDonald's (NYSE:MCD) was trading then at an adjusted $1.69. It's now at $86. While it is unlikely that Apple will see returns on that kind of scale over the next 27 or 45 years, this company will not fall apart anytime soon. I have yet to hear an analyst downgrade the stock or cut earnings estimates based on this news.
Last quarter, Apple recorded record quarterly revenues and net income. It is forecast to break its revenue record again this quarter and again in the next one. While it might not break the net income record, as this is a lower margin quarter typically, EPS numbers are expected to be up 55% year over year, and that's only if it matches expectations. It is likely to beat when it reports in less than two weeks. Apple is projected to do over $134 billion in revenues in 2012, a number that's about $5 billion more than Microsoft (NASDAQ:MSFT) and Cisco (NASDAQ:CSCO) combined.
When I recently wrote about Apple's compelling valuation, I mentioned that I believed the company could do $35 a share in fiscal 2012 (I believe it can do $40 in calendar 2012, their fiscal year ends in September). I still believe that is true, and I may in fact raise my number after Apple's earnings report. Assigning a P/E multiple of 12, my price target for next September is $480, about $100 higher than current prices. That could go up though, when you consider this fact: In the three days since I published that article, analysts have raised Apple EPS numbers by 3 cents for this quarter, 2 cents for next quarter, 3 cents for fiscal 2011, and 7 cents for fiscal 2012. And that's just in the past 3 days. By the time the numbers come out (I believe October 18th is the date), fiscal 2012 numbers could be up to $33. And they could jump even more if Apple beats handily.
On Tuesday, Apple hit a low of $354.24. At that value, it was trading at just 10.82 times fiscal 2012 earnings, one of the lowest valuations the company has ever seen. Just 3 months ago, the forward P/E was above 12.10. Can anybody make the argument that Apple is that less valuable? At that point, Apple had lost more than $60 billion in market cap since its high on September 20th. Now it has since recovered about $20 billion of those losses, but still. With the Dow up 760 points in just two and a half days, it might be prudent to wait for another pullback if you are thinking of getting in.
Wednesday night was a night of reflection and remembrance when the news broke that Steve Jobs had passed away. It was truly a sad time for a great man, a great company, and a great country. But Thursday morning, the sun still came up and Apple shares still traded. While we take this time to remember the great man we have lost, let's not forget to look at the bright future ahead of the company he had such an overwhelming impact on.
Disclosure: I am long DIS.