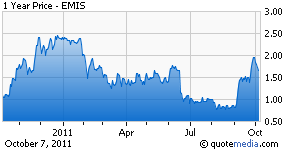 Emisphere (OTCPK:EMIS) is poised to move higher as it awaits data from Novartis' (NYSE:NVS) Phase III trial for Osteoporosis (OP) in Nov/Dec (Remember: high degree of confidence in OP with Osteoarthritis (OA) riding OP's coattails). However, Emisphere already sits on a crown jewel that I believe should have EMIS in a much larger spotlight. That crown jewel is the successful FDA GRAS (Generally Regarded as Safe) approval granted to Emisphere's high dosage oral B12 pill last year. I believe that once you understand the importance of B12 you'll see the value in Emisphere's oral B12 pill.
Forty percent of the U.S. population suffers from some degree of vitamin B deficiency. It can cause strokes, heart attacks, dementia and depression, along with many other ailments. B12 deficiency is a major health concern to all of us. B12 is a nutrient that helps keep the body's nerve and blood cells healthy. Vitamin B12 is found in animal and dairy products such as poultry, meat, fish, eggs, and milk. These foods are more difficult to digest the older we become hence many elderly find it harder to obtain their daily allowances of vitamin B12.
Anyone that lacks sufficient B12 levels usually visits a doctor once a month to receive an injection. The truth is many people don't have the discipline or the desire to see a doctor, or want to be pricked with a needle in the buttocks once a month. As a result, researchers found a nasal delivery for Vitamin B12 however the nasal is usually just maintenance not a replacement for an injection. This is where Emisphere proved their technology is superior and should open the door to wide adoption of B12. Their Eligen high dosage pill is the equivalent to a shot and some believe it could even be better than a shot. A barn burner whenever you can replace an injection with a pill. I believe once it hits the market EMIS will deliver results.
Recently, a Rush University Center in Chicago study in older adults found that being B12 deficient may cause memory loss. Their study showed that patients that were B12 deficient were more likely to have lower brain volumes and cognitive impairment than those with normal levels. The medical community is well aware of the importance of vitamin B12 and how it relates to everyday living. The attention from researchers and doctors in the relationship of B12 to the body is astute. I believe researchers will continue finding more evidence that strong B12 levels are a must to healthy living in our latter years.
Vitamin B12 faces a tsunami wave in terms of demographics. Baby Boomers are now entering retirement and they represent the largest pool of retirees than of any past generation. Even more impressive, Baby Boomers will have a longer life expectancy than past generations due to their health consciousness and overall higher quality of living. In order to maintain their active lifestyle, and following up on recent studies, I believe Baby Boomers will be proactive in checking their B12 levels and adding B12 to their daily regimen of vitamins.
High dosage B12 shots are given 48 million times per year in the United States alone. Incredibly, that number touches 72 million in Europe and 200 million plus worldwide. More specifically, approximately 5 million people take shots in the United States and another 5 million people take supplements for B12. Now I ask you, how many people would prefer a pill over a shot in the buttocks? My guess, 8 out of 10. The market for high dosage B12 hovers at approximately $1.5 billion in the States, $2.5 billion in Europe and $7 billion worldwide. I believe the market will double over the next decade as Emisphere launches their Eligen B12 pill, Baby Boomers realize the need for a B12 supplement in their lives and researchers find more evidence of the benefits of stable B12 levels. A win win for Emisphere!
This past August, Emisphere solidified their Eligen B12 product by landing their biggest success to date when the U.S. patent office granted them a patent extension on Eligen oral high dose B12 from 2017 to 2029. A monumental event for Emisphere! The company has the ability to now license this great product to a large pharmaceutical or nutritional company in the months ahead or push for an outright sale of the business. Who could partner or buy this product? For starters, a company like Par Pharmaceuticals (NYSE:PRX). In 2009, Par bought a nasal spray (maintenance) B12 company for approximately $54 million. Another strong candidate would be Nestle (OTCPK:NSRGY), yes, the billion dollar food conglomerate. Nestle recently entered the medical foods industry with a vengeance by acquiring Novartis' Medical nutrition unit for $2.5 billion. Nestle makes the most sense to me and other analysts that I have contacted. I believe Emisphere could sell the B12 pill for $100-$125 million if they took to the phone. Other potential candidates are Teva Pharmaceuticals (NYSE:TEVA), Nature's Bounty (Private), Abbott Laboratories (NYSE:ABT), Forest Laboratories (NYSE:FRX) and Bristol Myers (NYSE:BMY).
Biotech companies with new drugs or products trade on peak of sales of that product. Typically, a new drug can sell at 3 to 5 times peak sales. Emisphere could conservatively hit a peak of sales number of $500 million over the next 5 years and earn $1.50 per share in earnings on a 125 million share count (today there are approximately 93 million shares outstanding). The company would trade at $15 on B12 alone. The other path, a licensing deal could bring a royalty of 15% (low end) which would generate an estimated $70 million per year for at least 10 years. I believe on this product alone EMIS should be trading at a multiple of 3 to 4 times today's price.
What type of move could we potentially see? Well I want to take you back to 1999 when the company was trying to bring heparin to market. In anticipation of FDA approval institutional traders took the shares to $80 per share or a $1.5 billion market capitalization. We have recently seen Pharmasset Inc. (VRUS) trade from under $5 to $80 and it now has a $6 billion market capitalization. Some other biotech companies that saw similar large valuations when they were bringing a new drug to market were; Amarin Corp. (NASDAQ:AMRN) $2 billion market cap, Dendreon Corp. (NASDAQ:DNDN) $6 billion, Delcath Systems (NASDAQ:DCTH) $1 billion, Pharmacyclics Inc. (NASDAQ:PCYC) $800 million, Orexigen Therapeutics Inc. (NASDAQ:OREX) $500 million, and Vivus Inc. (NASDAQ:VVUS) $1 billion. Once again EMIS with a $160 million market cap has a product to bring to market.
To conclude, Emisphere is positioning itself to go to market with their Eligen technology. I believe this Crown Jewel, oral Eligen B12, is a hidden treasure to many potential, new, and long time shareholders because the company's management has not put out any publicity on the success of their B12 patents or GRAS status. The company made the patent extension announcement at the bottom of their past earnings release as you can read for yourself. A shocker to long term followers! One suggestion is that Emisphere wants to bring B12 to market on its own or do a short term trial and get FDA approval for drug status on Eligen. In order to do this they need money with, or without a partner to support a higher valuation for their product line. I believe they're confident in Novartis passing OP by year end so that they'll be able to build a brand or sell it at their price. A boost of B12 for all shareholders.
Disclosure: I am long OTCPK:EMIS.