VF Corporation (NYSE:VFC) is an apparel maker and distributor and a leader in jeanswear, sportswear, intimate apparel and workwear. Its brands include Lee, Wrangler, Jansport, Nautica, The North Face, Vans, Napaplin, John Varvatos and Reef. The company has grown its profits and dividend at a 7%-11% rate over the last 10 years earning a 15%-18% return on equity. It has raised its dividend every year for the last 20 years. Despite tough conditions in many of its product categories in 2009, management negotiated this period with barely a hiccup and set the company on a course to continue to grow earnings by:
the strength of VFC's brand management strategy provides a competitive advantage with regard to distribution,
its long history of manufacturing and engineering expertise produces cost and service benefits,
a successful acquisition program focusing on companies with global growth opportunities.
Negatives
its large international business exposes it to the vagaries of foreign laws and regulations as well as currency fluctuations,
intense competition,
a customer base that remains sensitive to economic conditions.
VFC is rated A by Value Line, has a 20% debt-to-equity ratio and its stock yields 2.4%. Its strong cash flow should allow for increasing its dividend, stock buy backs and acquisitions.
VFC stock made great progress off its March 2009 low, quickly surpassing the down trend off its June 2007 high (straight red line) and the November 2008 trading high (green line). Long term, the stock is in an up trend (blue lines). Intermediate term, it is also in an up trend (purple lines). The wiggly red line is the 30-day moving average. Both the Dividend Growth and High Yield Portfolios own a full position in VFC. The upper boundary of its Buy Value Range is $55. The lower boundary of its Sell Half Range is $135. Given the proximity of the stock price to the Sell Half Range, it is clearly far too late to Buy VFC.
(Click chart to enlarge)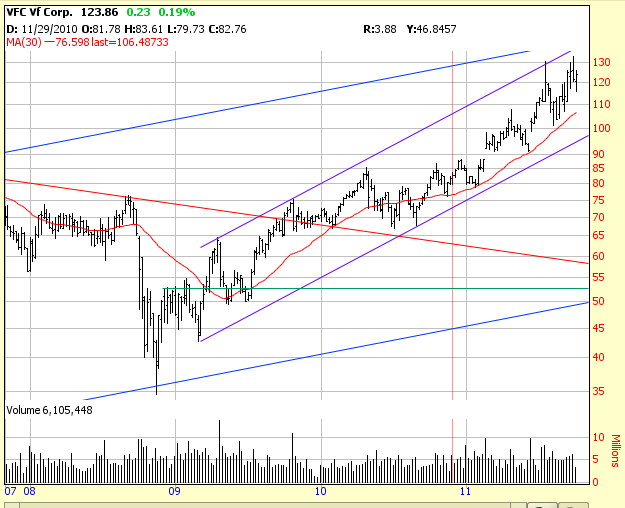 Source: Yahoo Finance
Disclosure: I am long VFC.