I continue to be surprised as to how high agricultural prices continue to get as agricultural commodities continue their multi-year march higher. Regardless if you feel that these prices are actually justified by 'real' supply and demand fundamentals, the fact remains that prices are currently at these high levels and will more than likely continue to remain high. With prices at these levels farmers across the country will continue to attempt to find ways to take capitalize on these elevated prices by trying to find ways to increase the yield for their crops.
One of the best ways for farmers to try to increase their crop yield is the use of various fertilizers, specifically phosphates and potash. These products help boost the nutrients in the soil and help foster a stronger crop. Since crop prices are based on a per bushel basis the higher the yield per acre that a farmer can achieve the more bushels he will ultimately have to sell in the market, which generates greater returns for the farmer. These returns can then be used to purchase more fertilizer products for next year's crop.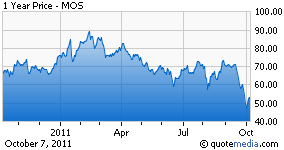 The demand for these fertilizer products worldwide has increased dramatically in the past several years and has thus helped create some very nice margins for the companies that produce and sell them in the open market. Since potash is a natural resource with a finite supply the higher the demand for the product the higher the price that can be charged for it. This situation creates a very compelling story for companies that produce and market these products. I specifically find Mosaic (NYSE:MOS) to be the best investment choice and overall value in this space.
Mosaic is excellently positioned to provide the needed potash and phosphates to farmers while still being able to profit from those farmer's elevated demand levels for those products. Mosaic has a PE ratio of 8.58 and a book value of $27.36. The company has $4 billion in cash, generated $2.46 billion in cash from operations, a gross margin of 27.4%, and has a market capitalization of $23.53 billion. Mosaic's stock price has been extremely volatile over the past year with prices ranging from $46 to $89 a share. Mosaic last week released their 1st quarter earnings. These earnings highlighted a 77% increase in net income year-over-year, but unfortunately missed the streets EPS estimates by $.10, due to higher expenses. This miss pushed the stock that at the time was trading in the high $50s down into the mid $40s.
I feel that Mosaic's stock was oversold due to the miss and continues to be undervalued compared to its middle and longer term potential. Since Mosaic divested their largest shareholder Cargill, Mosaic is now ripe for the picking from a larger player that wants to enter this space. Last July BHP Billiton (NYSE:BHP) attempted to acquire Potash (NYSE:POT) of Saskatchewan for $130/share. This offer was ultimately rejected by the Canadian government. Now, I am not saying that the same offer will come in for Mosaic, but with their share price currently trading just shy of 2X book value it would not surprise me if a larger player flush with cash came in tried to acquire Mosaic.
Even if a buy-out offer does not come in, I still believe that fair value for the company is somewhere in the $65-$75 a share range. Now there are several ways to capitalize on this undervalued situation with this company. With all of the volatility in the market and within this stock I feel that the best way to capitalize on any potential upside is to sell put options at a strike you would not mind owning the stock at. Since the stock is susceptible to further downside the put options have seen very elevated premiums prices. Due to these higher premiums being available I would suggest selling puts at the $50 or $47.50 strike for January 2012. I like January because with all of the recent volatility in the stock price the options are nicely priced and the further out contracts give you plenty of time to be right on your trade.
Selling naked puts does involve some risk, but if managed appropriately it can provide a nice return and allow the investor the ability to pick their entry point (via the strike price). Selling puts at the $50/$47.50 strike price obligates you to purchase the stock at that price for the equivalent number of put option contracts that were sold (1 contract = 100 shares of stock). Selling puts at that level also gives the seller a buffer of almost 10% (depending on which strike you pick to sell) from the current market price of the stock. At expiration of the option contract if Mosaic is at or below $50/$47.50 the seller will be obligated to buy shares at the strike price they sold the option at. If this happens the seller is still able to keep the premium that was received for selling the puts originally. This premium will further help defer the cost of buying the stock. If the stock price is above your strike price at expiration the contracts expire worthless and the seller gets to keep the premium that they received originally for selling the puts. Currently the January 2012 $50 strikes are trading for $5/contract and the $47.50 strikes are trading for $4.10/contract.
The biggest benefit of selling put contracts is that it allows the investor to pick their entry point and wait for the stock to come to them. If that never happens they still got paid to wait. This strategy has two potential outcomes, all of which in my opinion are favorable for someone that wants to invest in Mosaic.
The stock increases in value between now and January 20, 2012. Your options at the $50/$47.50 strike expire worthless and you keep the premium you collected for doing the trade.

The stock continues to fall and goes below $50/$47.50 per share between now and January 20, 2011. If this happens you would be obligated to buy 100 shares of stock per contract sold of Mosaic at the $50/$47.50 strike.
Looking at Mosaic from a pure fundamentally basis I feel that Mosaic deserves a second look and should be considered a 'buy' at its current price level. I see no good reason why Mosaic should continue to stay at its current levels given the secular bull market that is currently taking place in the agricultural space. This mispricing provides investors with an excellent opportunity to capitalize on what I believe to be an extremely oversold situation. Bottom line, even though Mosaic missed their EPS estimates by $.10 due to higher expenses, the company was still able to increase their gross margins by 28% and net income by 77% for the quarter, those numbers alone signal a buy to me.
Disclosure: I am long MOS.