As concerns about macro stagnation grow, IBM (NYSE:IBM) becomes more of an attractive investment. It is noteworthy that this company has seen tremendous value creation amidst the worst economic collapse since the Great Depression. The stock is up by more than 65% since the start of 2008 and, in my view, is not likely to reverse the trend should even a double dip occur. In order to understand why this might be the case, one only need to look at projected revenue breakdown.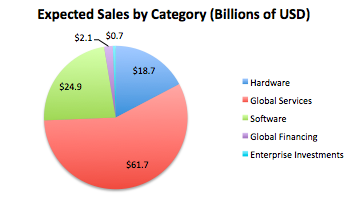 As a large portion of IBM's business mix is in global services, the IT corporation is well protected from sales erosion. IBMs revenue in this segment is recurring and comes largely from emerging markets. Such global exposure is particularly favorable now, as US macro stagnation proves relentless to the market.
Moreover, domestic economic concerns have been exaggerated, as I expressed in an earlier article. Investments should be based on how the individual views company fundamentals relative to market expectations. And since the Keynesian beauty contest rightfully underscores the importance of game theory in market valuation, I see a self-correction as many investors begin to understand that they are not alone in having a hidden faith in the United States economy. Put differently, investor outlook will change from cynical to trusting. IBM is well poised to prove the naysayers wrong as it continues to grow. The resiliency of the company's fundamentals thus command it a premium multiple to peers. I find that the current pricing of 14.8x and 12.3x past and forward earnings, respectively, far undervalues IBM.
The technology company is also well supported by high margins at 46.1%. It is further structurally capable of boosting those margins--although volatility did occur with this metric during the recession--and I anticipate the figure growing by 240 basis points to 48.5% by 2013. Hardware will drive much of this improvement as margins are enhanced by around 13% annually.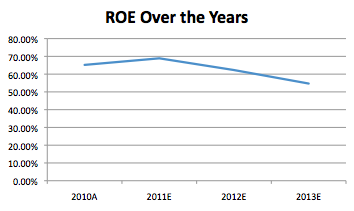 And while I anticipate ROE declining, shareholder value will continue to be supported by an impressive $10B annual share repurchase program and a modest 1.7% dividend yield. On another note, management at IBM also tends to be very honest with themselves. R&D as a percent of revenue is low at IBM (6%) compared to other technology companies: Oracle (NASDAQ:ORCL), 12.7%; Microsoft (NASDAQ:MSFT), 12.9%; Intel (NASDAQ:INTC), 15.1%; and EMC Corporation (EMC), 11.1%. While these companies are not perfect comparisons, they nevertheless illustrate how IBM can spend just a fraction that its competitors do on R&D and still be able trump them in creating value (i.e. the stock is up tremendously since 2008 while most, save EMC and Oracle, are down tremendously). Again, although, IBM's development needs are different, the tech company still provides a model case study on the potential of fiscal conservatism.
In the event that a double dip occurs, IBM is well positioned to grow both organically through its solid fundamentals and inorganically through accretive M&A deals that offer cost synergies. Below are my expectations for revenue growth by segment.
Hardware: Grows by 4.1% to $18.7B next year and then by 3% in 2012.
Global Services: Grows by 9.4% to $61.7B next year and then by 5.1% in 2012.
Software: Grows by 10.8% to $24.9B next year and then by 5.9% in 2012.
Global Financing: Declines by 6.2% to $2.1B next year and then becomes flat in 2012.
Enterprise Investments: Declines by 4.1% to $721M and then becomes flat in 2012.
My only real concern with the company is its global financing segment, which offers very poor margins unlikely to improve. In the recent earnings report, financial services declined but still produced doubled digit growth. IBM also faced lower than expected demand in July and August, although OEMs should improve. The computing power and storage capabilities that IBM provides still make it a market leader domestically while allowing the firm to penetrate emerging markets internationally.
Overall, I find myself in agreement with most other analysts that the stock is a "buy." Consensus estimates for EPS are that it will increase by 15.5% to $13.31 in 2011 and then by 10.9% and 11% in the following two years. Given the recurring profits of IBM, management's commitment to growing shareholder value and limiting spending, solid corporate fundamentals, international exposure, and availability of attractive synergistic targets, the company will be a strong performer both in the event of a double dip and a recovery.
Disclosure: I have no positions in any stocks mentioned, and no plans to initiate any positions within the next 72 hours.