On May 30 of this year, I released an article on Seeking Alpha in which I warned investors that some of the BlackRock option-income funds may be vulnerable to a dividend cut based on their high distribution to Net Asset Value (NAV) percentages, some approaching 13%. Two days later, on June 1, BlackRock announced quarterly dividend declarations which included dividend cuts for three of the five funds I had listed ... the BlackRock Enhanced Capital and Income fund (NYSE:CII), the BlackRock EcoSolutions Investment fund (NYSE:BQR) and the BlackRock Enhanced Equity Dividend Trust (NYSE:BDJ). All of the funds' market prices got hit exceptionally hard but one fund, CII, I felt was overdone and presented an excellent buying opportunity. So on June 1st, I wrote an article giving my reasons why CII was even more attractive after the distribution cut than before (click here).
Though CII made a nice short term recovery in market price, the market swoon the past few months dropped the price even further, to roughly $11.75, and now reflects almost a -10% market price discount to its NAV, its widest since the bear market back in 2008. Here is CII's one-year market price chart. As you can see, CII's market price dropped precipitously on June 1st, recovered, and then went to new lows during the market pullback.
Click to enlarge charts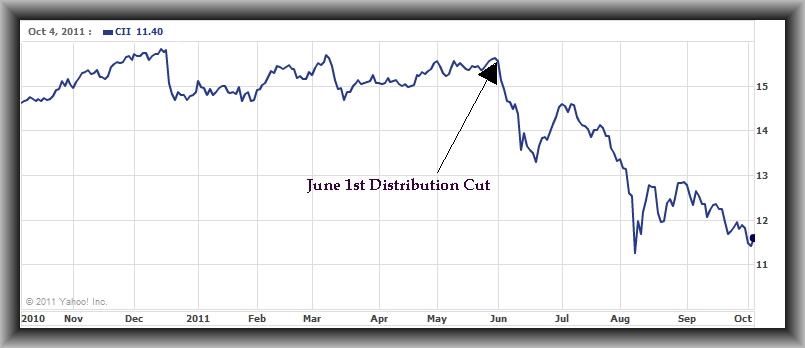 And here is CII's one-year Premium/Discount chart where CII typically traded at a premium until its first ever distribution cut was declared and it dropped to a wide discount.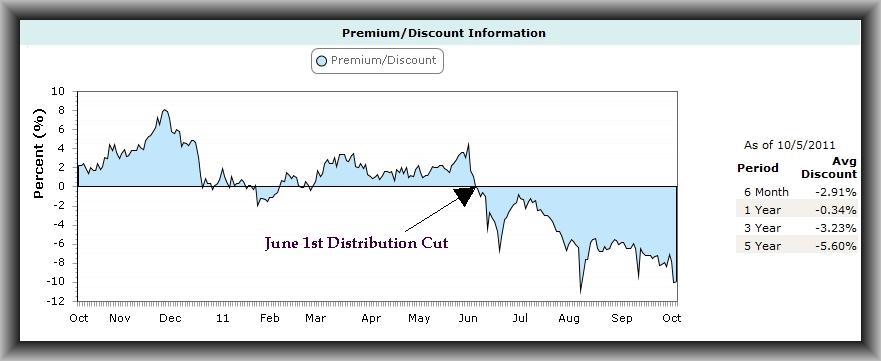 Now distribution cuts are never good for a fund's market price short term but the positive aspect is that a fund's NAV should be the longer term beneficiary as it makes it easier for the fund to meet its new distribution demands. Investors need to understand that funds that rebalance their distributions with their incomes do not necessarily mean that the fund's NAV is doing poorly. Indeed, as you'll see below, CII's NAV performance has actually been the best of all the higher yielding BlackRock option-income funds I follow. Year-to-date, CII's NAV is down only -3.4% compared to its correlated index, the S&P 500, which is down -5.9%, dividends included on an added back basis.
I would feel much more comfortable owning a fund that has put a distribution cut behind it than a fund that tries to maintain an overly large distribution and faces a larger dividend cut in its future if its NAV continues to deteriorate. I believe two BlackRock option-income funds are under that cloud of uncertainty and I will discuss those now.
What was interesting about the distribution cut declared by BlackRock on June 1st wasn't so much that CII was included among the three that saw cuts, but that BlackRock chose not to include two of its other option-income funds that I felt needed a distribution cut even more. The BlackRock International Growth and Income Trust (NYSE:BGY) and the BlackRock Global Opportunities Equity Trust (NYSE:BOE) are two option-income CEFs that have similar option coverages as CII but have global stock portfolios as opposed to CII having a domestic U.S.-based stock portfolio. This has probably contributed to a wide discrepancy in NAV performance between these funds but, as you'll see below, there is another reason as well.
By not cutting the distribution levels earlier, BGY and BOE's NAV yields have ballooned to exorbitant levels due to the market pullback. I considered 13% NAV yields as exceptionally high back in my article on May 30th and now BGY's and BOE's NAV yields are in the 15% to 17% range. I don't know how BlackRock can reasonably expect these funds to be able to maintain these distribution levels in a defensive market environment without continued NAV erosion. There may be some managed distribution policy that BlackRock uses for some of its funds and not others, but there's no getting around the fact that some of the funds' NAVs are deteriorating much faster than others. Here are CII's, BGY's and BOE's NAV performances over three time periods through October 5th, 2011; (1). year-to-date, (2). from the market high on April 29th and (3). from four-years ago near the market highs.
Click to enlarge

As you can see, the performance figures aren't even close over any time period and they all have the same option-income strategy and roughly 50% option coverage on their portfolios. BOE and BGY NAVs may have taken a harder hit over time due to their global stock portfolios, but one cannot argue that NAV yields in the 15% to 17% range are going to take a heavy toll on a fund's NAV no matter what the fund's portfolio makeup.
I'm concerned that investors are being lulled into overly generous 16.5% to 17.5% market price yields and are not taking into consideration what the long term cost will be to the funds' NAVs. I would urge investors to consider swapping into CII at a larger discount and better NAV performance until BGY and BOE show a more realistic distribution level.
Disclosure: I am long CII.
Additional disclosure: Short BGY.