Solyndra's missteps suggest dark days ahead for the solar energy sector, and high flying Suntech Power Holdings (NYSE:STP) is not immune. The price is off 97.17% from its one time high and it's currently down 78.30% from its one year high. The daily trading price on this graph provided by Barchart shows just how bad the daily trading data has been:
Click to enlarge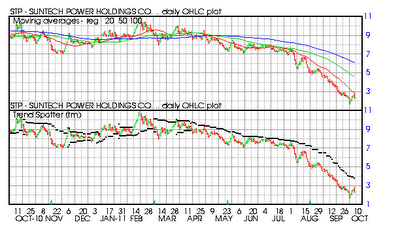 Suntech Power Holdings, a solar energy company, engages in the design, development, manufacture and marketing of photovoltaic (PV) products. The company also provides engineering, procurement and construction services to building solar power systems for certain related party and third party customers. Its products include monocrystalline and multicrystalline silicon PV cells; PV modules and building-integrated photovoltaics products. In addition, the company provides PV system integration services, including designing, installing and testing PV systems used in lighting for outdoor urban public facilities, as well as in farms, villages and commercial buildings, and project development services. Its products are used to provide electric power for residential, commercial, industrial and public utility applications.
The company sells its products through value-added resellers such as distributors and system integrators and to end users, such as project developers primarily in Germany, Italy, Spain, France, Benelux, Greece, the United States, Canada, China, the Middle East, Australia, and Japan. Suntech Power Holdings Co., Ltd. is headquartered in Wuxi, the People's Republic of China. (Yahoo Finance profile)
Factors To Consider
Barchart technical indicators:
64% overall Barchart technical sell signal
Trend Spotter technical sell signal
Below its 20, 50 and 100 day moving averages
78.30% off its one year high
Relative Strength Index is 33.32% but getting stronger
Barchart computes a technical support level at 1.98
Recently traded at 2.31 with a 50 day moving average of 4.57
Fundamental factors:
Although this has been a Wall Street darling in the past, a lot of analysts are rethinking their projections
Presently sales are projected to be up 11.40% this year and down 2.90% next year
Earnings estimates are expected to be down 122.40% this year and up 229.20% next year with the five-year annual earnings growth rate only expected to increase by 9.00% a year
The Chinese government is reworking its energy credits and if profits are made in the future they will be taxed at a higher rate
One of the major components in the photovoltaic panels the company produces is silver paste and with usage of silver rising and the jitters of the gold bugs flowing over to silver market the cost of production is sure to rise
All these factors plus the unpredictable earnings forecasts have resulted in only one strong buy, three buy, 18 hold, eight under perform and three out right sell recommendations from brokerage analysts
General investor interest:
In the past readers of Motley Fool have been very interested in this stock and 4,343 offered their opinions
96% of the general readership voted that the stock would beat the market
95% of the All Stars who are more savvy and experienced voted for the same result
Data shows they were wrong - Of the investors that made money on this stock in their Fool portfolios the top 10 were all short sellers
Fool also noted that 9 of the last 10 articles by the Wall Street columnists they follow have been negative
Competitors and sector leaders:
The whole sector has suffered with Suntech Power (
STP
) down 78%, First Solar (NASDAQ:
FSLR
) down 58% and Sharp (
OTCPK:SHCAY
) down 13% for the year:
Click to enlarge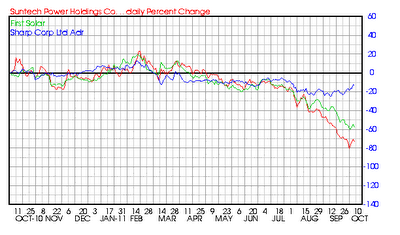 Suntech Power is also a member of the SIC 3674 Semiconductor and Related Devices sector and some other members of the sector have had nice returns: Among them were IPG Photonics (NASDAQ:IPGP) up 143% in the past year, Silicon Motion Tech (NASDAQ:SIMO) up 147%, Netlogic Microsystems (NASDAQ:NETL) up 78% and Mellanox Technologiess (NASDAQ:MLNX) up 64%:
Click to enlarge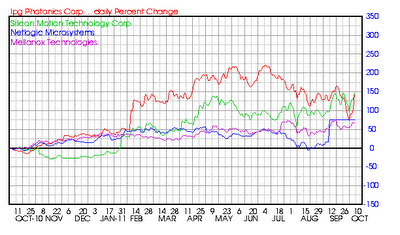 Summary: Venturing into solar energy investments at this point is not investing, it's pure speculation. The industry is too dependent on government tax credits and subsidies instead of venture capital R&D seed money at the present time. Solar power is not price competitive with petroleum, hydro-electric, vegetable oils or even wind power and may not be for some time to come. Only speculators should consider looking for a dead cat bounce from the solar energy sector.
Disclosure: I have no positions in any stocks mentioned, and no plans to initiate any positions within the next 72 hours.